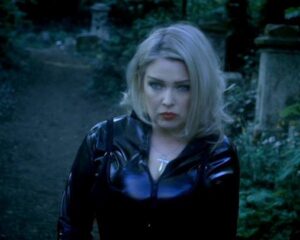 The new video for BEF's 'Every Time I See You I Go Wild' sees Kim Wilde turn into 'Buffy The Vampire Slayer' for a battle against vampires and other forces of evil.
Directed by Paul D, it also sees cameos from BEF mainman Martyn Ware, Wall Of Sound supremo Mark Jones and post-punk music personality Mr Normall.
It comes from the third volume of the 'Music Of Quality & Distinction' series and subtitled 'Dark', The striking electronic cover of the Northern Soul favourite is best known in a version by JJ Barnes but was written by Stevie Wonder. However, it appears to have confused some of Kim Wilde's fanbase, rather like earlier in the year when OMD released 'Metroland' to mixed responses from their followers who couldn't understand why the band had recorded an electronic track influenced by KRAFTWERK!
But this has to be expected when acts have careers spanning 30 years with periods of mainstream international success. This BEF recording actually takes Kim back to her synthesized beginnings with songs such as 'Kids In America', rather than huge sellers such as 'You Came' and 'You Keep Me Hanging On', a SUPREMES cover which has also been reworked by BEF!
Arranged by THE MODIFIED TOY ORCHESTRA's Paul Duffy, 'Every Time I See You I Go Wild' features just Roland System 100, a marvellous user friendly synth that was the mainstay of early HUMAN LEAGUE, BEF and HEAVEN 17, courtesy of its esteemed operator Martyn Ware.
So what's there not to like about an electronic Northern Soul cover… after all, one of the biggest selling singles of the Synth Britannia era happened to be one of those 😉
---
'Every Time I See You I Go Wild' is from the BEF album 'Music Of Quality & Distinction Volume 3 – Dark' and released as a single by Wall Of Sound on 19th August 2013
https://www.facebook.com/BritishElectricFoundation/
---
Text by Chi Ming Lai
18th July 2013