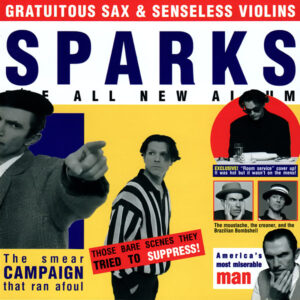 After a quiet number of years even by their standards, the original synth duo SPARKS secured the backing of DEF Management and made a triumphant return in 1994 with 'Gratuitous Sax & Senseless Violins'.
It was very much a determined comeback released on the German based Logic label, then home to trendy dance acts like SNAP! and COSMIC BABY.
SPARKS' career had been very up and down, but the Mael brothers were never deterred by public or media ambivalence and always returned like a phoenix from the flames just when people least expected it.
First finding fame with the glorious 'This Town Ain't Big Enough For Both Of Us', they had originally been HALFNELSON whose Todd Rundgren produced debut was released on Bearsville Records founded by Bob Dylan's former manager Albert Grossman.
They changed their name to SPARKS when Grossman suggested they should rename themselves 'The Sparks Brothers' after the comedy siblings Marx. Following an appearance on 'Old Grey Whistle Test' in late 1972, presenter Bob Harris was unimpressed and said they were the worst thing he had ever seen… this same esteemed music expert had poured scorn on ROXY MUSIC a few months earlier by announcing they were "unimpressive hype" and later called NEW YORK DOLLS "mock rock"!
Luckily, British promoters were fascinated by the quirky brothers and they were booked for a series of well-attended club dates. At one of their headline gigs at The Marquee, they were supported by a group of upstarts named QUEEN! Ironically, the US would later embrace the music of QUEEN and indeed SPARKS, but it was indifference towards Ron's classical keyboard interludes and Russell's camp operatic falsetto that led to the Maels leaving America and uprooting to the UK to find fame and fortune.
They recruited a new backing band where one of the audition adverts had the prerequiste of: "a really good face that isn't covered by a beard"! Although one of those who failed the audition was Warren Cann, later to join ULTRAVOX, the rest as they say is history.  Who wasn't frightened to death by the snarling stares of Ron Mael with his Chaplain-esque moustache (…well, that's what we are going to say!?!), sitting motionless behind his RMI Electra-piano on 'Top Of The Pops' in the late Spring of 1974?
Released on Island Records, their quirky glam albums 'Kimono My House' and 'Propaganda' bizarrely found a screaming teenybopper audience. But beneath the hit appeal of 'Amateur Hour', 'Something For The Girl With Everything' and 'Never Turn Your Back On Mother Earth' was an artistic eccentricity that captured the imaginations of notable soon-to-be songsmiths like a certain Steven Patrick Morrissey.
Meanwhile a Basildon lad named Martin Lee Gore was to later cover 'Never Turn Your Back On Mother Earth' in a busman's holiday from DEPECHE MODE! However, despite an appearance in the George Segal film 'Rollercoaster' in 1976, SPARKS spent a number of years in the artistic doldrums.
Eventually, Russell and Ron opened their ears to the burgeoning electro-disco sound as heard on DONNA SUMMER's 'I Feel Love' and were put into contact with her producer Giorgio Moroder. With aspirations to work with a band, the Munich based Italian set to work with them immediately, the result being the tremendous 'No1 Song In Heaven'. Released in 1979, it actually only made it to No14 in the UK charts but this was a few months before TUBEWAY ARMY's seminal 'Are Friends Electric?', often seen as the cultural turning point for the synthesizer.
Eventually the sound of the synth was everywhere, but despite a Top10 follow-up hit in 'Beat The Clock', the album 'No1 In Heaven' failed to sell and SPARKS eventually got lost among all the British acts they had helped pave the way for like SIMPLE MINDS (just listen to 'Life In A Day' and 'Chelsea Girl'!), OMD (ditto 'Motion & Heart'), DEPECHE MODE (Founder member Vince Clarke would go on to remix SPARKS) and SOFT CELL (ditto David Ball!).
SPARKS returned to America with a rockier band sound produced by QUEEN cohort Mack. Tracks like 'Angst In My Pants' and 'Funny Face' were radio hits on LA New Wave station KROQ, but the rest of the world were starting to fall under the poptastic spell of PET SHOP BOYS and ERASURE, two duos who owed more than a small debt to the Maels' image blueprint of one who does something and the other who does nothing! With the rise of dance culture and the music technology now available to work totally on their own terms, SPARKS came up with 'Gratuitous Sax & Senseless Violins'.
The bold artwork with headlines such as "Room service cover up! It was hot but it wasn't on the menu!" and "America's Most Miserable Man" laid down their tongue-in-cheek intentions. The centrepiece was the launch single 'When Do I Get To Sing My Way?', a masterclass in electronic pop. It had everything; atmospherics, subtle rhythmical infections, an anthemic uplifting chorus and a narrative on sibling rivalry which was superbly illustrated in the vintage Hollywood blockbuster styled promo video directed by Sophie Muller.
The follow-up '(When I Kiss You) I Hear Charlie Parker Playing' was very much in the frantic Eurodance vein of the period sounding like 'Yesterday When I Was Mad' being covered by Freddie Mercury! Actually, it was quite difficult to get through this album without thinking of PET SHOP BOYS and their stomping 1993 LP 'Very'. Despite the lush synthonic strings and beat driven template, Russell Mael brought his obviously more quizzical character into proceedings, particularly on the cutting 'I Thought I Told You To Wait In The Car' with its Arabic overtones and unsettling multi-tracked chants of "CAR! CAR! CAR! CAR!".
'Now That I Own The BBC' was obviously more like ERASURE, the Maels ironically reflecting on their return to the fame game and using The Beeb as its metaphor. Also on the uptempo side of proceedings, 'Let's Go Surfing' was perhaps a less accomplished relative of 'Now That I Own The BBC', but immediately enjoyable just the same, with orchestra stabs and an anthemic chorus thrown in for good measure.
But the album was not just an electropop experiment in idiosyncratic accessibility. 'Frankly Scarlett, I Don't Give A Damn' was an amusing musical skit based around the acclaimed Oscar winning epic 'Gone With The Wind'. Spot-on observations in the narrative of Rhett Butler such as "That soft southern accent delivered without the slightest trace of a British accent, even that's starting to wear on me" confirmed the Mael Brothers' lyrical humour had remained intact over the years as SPARKS sent up a great American institution!
Best of all was the brilliantly chilling ballad 'Hear No Evil, See No Evil, Speak No Evil', now in hindsight sounding like MUSE gone synthpop! 'The Ghost Of Liberace' was like an update of 'Never Turn Your Back On Mother Earth' but like with all good albums, there was the inherent inconsequential filler and that came with 'Tsui Hark'… it consisted of acclaimed film director Tsui Hark repeatedly announcing "My Name Is Tsui Hark, I'm a film director" over an inconsequential dance number! Thanks heavens for CD programmers!
Although 'Gratuitous Sax & Senseless Violins' was not a huge seller in the UK, it re-established SPARKS as a viable cult act with a headlining tour and notably, an invitation to support BLUR at their 1995 Mile End Stadium gig. In Germany however, the album was a big success when 'When Do I Get To Sing My Way?' got to No7. In a country where age and artistic wisdom were not seen as a barrier to cultural acceptance, they found a brand new young audience.
However, the Maels lost it all again with the pointless 1997 reworkings album 'Plagiarism' featuring special guests ERASURE and FAITH NO MORE, and then capped it all with the poorly received follow-up 'Balls' in 2000.
But as always, they bounced back again in 2002 with the acclaimed classical concept album 'Lil' Beethoven' and have been discretely playing to their fanbase throughout the world since, most recently with the well received 'One Mouth Two Hands' tour. Their eccentric sound continues to be heard in modern acts such as MARINA & THE DIAMONDS and GOLDFRAPP.
For the song titles alone, 'Gratuitous Sax & Senseless Violins' is worthy of rediscovery. This collection is from a time when Britpop was taking a hold and electronic pop generally meant dance music; as an item of buried treasure, this album is a fabulous document of when the Maels briefly joined the house party that they had obliquely helped to inspire.
"And instead of the usual bass and drums, he heard…"
---
'Gratuitous Sax & Senseless Violins'
was released by Logic Records and is available on remastered CD via Lil Beethoven Records
https://www.facebook.com/sparksofficial
https://twitter.com/sparksofficial
---
Text by Chi Ming Lai
19th January 2013