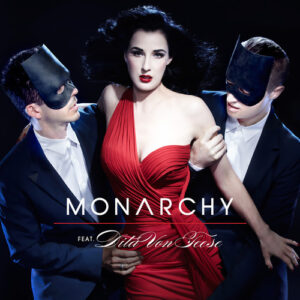 In what is looking like a busy 2013 for electronic pop, the year has started off with a pressure cooker bang!
London dance duo MONARCHY's new single 'Disintegration' features sexy burlesque queen DITA VON TEESE on vocals and is vampish disco meets GIORGIO MORODER, or if you prefer SCISSOR SISTERS gone right!
The accompanying racy video shot by Roy Raz has turned a few heads and sections of it come over like 'Mad Men' rescripted by Studio 54! So a warning; this video may offend some viewers…yes, it is tastefully smutty and the mock ménage à trois will raise a few eyebrows and no doubt encourage repeat viewings!!
Of course, all this would be rather irrelevant if 'Disintegration' was not a rather excellent, stomping floor filler of the first degree. It has energy, a hook and cooing feline appeal. If you had not suffered hypertension before, you will now! So would you like fries with your Beta blockers?
MONARCHY's second album of "glacial pop with a throbbing undercurrent of humanity" is due later this year.
---
'Disintegration'
is released by Hacan Sound via Amazon and iTunes.
---
Text by Chi Ming Lai
17th January 2013