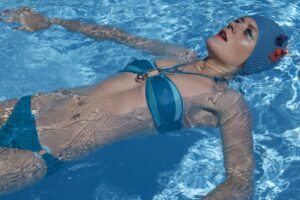 One of the key players in the renaissance of electronic music have been LADYTRON.
The quartet's dark flavoured, synthesized fusion has gained a loyal, enthusiastic audience with headline shows all over the world.
A prestigious support slot with NINE INCH NAILS and invitations to open for DEPECHE MODE being indicators of their cult popularity.
Their five albums have varied from the classic synthpop of '604' (2000), the edgier sonics of 'Light & Magic' (2002) and the great bleep forward of 'Witching Hour' (2005) to the rockier overtones of 'Velocifero' (2008) and the dreamy soundscapes of 'Gravity The Seducer' (2011).
Brian Eno, one-time member of ROXY MUSIC whose track 'Ladytron' the band are named after, said they were "the best of English pop music". However, although the group originally based themselves in founder members Danny Hunt and Reuben Wu's home city of Liverpool, the multi-cultural make-up of LADYTRON has been a key ingredient in their artistic success; Reuben Wu is of Chinese parentage, Mira Aroyo hails from Sofia while Helen Marnie is from Glasgow.
With LADYTRON currently in hiatus, main vocalist Helen Marnie has taken a busman's holiday and recorded a solo album "with more of a pop element and pristine vocals". The end result will be released under the moniker of MARNIE via Pledge Music, an online Direct-to-Fan / Fan-funded music platform that facilitates musicians to reach out to their fanbase and financially contribute to upcoming recordings or other musical projects in return for the music itself, exclusive updates and exclusive merchandise offers.
It's an innovative approach that is very much in keeping with the forward thinking ethos of LADYTRON. With the almost complete project still very much under wraps but scheduled to be unleashed in the Spring of 2013, Helen Marnie kindly chatted to ELECTRICITYCLUB.CO.UK about what may be in store with her debut offering and how she thinks crowdfunding is the way forward for musicians…
The LADYTRON '00-10′ compilation nicely documented the band's career to date. What have been your own career highlights?
It's such a long time, there's been quite a few. Playing the Sydney Opera House was one of them. I'm a massive fan of Australia and being asked to play there by Brian Eno was pretty cool. Doing Coachella both times was amazing, coming from the UK and going over there playing to a crowd that big… you feel like you're relatively unknown so it's quite special.
Going to China in 2005 was another, we were taken out there by The British Council and we did five gigs there in Shenzhen, Chongqing and Shanghai. Before going out there, I was a bit hesitant because no-one was going to know us, they couldn't even get the album out there. But Shenzhen, it was right next to Hong Kong. So playing there, it was really great and absolutely packed as people had travelled over from Hong Kong where LADYTRON probably went down quite well. Overall, that tour was quite an eye opener, I'd never been to China and it was educational.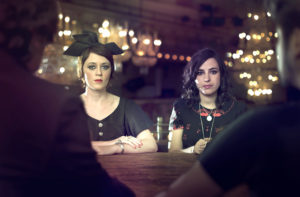 How do you look back on the last LADYTRON album 'Gravity The Seducer' as it seemed to get a mixed reaction from fans?
Well, I think there was, but then there always is! *laughs*
I love it and we were all happy with it. I think that album and 'Witching Hour' are my favourites. But there are always fans that want another '604' or 'Light & Magic'.
We weren't really happy to stay that way and after you've done ten years of touring, it kind of changes you and the kind of record you want to make, so you want to keep doing things differently. I think as well, there's a lot of Mira fans who want something in Bulgarian and if you don't deliver, they get a bit… disappointed! If Mira wants to sing in English, she'll sing in English! It's her choice! *laughs*
You can never please everyone… so as long as we're happy, that's cool.
The approach to the vocals on 'Ambulances' was quite different to what you had done before. What inspired that?
I don't know, I wrote that song so it's quite personal to me but it just comes naturally. I guess it is a bit different as it's quite high; it's falsetto-ish which I guess is unusual for LADYTRON. It's what came and felt right for the track and I think it's quite an emotional song so maybe it's sung that way as well.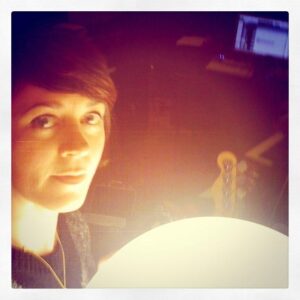 When did a solo album become a realistic project for you to undertake and what motivated you? What's its title?
The album doesn't have a title yet. I played around with the idea for a couple of years and joked about it for while. I had a handful of songs and when LADYTRON had some time off last year, I began to believe it could be a reality.
I thought if I have the opportunity, I'm just going to go for it. So I started writing as much as I could. The album is produced by Danny from the band but I was very aware that I didn't want it to be a LADYTRON record…
Obviously I'm one quarter of LADYTRON but I wanted it to be something different. I don't think it would sound like a LADYTRON record with just me because we've all got different ideas of what we want and different elements from everybody go into the band. So there's another producer Bardi Johannsson who has worked with KEREN ANN, he has his own band BANG GANG and he's working with AIR right now. He's from Iceland so the opportunity came to go out there and record at his home studio.
You mentioned Danny Hunt being involved but bearing in mind what you said about wanting it different from LADYTRON, had you considered to making this album Tron free?
Looking back now, maybe I should have done it that way but the opportunity arose and Danny wanted to do it. I wasn't quite sure how I would do it with anyone else really at the time. It just felt right.
The instrumental soundtracking the launch video is very dreamy and appropriately serene… how has the Icelandic environment been to work in and did the landscapes inspire you?
The record was written before I went out there but I've been to Iceland before… it's kind of a strange place! *laughs*
Reykjavik is pretty cool but tiny. It's very relaxing and the people are nice, it's very fresh and there's a lot of creative people there. Working with Bardi was cool because he's like an Icelandic rock star so knows absolutely everyone there. So if we wanted a drummer in, he could arrange that or someone on strings. But the reality is, we were working quite long days so it was limited how much light I saw but the experience overall was pretty good
What approaches have you been taking that are different from LADYTRON?
I guess having to write on my own, and a whole album as well.
The approach is not so much different because in LADYTRON, one person writes and you either take it into the studio and develop it, or someone else adds something. That's was pretty much the same thing.
I had the songs as far as I could take them and they were developed more fully in Iceland. They've changed quite substantially with instrumentation and things like that.
You've described this album as "an electronic pop album" and cited ABBA as an influence; this sounds quite intriguing as Reuben once described LADYTRON as "ABBA Noir" while Danny said "I'm suspicious of people who don't like ABBA – it's like not liking music!"…who have been the other influences?
ABBA is kind of a flippant inspiration; probably I was more referring to the album being song based; melodies and things like that. The stuff I've written is electronic but I find it difficult to pin point really what genre it's in… that's probably not a bad thing. It's definitely more pop than LADYTRON, and I wanted it to be like that, and more song based. It's not a dance album so if people are expecting that, they're going to be disappointed. But there are elements of that in there.
It's quite dramatic… when I'm writing, I tend not to listen to that much of the stuff that's going on around now. I find it a bit distracting because you never know what will slip into your head and then you've written something and think "oh this is amazing" and then you realise a little bit of it's from somewhere else. So I'm quite enjoying now actually listening to loads of stuff after the process has finished. *laughs*
It's weird, when I sit down to write, it's like a specific time and something's happened…I feel like I need to get it out and it'll start from there. It's an emotional process and that's probably when I get most writing done.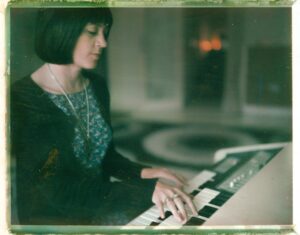 What instruments have you been using? Are you still using the faithful Korg Delta or the Cordovox? Or have you gone virtual or organic as it were?
There's a Delta in there, there is a Moog and Vocoder but they're subliminal. You wouldn't necessarily know they're there. There's piano across the album and some autoharp, but there's lots of synths and organs. It's all virtual to start with and we'll add more or take away what was on the demo and replace it with a real synth. That's generally how it happens.
Can you describe some of the songs you've been working on?
There is a song called 'Submariner', it's about a person but also influenced by the environment and the sea obviously. And… yeah, that's all I'll give you right now! *laughs*
Pledge Music is a novel idea for raising an independent budget for the album, how does this work for you as an artist?
Basically, if I hadn't had done the pledge, I wouldn't have been able to do this album. I couldn't really see a label taking it up, especially when the demos weren't quite in the right state for them to hear. I don't think it would have happened without Pledge. I know a lot of people are saying "hasn't she got her own money, why can't she make it herself?"
But the reality is, it costs a hell of a lot of money to make an album with a producer and a studio so Pledge Music made it viable. I think as well, the people who have pledged are quite excited by it and feel like they're a part of it… well, they are because they contributed to making it. I'm glad I've gone down this route so far, it's not over yet but I'm happy with how it's gone. I think it's been a success. I just hope that the people who have actually paid good money aren't disappointed with what they get because they haven't heard any of it yet apart from a tiny little bit of a song! *laughs*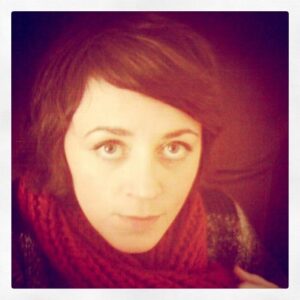 It's interesting this "less is more" approach because you can give too much away on the internet these days, it's nice to have a bit of mystery…
Yes, but I do feel the pressure of possibly letting them down a little bit. I think they've got to be open minded to do it in the first place because they don't know what to expect. They can't expect something sounding like LADYTRON because it's me!
But I think that crowdfunding is going to explode, it's already a huge thing but it's just going to go a lot further because where are artists making money these days?
And how can they? Bands and artists have to do things themselves now so this is a good way for them to do it.
I noticed IAMX is doing his next album via Pledge Music…
There a lot of people doing it, they're making a lot of money though *laughs*
One of the things you get with Pledge Music is the sale of artefacts and memorabilia. I see you had takers for your shoes and your bikini…
A MAN!!! *laughs*
What? For the bikini or the shoes??
Yeah…both of them!! *laughs*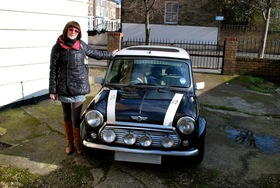 Was there much interest in your Mini-Cooper?
NO!! Not at all! I kinda put it on there for a laugh… no-one is seriously going to buy it but if someone wants to do, then they can have it y'know! I really love my Mini, I'm going to keep it and it's garaged. But I have a dog now and I can't fit my dog on my knees so it's not really ideal! But it's a good car! I thought it would be a fun thing for the pledge. *laughs*
The moniker MARNIE is obviously from your surname but are you a fan of the Hitchcock film?
Oh yes, definitely but we came first… a lot of people call me MARNIE anyway so it feels close to me and I didn't feel comfortable using my full name so I thought I'd do it that way.
Is MARNIE intended to be a studio-bound project or will you go out live?
The way I'm approaching it is one step at a time. The album is not finished yet, it needs to be mixed and mastered. Then we have to fulfil all the pledges. So once it's out and anyone likes it and they want me to do some things, I will consider it. I'm very open to things but I'm realistic as well. I want to see how things go but I think it would be really exciting… I would be scared sh*tless doing something live on my own I think, but I would be really excited!
Have you heard the new Glaswegian electronic act CHVRCHES?
Oh yes, I love them. I think they're going to be huge. I think they're great, they're really crunchy, they've got good melodies, rests and stuff going on. The singer, she's got a unique voice and it works well with the music that they're making.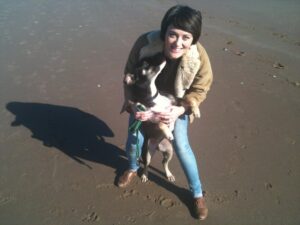 What else have you been listening to?
I got into GRIMES, the vocals of REN HARVIEU and BAT FOR LASHES but then, I've always liked her. I don't necessarily listen to electronic stuff all the time and some of it, I'm kinda "Hmmmm"! I think it's great that electronic music is on a high right now but it's so saturated as well. Everyone's going "it's great" cos it's electronic and I'm like "I'm not so sure"… but there's lots of good stuff.
What's next for LADYTRON?
LADYTRON are still all together. It's just a period of time to think really.
Mira's busy with her family, Danny's just recently moved to Brazil, I think Reuben's moving to the US and I've just moved back up to Glasgow… so it's a period of change.
We need some time just to get ourselves together but we'll be writing over the next few months to get the songs together for another album which could be out this year, but we'll just see how it goes really. We do plan to do another album which we will all be working for when the time is right.
---
ELECTRICITYCLUB.CO.UK gives its warmest thanks to MARNIE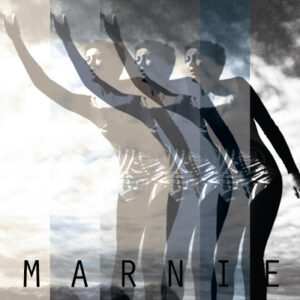 Special thanks to Zach Weinberg and Tim Husom at Redbird Management
MARNIE's debut album can be pre-ordered, along with a limited edition 7″ vinyl single via http://www.pledgemusic.com/projects/marnie
http://www.facebook.com/helen.marnie.official
---
Text and Interview by Chi Ming Lai
Photos courtesy of Helen Marnie and Redbird Management
15th January 2013