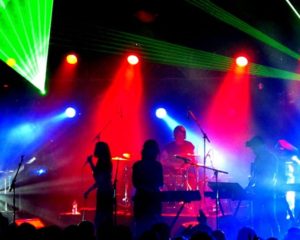 Korg is a four letter word, but then so is love. According to BRIAN ENO who played on the original ROXY MUSIC track that gave them their name, LADYTRON are "the best of English pop music".  
When LADYTRON first appeared towards the end of the 20th Century, the music scene was dominated by the post-Britpop hangover, TRAVIS and STEREOPHONICS were considered to be cutting edge by the music media and no-one would touch synthesizers with a bargepole!
But from Liverpool came Daniel Hunt and Reuben Wu who recorded their debut single 'He Took Her To A Movie' in 1998 under the name LADYTRON with vocalist Lisa Eriksson, who sang at their early gigs and later went on to form TECHNO SQUIRRELS. Released in its own right via Daniel Hunt's own label Invicta Hi-Fi in 1999, it became an NME Single Of The Week.
Then that summer, the duo met Helen Marnie and Mira Aroyo who joined to form the mysterious multi-cultural electronic foursome that we all know today. Initially all clothed in stark terrorist chic meets the catwalk attire, much to the chagrin of the rock press, not only were LADYTRON using vintage synths like the Korg MS10, Sequential Pro-One and Jen SX1000,they also had two girls fronting the band. The synthpop sound was heard by a younger generation for the very first time while Helen and Mira became role models for many young women.
After four albums, the quartet recently celebrated their first decade together with a compilation entitled '00-10′ spanning the many highlights from their catalogue. Maintaining an artistic integrity through sticking to their principles and avoiding being pigeonholed, LADYTRON have managed to pull off that rare feat of being an electronic based act that appeals to rockers, emos, indie kids and synthpopsters alike.
Starting with the catchy riff laden 'Runaway', the sound was immediately powerful and punchy, but not as bombastic as their shows in 2008. In a period where live performances have been on LED screen overload, LADYTRON opted instead for an awesome laser show pulling all manner of fluid shapes and sharp spiky beams. Launching then into two tracks of high amplitude, 'High Rise' attacked while surprisingly 'Ghost' cut more politely with less overtly rockist overtones.

In fact, there were several other clues to the move away from the loudness war of their previous album. Daniel Hunt eschewed the E-Bowed guitar he was practically glued to during the 'Velocifero' tour and returned to manning synths; in his case, an evergreen Korg MS10 and a rare Crumar Stratus. Gone too was the live bassist although a Flesh & Blood sticksman remained for percussive duties.
Meanwhile, a bequiffed Reuben Wu quietly played the moody synth wizard, fingering magnificent triple oscillator envelopes on his Moog Voyager. Mira and Helen took their usual roles out front and shared a Korg MS20 and Korg Delta between them, with more abstract squelch games coming via the former while the latter contributed more organic pads and solos.
The set was varied and drawn from all of their albums. 'International Dateline', one of the highlights from 'Witching Hour', was almost electro-goth Motown and very danceable despite the heavy backbone. 'Soft Power' added some subtlety to proceedings while a tremendous trio of numbers came with Mira's distinctive Bulgarian over the mechanical buzz of 'True Mathematics', a fabulously frantic cover of DEATH IN JUNE's 'Little Black Angel' and old favourite 'Discotraxx' with its hypnotic claptrap fill.
Throughout tonight, the tremendous fusion of backlighting, strobes and lasers gave the most perfect visual focus to the music. However 'Season Of Illusions' lost the audience temporarily although it was all grabbed back with the wonderful 'Ace Of Hz', the most recent single that will be reworked for the forthcoming album 'Gravity The Seducer'.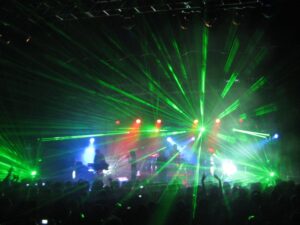 The main act conclusion came with some more spy drama tension from Mira on 'Fighting In Built Up Areas' before Seventeen which was as sinister and enjoyable as ever.
Here, Helen provided a more cynical snarl in her live intonation than on the whispered girly tones of the studio incarnation while Mira sternly counterpointed in her sexy deadpan manner. Nearly ten years on, 'Seventeen' perfectly captures the current shallow obsession with reality TV and celebrity culture.
Mean, moody and restless, the encore of brilliant new single 'White Elephant' was LADYTRON at their most sedate yet. Richly melodic with wonderfully dreamy, almost psychedelic textures, it was the complete antithesis of the in-your-face approach of 'Velocifero'.
Next though, it was back to the debut '604' album as 'Playgirl' ripped with its octave shift bass but in a much looser fashion compared to its original recording thanks to the live drumming.
But to finish, there was the magnificent 'Destroy Everything You Touch'. Totally glorious and sensational, the mind blowing synchronised laser display and strobes totally complimented what has always sounded like the backing to a Cold War rave. With some brief rock 'n' roll histrionics that even had Helen climbing the drum riser and punching the air to finish, it was all over!
Short but sweet, this series of dates are probably the end of a great era for LADYTRON. The next time they play live, it could all be very different. Daniel Hunt has said that "'Gravity The Seducer' is more of a jump than the last album was, more ethereal and melodic, a touch more abstract in places than we've gone before, baroque 'n' roll. It was a pleasure to make, took us right through last summer. It's our best record in my opinion".
---
'Gravity The Seducer' will be released by Nettwerk Productions in September 2011; '00-10′ is available now.
https://www.facebook.com/ladytron/
https://twitter.com/LadytronMusic
---
Text by Chi Ming Lai
Photos by Richard Price and Steve Gray
14th June 2011