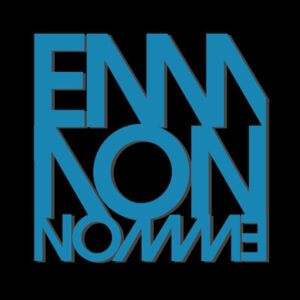 Now it is finally here, EMMON's third album is entitled 'Nomme'. As suggested by the great first single 'Distance', it is harder, darker and even more electronic than the last album.
Any traces of the flirtation with regular indie pop that was present in some of the songs on 'Closet Wanderings' can not be found anymore.
But EMMON's sound and energy fortunately remains unchanged. You could say this record is the epitome of everything that EMMON stands for: sexy urban elegance, warm electronic coldness and hard ecstatically danceable synth-disco beats.
For those of us who have followed EMMON for a long time, there are two pleasant surprises. Originally two of the songs on this album appeared as hard-to-find demos only, released sometime in 2003-2004. Now 'Body Jar 'and my old time favourite 'Love Track' can be finally enjoyed on an official release. Great! Both songs have been sharpened up a lot since the demo stage, but without losing any of their original spirit. However, 'Love Track' has now mutated into featuring a singing style that is very similar to THE KNIFE's Karin Dreijer-Andersson's distorted male voice. I like that!
Other notable tracks are the brilliant second single 'Ghost Dance' and the totally awesome All Yours, both of which were premiered live last year. 'All Yours' is THE obvious choice as the next single in my mind. There are a lot of remix potential in that song! I for one would love to hear MARSHEAUX, REX THE DOG or even Mr Vince Clarke have a go at it.
Like on the last album, there are two instrumental tracks 'Hammerville Heights' and 'Blacklight', both of which have hypnotic and propulsive rhythms. I guess they should provide the perfect soundtrack in your car when speeding down a highway…
'Slottet' stands out with its slightly distorted soundscape that gives a feeling of claustrophobic confinement, while the atmospheres in the beautiful track 'Oratory' make me think of ALPHAVILLE's song 'Carol Masters from Afternoons in Utopia' for some reason although there are no obvious similarities. Many of the songs are segued into each other to give a sense of coherence which helps bind the record together.
The album ends with 'Hammerville Heights' – a play on words, it is actually a direct translation of Hammarbyhùjden, a neighborhood in the south of Stockholm. This track leads me to recall bands like THE MOBILE HOMES, SAPPORO 72 and STATEMACHINES's first album 'Avalanche Breakdown' ie other Stockholm based bands – I wonder if it's the urban environment of Stockholm that gives it this typical sound? The feeling of riding the subway or commuter trains is significant, not least because of the sampled Stockholm subway stop announcement towards the end of the song.
In conclusion, EMMON returns in style with 'Nomme'. This is an album that all her fans absolutely must have. There is NO reason to sit this one out. Go buy it – now!
---
'Nomme' is released by Wonderland Records
https://www.facebook.com/emmonsweden
https://www.instagram.com/emmon_music/
---
Text by Johan Wejedal
9th June 2011