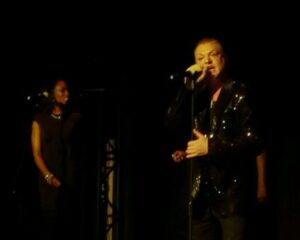 The two day Short Circuit Presents Mute extravaganza at The Roundhouse culminated in what was billed as 'ERASURE + Special Guests'.
However, as the hour long set progressed, it panned out into something else. Together as ERASURE, Andy Bell and Vince Clarke have been one of the most consistent UK pop acts ever. In 1985, fresh from brief stints with DEPECHE MODE, YAZOO and THE ASSEMBLY, Clarke placed a small ad in Melody Maker that said "Versatile voice wanted for established songwriter".
A 21 year old ex-butcher Andy Bell was one of the many applicants and was audition #36. As highlighted by producer Flood in his fascinating talk earlier in the day, what set Bell apart from the others was that he was the only candidate who hit falsetto during the audition piece 'Who Needs Love (Like That)', thereby impressing not only with his vocal technique but range too. So in neo-X Factor style, the judging panel of Clarke, Flood and Daniel Miller declared Andy Bell as the winner and ERASURE were born.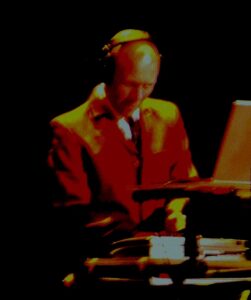 Although success was not instant with debut album 'Wonderland' and its lost hit single 'Oh L'Amour', the chemistry between Clarke and Bell possessed that special spark both musically and personally. ERASURE toured the college circuit and built up a loyal fanbase, eventually hitting chart paydirt with Sometimes. Further hits such as 'Victim Of Love', 'A Little Respect', 'Stop!' and 'Blue Savannah' followed, while albums such as 'The Circus' and 'The Innocents' confirmed they were more than just a singles act.
ERASURE scored their only No1 with their EP of ABBA covers entitled 'Abba-Esque' in 1992 which was supported by a spectacular theatrical show entitled the 'Phantasmagorical World Tour' as immortalised in 'The Tank, the Swan and the Balloon' DVD.
While fortunes have been mixed for Clarke and Bell both creatively and commercially in the last fifteen years, in 2005 they took to soft synths and delivered their best album ever with 'Nightbird', proving that if you've got it but have lost it, you can get it again back if you keep trying.
However, before the main ERASURE set, an additional treat came beforehand in the shape of a DJ set by DEPECHE MODE's Andy Fletcher, followed by a very svelte Alison Moyet taking to the stage with Vince Clarke.
In what was being touted as possibly the last ever live performance by YAZOO, it started appropriately enough with the tremendously emotional 'Nobody's Diary'.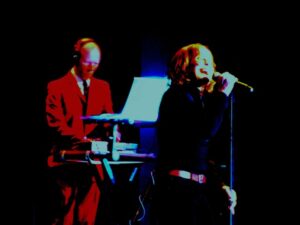 Such a short set needed some intuitive choices and 'Ode To Boy', Moyet's own personal tribute to Clarke, provided recognition of the fact that Mute's initial commercial success came on the back of his songcraft.
Ending with a beefy 'Don't Go', Moyet savoured every moment before handing the microphone over to Andy Bell. With so many of the ERASURE faithful present, Bell and Clarke used the occasion to air some lost fan favourites from the twosome's back catalogue at the start.
'Hideaway' is ERASURE's own 'Smalltown Boy' while 'Fingers & Thumbs (Cold Summer's Day)' is possibly their most under rated hit single. The duo's second single 'Heavenly Action', whose rare Yellow Brick Mix 12″ pressing once fetched £75 on the collectors market, sounded like the hit single it never was.
After that trio of pleasant surprises, it ERASURE reverted to doing what they do best which is brilliantly catchy hit singles. 'Always' and 'Ship Of Fools' eased the crowd in while 'Victim Of Love' and 'Chains Of Love' got everyone dancing including Mr Bell himself. 'Breathe' was the token 21st Century entry, while the electro ROY ORBISON of 'Blue Savannah' is one of their greatest moments. Of course, no ERASURE set would be complete without 'Sometimes' or A Little Respect'. Clarke casually strumming his six string while Bell wowed the audience.
As Andy Bell gave his thanks to all, he talked of Vince Clarke's impeccable taste in vocalists. First he mentioned Alison Moyet, but then there were gasps of excitement as the name Dave Gahan was announced and everyone looked to the sides of the stage.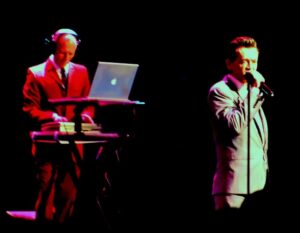 But it was not to be, as Bell announced the arrival of THE UNDERTONES' Feargal Sharkey to close the evening's set. The lively Sharkey announced that he hadn't sung live for 20 years and that Vince Clarke was the only person he'd have returned for.
And so THE ASSEMBLY's only single 'Never Never' got a very rare outing with Sharkey providing his distinctive warbling lead, as Bell counterpointed on backing vocals. It was a most wonderful sight to bear witness to.
Short but sweet; this celebratory set was a reminder of not just how good ERASURE really are but also, what a glorious talent that man Vincent Clarke truly is. And in a weekend that also saw performances from RECOIL, NITZER EBB, THE RESIDENTS and LAIBACH, it was a perfect demonstration of Mute Records' brighter side and its marvelous pop sensibilities.
---
ERASURE's 'Total Pop' tour featuring special guest SOPHIE ELLIS-BEXTOR includes:
Suffolk Thetford Forest (10th June), Kent Bedgebury Pinetum & Forest (11th June), Dublin Olympia Theatre (13th – 14th June), Cork Live at The Marquee, (15th June), Nottinghamshire Sherwood Pines Forest Park (17th June), Gloucestershire Westonbirt Arboretum (18th June), Staffordshire Cannock Chase Forest (24th June), North Yorkshire Dalby Forest (25th June), Berlin Zitadelle, (27th June), Hamburg Stadtpark (29th June), Cheshire Delamere Forest (1st July), Guildford Guildfest (17th July)
---
Text by Chi Ming Lai
4th June 2011