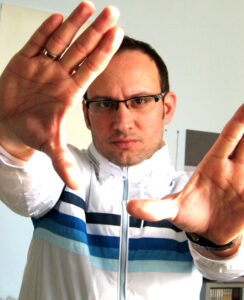 Nick Bitzenis is the musical genius behind Greek power popsters MIKRO and the co-founder of Undo Records with George Geranios.
With Geranios, he is also a member of FOTONOVELA who not only released their own album 'Mistakes Are Good' in 2008 but also produced MARSHEAUX's three albums 'E-Bay Queen', 'Peek a Boo' and 'Lumineux Noir'.
Another notable production was the 2004 Eurodisco hit 'Ready For Love' featuring the model Maria Korinthiou as guest vocalist for ESTE, who on closer scrutiny were found to actually be FOTONOVELA in disguise! Never one to sit still, he also has a brilliant solo project under the moniker NIKONN.
In addition to instrumentals, it has featured a variety of guest vocalists such Maria Papadopoulou (whose own album Nick also produced) and Maroola Koutsouri as well as his own voice. Released in 2005, the superb debut 'Poladroid' quietly became one of Undo Records biggest sellers. It was the perfect electronic chill-out album with beautiful widescreen textures, warm melodies and subtle beats. The 2008 follow-up 'Utopia', described by Nick as "a soundtrack of our dreams", maintained the high standards set by 'Poladroid'.
NIKONN's brand new album 'Instamatic' began its genesis with a strong Nordic influence. Indeed, the working titles of the tracks referred to countries or regions in the area.
But the final titles themselves reflect the continual tranquillity that was part of the original concept. This has now been combined with a sun-kissed drama that can only come from living close to the Aegean Sea. 'Instamatic' itself is a wonderfully dreamy listen, rich in wispy vox femina and nominally more uptempo than its two predecessors.
Although entitled 'Silence', this opening number is paradoxically percussive and features Nick's own vocals alongside the gated, indie-like backing. 'The Sea' is suitably Mediterranean with sexily breathy vocals from KID MOXIE's Elena Charbila while 'Afterimage' is what DEPECHE MODE would have sounded like, if Martin Gore had moved to Barcelona instead of Berlin in 1984 and replaced Dave Gahan with Patsy Kensit.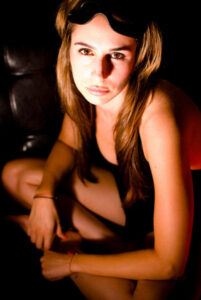 'Moby Is Around' also featuring KID MOXIE does exactly what it says on the tin and is a charming tribute to the former Richard Hall.
The title track's gorgeous string pads continue the MOBY theme while on the neo-rave of 'Lifeless', the ghost of 'Go' isn't far away. However, the angelic chorals provide a great counterpoint to the thumping dance beats.
'All We Can Do Is Love' recalls the laid back lounge of AIR's 'You Make It Easy' although at the opposite end of the spectrum, Someday is surprisingly motorik. Piano textures and strings shape the effervescent 'La Bottega' while the charming mystique of the French Yeh-Yeh girls and some Riviera vibes concoct the lovely cocktail that is 'Sunrise'.
'Nikonn Vals' provides a waltz interlude before finishing the album with 'Lust', a comparatively discordant collage with steady drum loops jarring against the vibrato synth lines. A satisfying fifteen tracks form Instamatic and as an ideal travel companion for a holiday soundtrack, it is perfect.
In a break from his busy schedule, Nick Bitzenis joined ELECTRICITYCLUB.CO.UK for a spot of Souvlaki and a chat about his varied catalogue of work.
Who were the artists that inspired you to become an electronic musician?
The first artist that inspired me was KRAFTWERK. Then after KRAFTWERK, there was DEPECHE MODE, VANGELIS, OMD, THE HUMAN LEAGUE and YAZOO.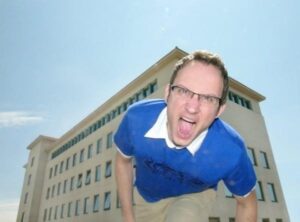 Are you a classically trained musician?
No, I'm self-taught. As a kid, I liked playing with buttons to make noises. When I was five years old, I cried for one week to my father to buy me a small keyboard!
I understand you once played in a DEPECHE MODE tribute band?
Yes, that's correct. I was in a band called NAKIN EYES that played covers.
But the tribute band that only played DEPECHE MODE songs was CARPE DIEM IV, the name is Latin.
What was your favourite DEPECHE MODE song to play?
I think 'Stripped'. We played the festival that Hysterika, the Greek DM Fan Club held which is where I met George Geranios.
You have been recently touring with MIKRO in Greece with the Download album, how is your popularity in your home country?
It is very big; I think we are the most famous home-grown electronic band in Greece.
You also played in London in November 2009 supporting MARSHEAUX to promote the English version of the album called 'Upload'. How do you think it was received?
We were very nervous about it, but because we usually play to an audience who like already like our music. So it was a big surprise that we had people dancing to our music and like it. I know it is very difficult in England, in London to present this kind of music… it's a tough audience but the feedback we received was very nice for us, it gives us more power to continue our work.
How do you feel about this age of free downloading?
It helps spread the music. Downloading is only a type of media, what's important is the music. In ten years from now, it will be another type of media. We had CDs, then minidiscƒ do you remember minidisc? *laughs*
What do you think about the loss of sound quality in MP3s?
People have moved from listening to music on Hi-Fi to headphones. 90% of people do this so they can't understand the difference in sound.
What influenced you to undertake an ambient solo project such as NIKONN. Was it the success of artists such as MOBY, ROYKSOPP and even Greece's own VANGELIS?
With MIKRO, it's loud musicƒmore power pop. I needed a solo project to express some of my sound ideas. It's like an atmospheric soundtrack with electronic moods. I like soundtrack music very much.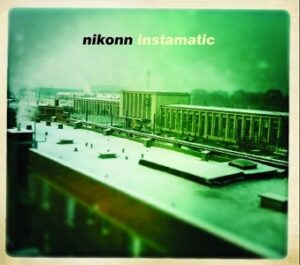 Your music as NIKONN has a wonderful filmic quality. Has it been featured on any soundtracks yet?
One track was featured on 'CSI: Miami'. NIKONN is more successful abroad; I have four tracks from the 'Poladroid' and 'Utopia' albums on various 'bar' compilations.
Do you prefer female vocals on your work?
I like girly vocals very much but it depends on the song. If itÍs my vocals or a girl's vocals, itÍs not a problem for me.
You are part of MARSHEAUX's production team. What is it like working with the girls in the studio?
It's very hard work! *laughs*
You are very busy with FOTONOVELA too. The first album 'Mistakes Are Good' appeared to be more grooves rather than songs. So what concept will the new album take?
FOTONOVELA was George's idea to make pure electro music with 80s influences like Italo Discoƒ the band's name is taken from the song. The new album goes further with songs.
We would like to have a more serious but modern sound and make the music that we like, whatever! And the vocals, we will experiment. We hope to have a lot of guests; we are talking to Claudia Brucken from PROPANGANDA and ONETWO, Sarah Blackwood from DUBSTAR and CLIENT, and Daryl Smith from THEY GO BOOM.
What have been your favourite albums or artists over the last 12-18 months?
GROOVE ARMADA 'Black Light' is my favourite album at the moment; I listen to it all the time. THE CHEMICAL BROTHERS' album 'Further' is good. I also like MIRRORS 'Lights And Offerings' and THE SOUND OF ARROWS. THE GOLDEN FILTER 'Volupsa' is very nice, although I didn't like 'Head First' by GOLDFRAPP; but I'm in love with Alison and the first albums 'Felt Mountain' and 'Black Cherry'.
---
ELECTRICITYCLUB.CO.UK gives its thanks to Nick Bitzenis
'Instamatic' is released by Undo Records
https://www.facebook.com/undonikonn/
---
Text and Interview by Chi Ming Lai
31st May 2011