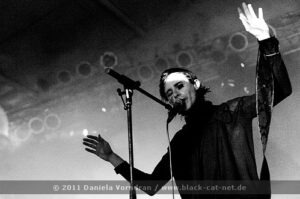 In 1996, SNEAKER PIMPS released the highly acclaimed 'Becoming X'. Labelled as trip-hop and featuring the hit singles '6 Underground' and 'Spin Spin Sugar', this was the only album recorded by its original line-up of Kelli Ali, Liam Howe and Chris Corner.
Since then, singer Kelli Ali has forged herself an acclaimed solo career while instrumentalist Liam Howe produced MARINA & THE DIAMONDS' 'The Family Jewels'.
But it is Chris Corner, who took on vocal duties after Kelli Ali's departure on the albums 'Splinter' and 'Bloodsport' that has had the greatest success as IAMX. So the title of that debut indeed turned out to be quite prophetic.
Now domiciled in Berlin, where Corner has found "the spirit to care less about the music industry and take an independent route", his albums 'Kiss + Swallow', 'The Alternative' and 'Kingdom of Welcome Addiction' have captured an electro Gothic aesthetic that combines the theatrics of Weimar Cabaret with themes of sex, alienation and dependency in the best tradition of DEPECHE MODE and NINE INCH NAILS.
Despite the lyrical and aural fervor, Corner's songs are strongly melodic with an accessible grandeur. It's interesting to note that a significant number of IAMX's fanbase are female, the emotional drama obviously striking a chord, in a manner of speaking, like HURTS gone Emo.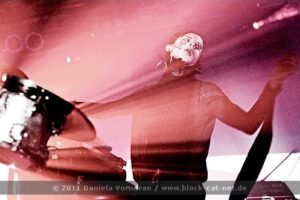 New album 'Volatile Times' is coloured by the dark climes of the present and it is in support of this long player that IAMX are here tonight in Cologne.
Largely ignored in the UK, the tour therefore focuses on Germany and Eastern Europe where IAMX's following is strongest. Less immediate and more understated than its predecessor, 'Volatile Times' is Corner's most introspective collection yet.
But the IAMX live experience concentrates on strong rhythmical tension and stark minimal lighting with the live band of Corner, Janine Gezang (synthesizers, guitar, percussion and backing vocals), Caroline Weber (drums) and Alberto lvarez (guitar, bass, percussion and backing vocals) all presented as shadowy figures against a backdrop of arthouse expressionist cinema. Addressing the crowd in Deutsch, Corner has everyone in the palm of his hand as his frantic vigour hypnotises all who are present.
Beginning with 'Music People', the backing track sounds like it was originally recorded on a tape machine with flattening batteries that has now been played back with voltage fully restored. It provides a spectacular opening crescendo as it speeds to infinity and beyond!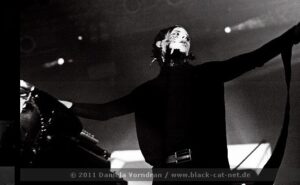 The steadfast 'Volatile Times' title track follows but it is 'Nightlife' from 'The Alternative' that first lets some light in. The big booming synths and dance tempo make it a fine example of what DEPECHE MODE should sound like in the 21st Century. Also cut from the same cloth is 'Nature Of Inviting', the solid sequenced bassline complimented by noisy treated guitars and Corner's vocals which combine vulnerability and aggression.
Meanwhile, the 'Volatile Times' superb lead single 'Ghosts Of Utopia' has instant appeal with its exhilarating mechanical drive and electrickery… his scream of "this is psychosis" is wholly believable! On 'My Secret Friend', Gezang takes the part of IMOGEN HEAP on a blessed and brooding duet with Corner, backed by buzzing tones and tinkling ivories. The stomping percussive strut of 'Tear Garden' (a pun on Tiergarten in Corner's adopted home city of Berlin) is vibrant and strangely euphoric with Gezang, Weber and lvarez all banging drums in unison to provide one of the eveningÍs first highlights.
'I Salute You Christopher' as a rich sonic interlude before the detuned tones of 'Fire & Whispers'. Corner often sings of contradiction; the confusion is very much part of the package, reflecting the uncertain times of today. So it's the brilliance of 'Think Of England' that captures these mixed feelings. The words "I just can't think of England, I can't see the picture, I'm still running from the fire" run so true.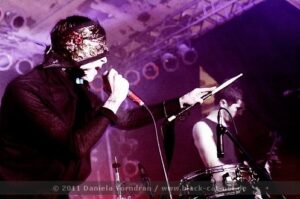 The industrialised squelch of 'Kiss & Swallow' is an apt reminder as to why Corner has become such a cult hero since IAMX first appeared in 2004 while the cinematic waltz of 'President' conjures up images of domination and self-resignation auf 'Nightporter', both the Dirk Bogarde film and JAPAN song. Disturbingly militaristic with the snare tattoo of OMD's 'Maid Of Orleans' as its backbone, Corner's soaring synth solo cuts into the soul with this aural examination of the forbidden zone.
For the tremendous encore comes the 6/8 rhythm swing of 'The Alternative'. It's a full electroglam rock out while the apocalyptic synthdisco of 'Skin Vision' from 'Kiss & Swallow' gets given a welcome airing. But it's the glorious intensity of 'Spit It Out' which provides a fitting, starkly Eurocentric climax to the evening. Sadly, there's no 'Kingdom Of Addiction', but with paeans to love and obsession galore, IAMX deliver a great journey to the Dark Side Of The Moog.
A mechanical cabaret with lots of words ending in "-ion"; easy listening it certainly isn't, but potently enjoyable it is.
With the deluge of haunting East European scales and neo-classical flourishes, this could be the sound of MUSE but with 50% extra synths… free! Once again, the UK is decidedly ignorant while its EU neighbours are ahead of the game.
---
ELECTRICITYCLUB.CO.UK gives its grateful thanks to Daniela Vorndran at www.vorndranphotography.com and www.black-cat-net.de for the use of her photographs.
'Volatile Times'
is released by Republic of Music/BMG
IAMX play London's Heaven on 13th October 2011
http://www.facebook.com/IAMXOFFICIAL
https://www.instagram.com/iamx/
---
Text by Chi Ming Lai
Photos by Daniela Vorndran
29th May 2011