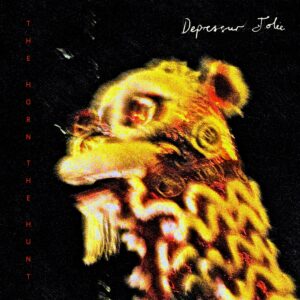 Enigmatic Leeds duo THE HORN THE HUNT's second album 'Depressur Jolie' is an intriguing listen.
Comprising of Clare Carter and Joseph Osborne, the pair have developed their own Nordic flavoured sound with added authenticity, courtesy of a quarter year spell of writing 600 miles north of the Arctic Circle on a tiny island next to the icecap.
Carter said of their sojourn: "Our time in Greenland was significant, artistically speaking. Being exposed to landscapes, the people and their history, their paganism. It made us realise why we had put ourselves in such an extreme environment".
Writing in perpetual darkness has certainly had its effect on 'Depressur Jolie'. Aurally disconcerting, the spectres of KATE BUSH, THE KNIFE and BJORK run throughout although industrial edges also permeate these musical pagan rituals.
The grandeur of 'Raptor' is simply tremendous; the sirens' call provides a sonic chill while the brooding pitch shifting vocals take on several unsettling timbres.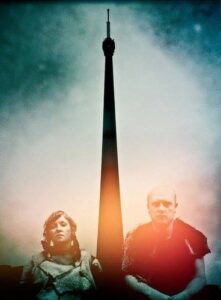 'Pleasureland' is its more aggressive second cousin, further siren synths colouring the drumatics. Crossing FEVER RAY with NEW ORDER, 'Henry's Out' is almost like tribal gothic disco while 'Old Town Cow' sees the synths all tuned to pentatonic scales while driven by the chattering sound of cowbells although HI-NRG this most certainly isnÍt!
The haunting title track features an interesting use of vocal samples for its booming heartbeat before the sequences kick in while 'Harpoon' could be the soundtrack to a Heathen ceremony. 'Lava Dreams' features sparse piano to drum machine accompaniment as Carter and Osborne pay homage to TALK TALK's 'Spirit Of Eden' while the volcanic spectre of Karin Dreijer Andersson looms heavy.
The excellent 'Follow You In There' ends 'Depressur Jolie' on a comparatively optimistic note with exotic tones and strips of light poking through the Cimmerian shade.
Within all the inherent resignation though, there is ambition. "We wanted to make a big pop album… our ideal pop album… full of bold, aggressive songs that have no loyalty to any particular sound or style." explains Carter. With guitars, drums and bass feeding the jagged dragon next to the futuristic sounds and beats, the downcast textures have a presence that will ultimately reward those who enjoy a challenging musical adventure.
Released on White Label Music which was co-founded by ADD N TO X's Ann Shenton, 'Depressur Jolie' manages to be both mysterious and accessible.
---
Special Thanks to Alastair Neville at Charm Factory and Ann Shenton.
'Depressur Jolie' is released by White Label Music
THE HORN THE HUNT's 2011 live dates include: Leeds Milo (Album Launch Party – 28th May), North Yorkshire Rough Beats Festival (10th June), Isle Of Man Laxey WMI (16th July), Isle Of Man Douglas Outback Bar (17th July), Skipton Beacons Festival (14th August), Lincolnshire Alchemy Festival (17th September), Winchester The Railway (7th October)
---
Text by Chi Ming Lai
26th May 2011