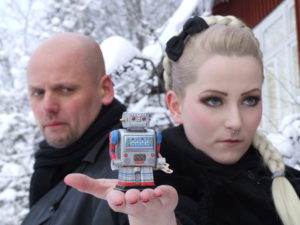 In 2009, vocalist Plastique from German electro pop band WELLE:ERDBALL met the Swedish synth wizard Deadbeat via the internet and both soon realised that they just had to start a band together.
At that time, Plastique lived in Berlin and Deadbeat in the small town of Nora, halfway between Stockholm and Gothenburg; so they did most of their collaboration over the web.They later became THE GIRL & THE ROBOT and released their first EP 'Whole/Flowers' in early 2010
Meanwhile a full length album 'The Beauty Of Decay' followed in late spring 2010. The neo-gothic drama of 'Please Stay' and 'Crash Course In Hate' particularly were fine examples of their melodic and melancholic style that had obvious roots musically from 'Violator' era DEPECHE MODE.
This month sees the release of their first material since 'The Beauty Of Decay'. The new EP features two songs 'Silence' and 'Borderline' plus a WELLE:ERDBALL reworking of album cut 'Another Love'. 'Borderline' sees Plastique sing in Swedish backed by some much heavier bass overtones. Both elements combine for some erotically charged mutant electronica as visually interpreted by the marvellous promo video which sees Plastique cooped up in a dark padded cell, while Deadbeat attempts to rescue her from a monochrome parallel universe…
Recently, THE GIRL & THE ROBOT made their live debut at the very prestigious electronic club called The Station in Gothenburg. The show was a big success with a large, very enthusiastic crowd. Their songs worked just as well live as on record and they played some new material as well which sounded very promising. Even if Plastique seemed a bit nervous in the beginning of the show, she really got into the role of front woman as the show went on. By the end of it, it could be clearly seen that she enjoyed it very much, in response to the cheerful crowd.
ELECTRICITYCLUB.CO.UK caught up with the band after the gig to congratulate them on its success and have a chat about their music. They were both happy but a bit exhausted too, especially Deadbeat which is why he was a bit silent:
Your first live gig ever is over, how does it feel now?
Plastique: Well, it feels really good. I was actually quite nervous before, but everything went well and I'm very happy now. Now I'm ready for the Arvika Festival!
Deadbeat: Yes, it really feels excellent and everything worked fine!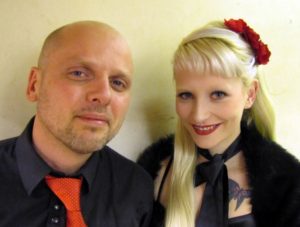 You have said previously that there were not going to be any live gigs. What made you change your mind?
Plastique: It wasn't that we didn't want to do it; it was just because nobody offered us a proper deal. Sweden is very important to us and we were very happy when we got the invitation to play at The Station and there was no question; of course we going to do it! There is no better place than here to have your first concert I think! It's a very cool club!
That leads directly to my next question: why do the debut gig at The Station?
Plastique: Because we can! I mean where else in Sweden would you have your debut if not here?
So I guess you think the crowd in Gothenburg is special?
Plastique: Definitely! I mean there are a lot of people with a good taste in music obviously, and it pretty amazing to have so many people here that listen; I don't think you would get that in, for example Berlin!
And you are going to play at the Arvika Festival as well?
Plastique: Well, when people saw that we are doing concerts, we got a lot of offers actually. But we refused most of them. But the Arvika Festival is special. I was there with my other band WELLE:ERDBALL in 2009 and it was amazing! And even though the festival is going to be smaller this year; or maybe because of that even, we just have to go there! This is such an honour!
So are there more live gigs planned?
Plastique: Well, not at the moment. It depends on offers,ƒ maybeƒ we will see. We live very far away from each other, so it's not that easy to rehearse and so onƒ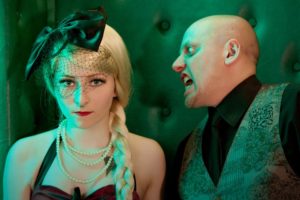 If you look back on 'The Beauty Of Decay' album and the last year; how do you feel about the reactions to the album and the interest in THE GIRL & THE ROBOT in general?

Plastique: Oh, very good! More than I expected! We got a lot of reviews from online communities and not just from Germany and Sweden, but also a lot from the UK and France.
I'm surprised! I wouldn't say I'm satisfied, but we do this because we want to and we need to do it with out heart and soul; so it's great that we get so much response of course!
So when are you planning to release new material?
Plastique: Well, there's the EP called 'Silence/Borderline' in May and our new album 'Acardiac' will be released in August. And the single will be sung in Swedish! We are going to release a video as well with the single. We hope that we going to get more interesting concert and festival offers too.
Can you tell me how your music has developed since the first album?
Plastique: I think it feels it has a little more contrast in the songs and we were pretty fast actually; there was a lot of output just after we released the first album. Maybe that was because we got so much good response from people so we got very motivated to do more songs. But I don't know really; it's hard to talk about your own music. Maybe you should ask someone who has listened to it *laughs*
---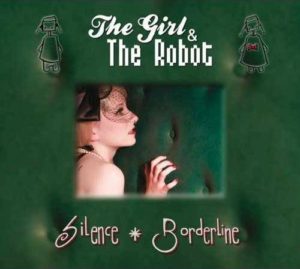 ELECTRICITYCLUB.CO.UK thanks Plastique and Deadbeat for their kind participation in this interview
'Silence/Borderline' is released by Trisol Records on 20th May 2011 as a CD and download.
They also play the Arvika Festival in Sweden which takes place between 14th to 16th July 2011
---
Text and Interview by Johan Wejedal
25th May 2011