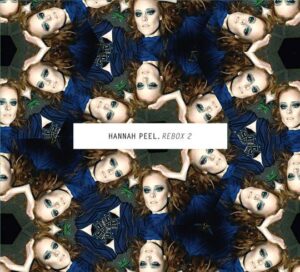 Issued to coincide with her recent tour supporting EAST INDIA YOUTH, multi-instrumentalist singer/songwriter HANNAH PEEL has released 'Rebox 2', a seven track mini-album comprising of four covers and three new instrumentals.
Peel first became known for her debut EP 'Rebox' which featured music box covers of synthpop classics such as 'Electricity', Tainted Love' and 'Blue Monday'. Her first album 'The Broken Wave' showcased her many talents within a traditional instrumentation setting.
But it was following her recruitment as a synth playing violinist with JOHN FOXX & THE MATHS that has led to an increasingly electronic element to her work. This new template was premiered on the song 'Harbour' from her 'Nailhouse' EP, while her best body of work to date 'Fabricstate' was a marvellous hybrid of the synthetic and the organic. With her seasonal single 'Find Peace', Peel went the full electronic hog with a dreamy cacophony of analogue electronics and percussive mantras akin to GAZELLE TWIN.
With HANNAH PEEL's second full length album 'Awake But Always Dreaming' now in the can and due for release in 2016, 'Rebox 2' is an enticing stopgap, demonstrating more of the potential that this Craigavon born songstress ultimately possesses. Her music box has now become something of a trademark. She said in 2011: "I discovered the programmable music box when scoring some music for a theatre show in Liverpool". With parallels to modern sequencing, she explained it used "a punch card type of system, resembling early computer techniques when having to give digital instructions".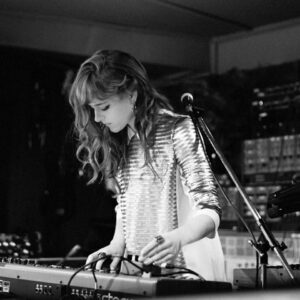 So having applied her technique to the songs of Synth Britannia, 'Rebox 2' brings HANNAH PEEL up to date by reinterpreting the work of her modern day contemporaries. A reworking of PERFUME GENIUS' 'Queen' begins this seamless 23 minute collection as reverbed steps snap into unison with the music box and some droning sweeps. As Peel snarls while reciting this anti-homophobic protest song, it sets the tone for what follows.
'Let The Laughter In' novelly uses a sample of Peel's own charming voice as a rhythmic backbone that comes over like psychedelic hiccups while synths and piano layer themselves in.
The music box continues its presence on 'Pale Green Ghosts', one of the highlights from JOHN GRANT's acclaimed 2013 long player of the same name. One interesting point is that the songs Peel has covered on 'Rebox 2' are all by male artists, thereby instantly adding a different perspective. The combination of music box, harp textures and haunting, multi-layered vocals on 'Pale Green Ghosts' add to the tension already provided by the subtle synthetic elements and dramatic, militaristic heartbeat. Grant's original was inspired by YELLO and CABARET VOLTAIRE, so it is fascinating to hear that pioneering seed manipulated into something else.
Drifting into the moodily ambient 'Reverie', the solemn piano and strings capture accurately the dictionary definition of "an instrumental piece suggesting a dreamy or musing state". Meanwhile, the stark template of the original 'Rebox' lends itself wonderfully to 'Palace', originally performed by WILD BEASTS. With only her music box for company, with an innocent bedroom air and the realisation that home is where the heart is, Peel's arrangement is simple and intimate, yet wholly accomplished. From the most traditional arrangements then comes the most futuristic with 'Premonition'. A hypnotic sequencer pulses to oblivion while softly layered synth and voice samples augment the framework for a vibrant and enjoyable composition.
The best is saved until last with the marvellous synth / music box hybrid of 'Heaven, How Long'. Already a classic song of the future by its originators EAST INDIA YOUTH, whereas William Doyle's version eventually turns into a motorik sonic barrage of sound, Peel keeps 'Heaven, How Long' bravely unwavering and lonely. And when her solemn violin joins in, it pulls at the inherent resignation as outlined by the emotive lyric: "In spite of all the love inside me – There is a question I've been asking – Heaven how long?".
The sonic amalgam that Peel and her producer Erland have provided on 'Rebox 2' creates a marvellous compendium that crosses centuries of musical heritage, yet looks forward to the future. No-one appears to be making music in the way HANNAH PEEL is at the moment, with the genre blend of the traditional world with the electronic… and with the brilliant uptempo electronic pop of 'All That Matters' set for inclusion on her new album, there will be even more wondrous offerings to come from the delightful Miss Peel.
---
'Rebox 2'
is released by My Own Pleasure, CD is available now from http://hannahpeel.tmstor.es/ while the download can be purchased via https://hannahpeelmusic.bandcamp.com/
http://www.facebook.com/hanpeel
https://soundcloud.com/hannahpeel
---
Text by Chi Ming Lai
16th June 2015