Broken By Silence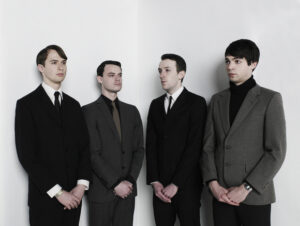 In 2013, it would appear electronic pop music is as popular as ever with classic acts such as OMD and PET SHOP BOYS producing some of their best work since their heyday. And with them come many new acts who have been inspired by the innovators.
But one comment often keeps being repeated whenever ELECTRICITYCLUB.CO.UK discusses particularly the new all-male synth acts on the scene with its colleagues and friends: "They're not MIRRORS!"
Founded by James New (lead vocals and synthesizer) and Ally Young (synthesizer and backing vocals) in 2008, the pair were soon joined by James 'Tate' Arguile (synthesizer) and then Josef Page (electronic percussion) a few months later.
New and Arguile had actually been members of one-time indie hopefuls MUMM-RA who were signed to Columbia Records and had supported THE KILLERS in 2007; their best known song 'She's Got You High' was used in a Waitrose advert and an episode of 'The Inbetweeners'.
In 2009, MIRRORS released two self-produced singles 'Look At Me' and 'Into The Heart' which showcased an updated post-punk electronic sound. With New's majestic vocals over their surreal, cinematic atmospheres, MIRRORS designated their music pop noir. After a few false starts image wise, MIRRORS settled on a look based around 20th Century European Modernism.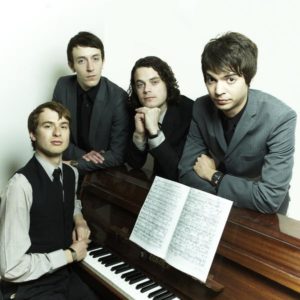 James New told ELECTRICITYCLUB.CO.UK: "We were fed up with how everything looked around us and we were definitely fed up with this celebration of scruffy indie rock music". Relocating to Brighton, they impressed with their live shows locally and were eventually signed by FAT BOY SLIM's label Skint Records with a tour supporting DELPHIC following not long after.
The quartet had a distinct vision and after aborted sessions with noted producers Richard X and Ed Bueller, their debut album was recorded and self-produced in a rural Sussex farmhouse before being mixed in New York by Jonathan Kreinik of DFA fame.
The resultant long player 'Lights & Offerings'
was a wonderfully cohesive, seamless body of work that expressed the hopes and fears of young manhood. Following the philosophy of the Bauhaus movement's founder Walter Gropius in uniting art and technology, the album crucially possessed an intelligent balance between precise electronic beats and emotive vintage synthesizer melodies.
James New had certainly kept his promise when he described the album as a collection of "really great pop songs" that contained "very densely produced, heavily layered, emotional, soulful electronic music". Epic tracks such as 'Fear Of Drowning', 'Somewhere Strange' and the sub-11 minute 'Secrets' showed depth and ambition while there was accessible but cerebral synthpop in 'Searching In The Wilderness', 'Hide & Seek' and 'Ways To An End'. And to show off their versatility, there was the beautiful electro cover of cult Country & Western number 'Something On Your Mind'.
Despite delivering a fine debut album, MIRRORS didn't get the recognition they deserved. There were several possible reasons for this. By the start of 2011, there appeared to be a synthpop backlash following the success of LA ROUX, LITTLE BOOTS and even LADY GAGA during 2009-2010. Certainly the music press only seemed to embrace bands with a rogue electronic element if there was an obvious guitar backdrop (see THE KILLERS, LCD SOUNDSYSTEM and WHITE LIES).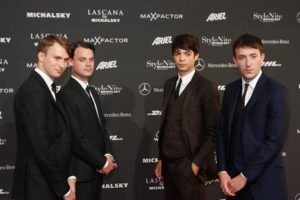 But ultimately, they wanted combos with beards, guitars and preferably no synthesizers at all (see KINGS OF LEON and MUMFORD & SONS!)
It would be fair to say that MIRRORS probably also suffered from being compared to HURTS, particularly in Germany, the one market where MIRRORS were expected to prosper and the only country where the quartet undertook a full headline tour.
HURTS' 'Wonderful Life' had been a No2 hit there and while the arthouse monochromatics of both acts indicated they each had a common goal to subvert the perception that bands needed to wear jeans and be hairy in order to attain any kind of credibility, musically the two acts were kilometres apart.
HURTS were more TAKE THAT and SAVAGE GARDEN cleverly dressed as ULTRAVOX, while MIRRORS really were the illegitimate offspring of OMD and DEPECHE MODE! But even the European public didn't quite see it like that and certainly HURTS were able to attain more promotional momentum thanks to the weight of the Sony Corporation behind them!
While it could be expected that the real music brigade would be resistant to MIRRORS and their thoughtful aspirations, there was a surprising refusal to accept them within the electronic community itself. Electronic music didn't die post-grunge but had mutated into numerous sub-genres and cottage industries.
But there was many a petty jealously embroiling as this band seemingly appeared out of nowhere and picked up on the distinctly European legacy that had been left behind back in the day to satisfy the synthobic territory of the USA with the advent of MTV. Comments like "Synth Britannia throwbacks", "credit crunch KRAFTWERK" and "OMD tribute act" were among those banded about.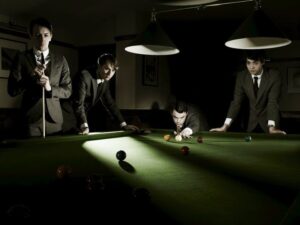 Then there was OMD's drummer Mal Holmes' amusing quip that "MIRRORS do OMD better than OMD do OMD…" – although complimentary, the comment may have inadvertently had an adverse effect.
It was known to have got up the backs of several OMD fans who felt that OMD could do no wrong, despite them delivering a disappointing comeback album in 'History Of Modern'! Ultimately, it was as if some wanted MIRRORS to fail.
Of course, OMD were one of MIRRORS many influences. The invitation to support the band on their 2010 European tour proved to be a blessing and a curse. While opening for OMD put MIRRORS firmly in front of an audience who were most likely to embrace them, it also drew comparisons due to the shared musical and sartorial roots of both bands.
The tour was a great success and enabled MIRRORS to undertake a headlining sojourn of Deutschland but the decisions to accept invitations to open for OMD in June and September of 2011 may have been ill-advised in hindsight.
With MIRRORS also playing events such as Back To The Future – Tomorrow Is Today with Gary Numan and John Foxx plus Godiva Festival with HEAVEN 17 and BLANCMANGE as well, MIRRORS were now being perceived as a Synth Britannia support act! James New later admitted: "I think we've made without realising it, maybe a record that was slightly more derivative than we hoped to make. We can be honest about that!"
This must have been preying on the band's mind because prior to the Autumn batch of OMD dates and a slot at Bestival sharing the bill with SANTIGOLD and ONETWO, MIRRORS cancelled their appearances to "write new material". Many followers of the band sensed all was not well and this was confirmed in a statement a few weeks later when Ally Young announced he was leaving.
The reason appeared to be good old fashioned musical differences; "We were coming to the point where writing the second record had begun. I felt like I'd taken it as far as I could perhaps emotionally as I wanted to" Young said in December 2012, "we were writing things that were good but I didn't feel like I wanted to be part of it anymore. I didn't know what I wanted to do at the point but I did know it wasn't that!"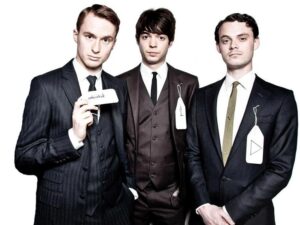 MIRRORS parted ways with Skint Records although a belated remix album 'Deconstructed' was issued before Christmas 2011. But it appeared as though MIRRORS were done and dusted.
Then at the start of 2012, the remaining threesome announced the release of an EP 'This Year, Next Year, Sometime…?' which featured two newly recorded songs 'Dust' and 'Shooting Stars'; the remaining songs were various works-in-progress or demos.
While it appeared to be nothing more than a stop-gap, it showed that Messrs New, Arguile and Page were still determined to pursue their artistic ideals just as DEPECHE MODE had with 'A Broken Frame' back in 1982 after Vince Clarke left. Using a wider palette of possibilities including more prominent guitar and conventional bass, the sparser direction still retained their essential melodic components. It proved if nothing, that MIRRORS were in still business although between premises and working from home.
Meanwhile after producing an aborted second album for Britpop influenced rockers VIVA BROTHER, Ally Young teamed up with their singer Lee Newell to form LOVELIFE and uprooted to New York. While still very much synth and sample led, the duo developed a sound based more around R'n'B grooves which were very much influenced by their new urban surroundings. Appropriately enough, they toured North America supporting THE NEIGHBOURHOOD while their first two EPs 'El Regreso' and 'The Fourth Floor' were well received; from the former, the HARD-FI meets OMD template of 'Brave Face' was a particular highlight.
On the MIRRORS front, things have been slightly less clear. Although a single 'Hourglass' backed with the superb 'Between Four Walls' was issued via Bandcamp in Summer 2012, New and Arguile reformed MUMM-RA for a one-off show later that Autumn. Fast forward to April 2013 and MUMM-RA have released a new download only EP. Other than a low-key gig in the Czech Republic at the FIS Ski Flying World Cup in February 2013, MIRRORS have remained silent. However, it is understood the band's management have been answering enquiries for live bookings from various parties in 2013, although none of these have actually come to fruition.
Meanwhile, New has contributed vocals to two songs with production duo FOTONOVELA, best known for their work with MARSHEAUX and co-writing the OMD song 'Helen Of Troy'. The vibrant first song from the sessions was 'Romeo & Juliet' while the magnificent second number 'Sorrow' is still to be aired publically. Whatever happens, MIRRORS are greatly missed and one wonders what the reaction to 'Lights & Offerings' might have been had it been released in the more sympathetic climate of 2013, a year which has seen KRAFTWERK headline Latitude and synthpop trio CHVRCHES get signed to Virgin Records.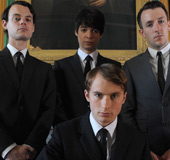 After two and half years, what remains is the music and it is only after some distance that there can be an objective reassessment. Thus 'Lights & Offerings', with its associated bonuses, remains an impressive body of work. OMD's Andy McCluskey once said MIRRORS had the potential to become "the DURAN DURAN of modern synthpop". Even if that prospect is to remain unfulfilled, it really would be shame if there was to be no more great music from MIRRORS.
---
'Lights & Offerings'
is still available via Skint Records
The EP 'This Year, Next Year, Sometime…?' and single 'Hourglass' are available as downloads via Bandcamp from http://mirrorsofficial.bandcamp.com/
https://www.facebook.com/theworldofmirrors
http://theworldofmirrors.blogspot.com/
---
Text by Chi Ming Lai
26th August 2013