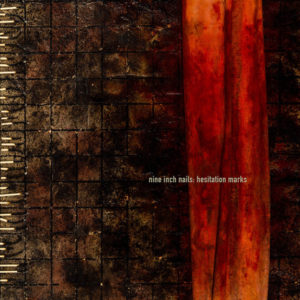 Long-term NINE INCH NAILS followers have probably been going through a process of continually pinching themselves this year following their unexpected return.
After putting the band into deep-freeze four years ago, Trent Reznor and side man Atticus Ross have focused on work for film director David Fincher.
This included 'The Social Network', whose haunting electronic/piano-based soundtrack bucked the trend of formulaic orchestral film music and picked up an unexpected, but well-deserved Oscar in the Music (Original Score) category in 2011.
The duo have also given an outlet to Reznor's more commercial writing with the HOW TO DESTROY ANGELS project, fronted by his wife Mariqueen Maandig.
Spin back to 11th September 2009 in Los Angeles, and following an epic 3 hour plus set (including a certain GAary Numan guesting on 3 tracks), Reznor said "This is it" and retired the act from the live arena, but not ruling out future music from the project.
So here we are nearly 4 years to the day and the band have already made a string of high profile festival appearances, debuting a stunning new 'Stop Making Sense' inspired live show where the band members appear one at a time to the strains of new track 'Copy Of A' – which brings us to the album where that track makes its recorded appearance.
In the studio environment, NINE INCH NAILS has always been primarily a one man show for Trent Reznor, but this time round, the three big surprise collaborators here are legendary FLEETWOOD MAC member Lindsey Buckingham, occasional DAVID BOWIE collaborator Adrian Belew and bass player Pino Palladino, who along with Mick Karn, helped define THAT fretless bass sound, and along the way becoming the session man for everybody from TEARS FOR FEARS and Paul Young through to Gary Numan on the 'I, Assassin' album.
In terms of sonic textures and sounds, there are parallels with 'Delta Machine' here, but in contrast to DEPECHE MODE's apparent aura of desperation to match past glories, NINE INCH NAILS make this sound a hell of lot more effortless in its approach and it's the sound of an artist completely at ease with himself. If you are a fan of the sound of analogue sequencers and synths, you will LOVE this album – over the years, Reznor has amassed a huge arsenal of gear including a wall of Doepfer modular equipment and vintage ARP and EMS products, and they are all put to good use on 'Hesitation Marks'.
After the clipped overture opening of 'The Eater of Dreams' we are straight into the electronic pulses of 'Copy Of A', a filtered and enveloped sequencer line is joined by a simple but insistent 4-4 kick/snare which builds in a layered fashion before treated guitars and looped vocals propel the track to a climatic middle section, before ramping down the dynamics towards the end of the track.
Up next, and for most, the first exposure to the sound of the album is 'Came Back Haunted' a strong track, but with a slight air of "heard it before" stemming from the fact that it shares it's main chord progression with previous 'With Teeth' single 'The Hand That Feeds'. That aside, this is another compelling electronic track with fractured TR909 beats, that also introduces the trademark Reznor guitar sound that defined much of 'The Slip'. Strip following track 'Find My Way' of its vocals and it could quite easily find a home on 'The Social Network' soundtrack; Reznor does this atmospheric/textural sound so well and the semi Hip-Hop style beats and low piano notes recall MASSIVE ATTACK's wonderful 'Protection'.
'All Time Low' starts with a squall of delayed Robert Smith-esque guitar and then a 'Closer' style beat and vocal are introduced. Lyrically with its "Hey! Everything is not OK", it says nothing really new and provides the album with its first "meh" moment, the only saving grace being when (at the four and a half minute mark) a graceful hypnotic/echoed arpeggiator line enters and takes the track to its conclusion.
Just when you feel like the album's quality control and diversity is going to take a dive, along comes 'Everything' – the track's opening 'New Life' analogue drum pattern is a curveball as once up and running, this is the most direct and conventional track here by a long shot, the descending fuzzed guitar and bass recalling THE CURE (again) and JOY DIVISION (NIN having previously covered the band with their interpretation of 'Dead Souls' on 'The Crow' soundtrack).
'I Would For You' is also one of the standout's here, primarily as Reznor pushes his (and am sure he would be the first to admit this) limited vocal range a little further and instills a welcome element of passion to the choruses, taking his voice into a higher range before another atmospheric coda finishes the song.
This is an album that will take a few listens to truly sink in, as many of its hooks are not that direct on a cursory appraisal, but what it does do so well is beautifully atmospheric synthetic textures and for many will signal a welcome return to the more electronic sound of NIN's debut album 'Pretty Hate Machine'. Trent Reznor is now clearly in a much more comfortable place, the self-loathing alcoholic and drug addict of old has been replaced by a married family man and 'Hesitation Marks' sends out a clear signal that he is no longer part of the downward spiral.
Side note: For those who are concerned about the "Loudness War" and the penchant for albums to be brick-walled limited and overmastered can receive a more conservatively mastered (and undoubtedly) more dynamic "Audiophile" version of 'Hesitation Marks' when ordering the standard album via NIN's website. This is a fantastic idea, especially as albums such as 'Playing the Angel' have been destroyed (or some would say) made even worse(!) by overmastering designed to make the album much "louder" and in your face at the expense of dynamic range. Technical information from NIN's mastering engineer Tom Baker (no, not that one!) and mix engineer Alan Moulder can be found on NIN's website and Tumblr blogs.
---
'Hesitation Marks' is released on 3rd September 2013 by Columbia Records on CD, deluxe 2CD, vinyl and download
http://nineinchnails.tumblr.com/
---
Text by Paul Boddy
1st September 2013