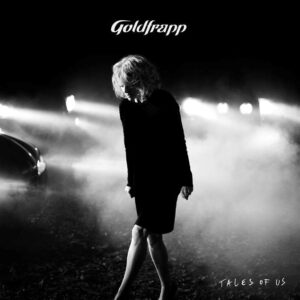 Unlike some noted acts who seem to make the same record all the time and get lauded for it, GOLDFRAPP have virtually changed styles with every album.
In fact in their lineage of successive works, only the futuristic glam of 'Black Cherry' and the saucy KYLIE of 'Supernature' between 2003-2005 have any natural progression.
And as a reaction to the synth AOR of previous album 'Head First' comes the more organically textured and largely acoustic 'Tales Of Us'.
There's no filthy Teutonic schaffel or really any synths but the end result probably is more Liz Fraser, Kate Bush and even Alison Goldfrapp herself, as this is possibly Ms Goldfrapp's most personal work to date, although much of the inspiration has came from various horror novels.
GOLDFRAPP's more sedate, atmospheric numbers have always been one of their major strengths and comparisons with their previous less full-on works are inevitable. Debut long player 'Felt Mountain' was avant Weimar cabaret that showcased Alison Goldfrapp's amazing vocal range from Callas to Bassey to Dietrich. Fourth album 'Seventh Tree' moved more towards folk and psychedelia but was less satisfactory. Waiting in anticipation at the Deer Stop for some marvellous cinematic soundscapes, Frappers now have 'Tales Of Us' to savour. With the lush orchestrations that make this a very different kind of GOLDFRAPP record, silent partner Will Gregory has made his presence felt with his background in classical and soundtrack music. Thus  'Tales Of Us' could be seen as the duo's own 'Scott 4'.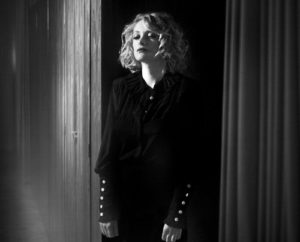 'Jo' flaunts the album's intentions with a drifting acoustic strum but it's not until second number 'Annabel' that things really get into focus. A song made to be film theme if there ever was one, 'Annabel'is a beautifully sparse classic.
Calling card 'Drew' has a more haunting film noir quality. The romantic arrangements recall the work of soundtrack composer Michel Legrand and noted narrative songsmith Jimmy Webb. In it, Alison Goldfrapp's voice is as exquisite as ever.
Sustained piano and a string quartet shape the start of 'Ulla' before a full orchestra and jangling guitar join in while 'Alvar' echoes 'Let It Take You' from 'Supernature' and even 'Voicething' from 'Head First' with its closing vocal cacophony. 'Thea' is the most overtly electronic song on 'Tales Of Us' but 'Strict Machine' it most certainly is not! Alison Goldfrapp's vocal soars angelically surrounded by very subtle synthetic textures and a balanced 4/4 signature. While the beat is mechanical, the overall pace doesn't throw in any incongruity to the album's concept the way 'I Feel Loved' did on DEPECHE MODE's 'Exciter'.
More sparseness comes with 'Simone' but like 'Jo', does drift and needs several listens… 'Stranger'however has a direct Morricone-esque quality with whistling permeating for that 'Felt Mountain' feel which is enhanced by a most lovely vocal refrain like 'Deborah's Theme' from 'Once Upon A Time In America'.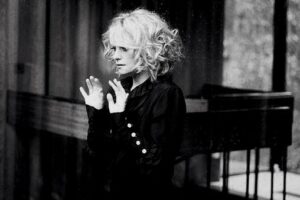 The stark 'Laurel' is tinged with loneliness before the closing 'Clay'sprites up with chopping cellos and percussion in possibly the liveliest song on the album.
'Tales Of Us' is a beautifully produced work with a sense of inner macabre but the enigmatic oddness that made 'Felt Mountain' so enticing is ultimately missing. But while perhaps not up there with 'Felt Mountain', 'Tales Of Us' is definitely a more satisfying listen than 'Seventh Tree'.
---
'Tales of Us' is released by Mute Records on 9th September 2013 in CD, vinyl, download and boxed set formats
GOLDFRAPP Autumn 2013 tour dates include: Amsterdam Paradiso (21 October), Brussels Ancienne Belgique (22 October), Berlin Heimathafen Neukölln (23 October), Paris Le Trainon (25 October), Zürich Kaufleuten (26 October), London Hammersmith Apollo (1 November)
https://www.facebook.com/Goldfrapp
---
Text by Chi Ming Lai
5th September 2013