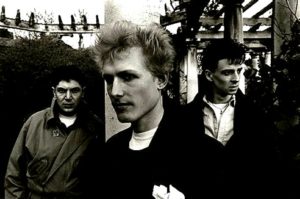 Named after the Latin phrase meaning "let there be light", FIAT LUX were one of the most promising of the new synthesizer based acts that emerged following the success of DEPECHE MODE and SOFT CELL in 1981.
Founded in 1982 by drama graduates Steve Wright (lead vocals) and David Crickmore (guitars, bass, keyboards, backing vocals), the pair had met at college in Wakefield.
They formed JUVENILES, a new wave band that had two songs on a 1980 independent compilation called 'Household Shocks'; Crickmore was the more flamboyant of the pair, wearing make-up and dying his hair regularly although Wright was no less outrageous, with the visual persona of a more butch Marc Almond!
Still intent on pursuing an acting career after his studies, Wright joined the Yorkshire Actors theatre company where he met noted musician Bill Nelson who had been the leader of cult prog rock band BE BOP DELUXE and scored a UK Top 10 solo album called 'Quit Dreaming & Get On The Beam' in 1981.
Suitably impressed by a demo Wright had given to him, Nelson produced two tracks 'Feels Like Winter Again' and 'This Illness' for release on his Cocteau Records label in November 1982. This was an important symbol of recognition as only the year before, Nelson had produced A FLOCK OF SEAGULLS '(It's Not Me) Talking' and its release on Cocteau had brought the Liverpool quartet to the attention of Jive Records. The subsequent deal eventually led to them breaking America with hits such as 'I Ran', 'Space Age Love Song' and 'Wishing (I Had A Photograph Of You)'
As a calling card, 'Feels Like Winter Again' was musical triumph. Driven by Nelson's resonant drum machine, the cutting mix of synth and treated guitar over an electronic pulse juxtaposed with real bass guitar made an emotive statement, even without Wright's sombre tale of broken love affairs. The song didn't just feel like winter, it sounded like winter… chilling and resigned but simultaneously pretty with a glint of light in the darkness. The B-side 'This Illness' was more moody and featured Bill Nelson's distinctive E-bowed infinite guitar alongside some sparkling synth work.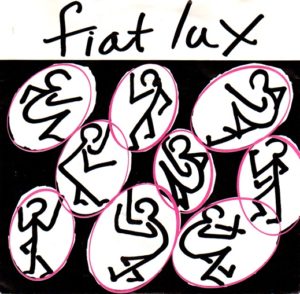 Wright and Crickmore had been performing live as a duo under the name HE'S DEAD HERMAN but had wanted to expand their line-up as FIAT LUX. The musician they enlisted was Bill Nelson's sax and keyboard playing brother Ian who they had met independently on the Wakefield gig circuit.
The bolstered line-up was timely as 'Feels Like Winter Again' had gained radio airplay from notable DJs on BBC Radio1 such as Peter Powell, Kid Jensen and Janice Long. This attention also got them a support tour with BLANCMANGE and led to them signing to Polydor Records in March 1983.
With a £60,000 advance for the first year, among the new equipment purchased were a Roland Jupiter 8 and a Roland TR808 drum machine while the next recording sessions were produced again by Bill Nelson. However, Polydor's A&R were unhappy with his take on 'Photography' which had been agreed as the band's first major label release. This was a particularly unfortunate period for Bill Nelson as later in the year, he had his cutting, trebly mixes rejected by GARY NUMAN for his 'Warriors' album. However, Numan later admitted in hindsight that Bill Nelson's production vision may well have been "ahead of his time".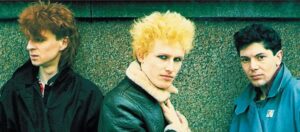 A brand new version of 'Photography' produced by Hugh Jones, who had worked with SIMPLE MINDS, THE TEARDROP EXPLODES and ECHO & THE BUNNYMEN, was issued that summer. Less immediate than 'Feels Like Winter Again', 'Photography' took several listens to appreciate as its structure was unconventional.
But the interplay between Wright's crooning lead vocal and Crickmore's repeat staccato harmony was a total delight. The song's climax was led by a bursting lift from Nelson's sax but despite its steadfast power, 'Photography' lacked an obvious hook for it to be a hit and didn't chart.
In a softening of the blow, FIAT LUX went on a well received tour opening for HOWARD JONES in December 1983. On a crest of momentum from that particular success, a new single 'Secrets' was readied for the start of 1984. This beautifully haunting ballad was bolstered by what appeared to be a violin solo; it was actually performed using a Yamaha CS80 by Mike Timoney, a musician who had played on 'Are We A Worker?' from CHINA CRISIS' first album. 'Secrets' reached No.65 in the UK so progress was gradually being made.
In Spring 1984, the band issued their outstanding fourth single 'Blue Emotion'. In an age of greed and "self help – help yourself", the song was, like BUCKS FIZZ's 'Land Of Make Believe', a veiled warning on the dangers of Thatcherism! Musically, this was their most accessible offering yet with a fabulous sweeping '2001' theme from Ian Nelson via a MemoryMoog and the now trademark Wright/Crickmore Vox Matrimonium. Unfortunately, the rousing tune and the political sentiment went over the heads of most. It only reached the heady heights of No. 59 in the UK singles chart despite an appearance on an Old Grey Whistle Test synth special also featuring KRAFTWERK, JEAN MICHE JARRE and HOWARD JONES.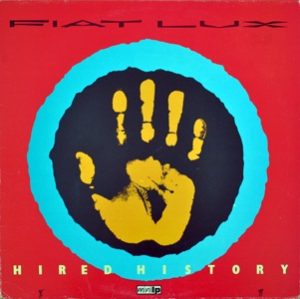 Sensing stagnation and with the debut album still not ready, Polydor swiftly issued a six track EP 'Hired History' containing 'Photography', 'Secrets' and 'Blue Emotion' plus their corresponding B-Sides as a stop-gap.
All the singles were sequenced onto the first side thus exposing the trio's penchant for less accessible theatrics on the second side. 'Sleepless Nightmare' in particular sounded like Bertolt Brecht gone electro although the funky 'Aqua Vitae' (which ironically sounded like something from GARY NUMAN's 'Warriors') showed some promise for the upcoming album.
Autumn 1984 saw the release of the disappointing 'House Of Thorns' but this blip was nicely overcome by the brilliantly superior pop of 'Solitary Lovers' not long after. However, neither made an impact on the charts and the album shelved by Polydor. Disillusioned, Crickmore departed FIAT LUX shortly after. Wright and Nelson soldiered on briefly but without the chemistry of the founding Wright/Crickmore axis, FIAT LUX were not the same and they quietly disbanded.
But there was a belated 1986 release of a VHS video and Laser Disc 'Commercial Breakdown' which was actually a Channel 4 TV showcase broadcast in 1984 that contained specially filmed sequences and live versions of tracks that were to be included on their debut album. Interestingly, one of the unreleased numbers 'The Moment' possessed hints of Colin Verncombe's BLACK who were soon to find fame and fortune with 'Wonderful Life' while the more percussive 'No More Proud' was reminiscent of FIAT LUX's own B-sides like 'Three's Company' and 'Aqua Vitae'.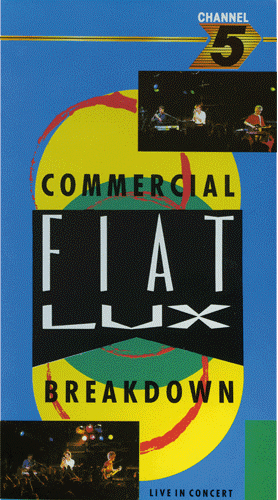 After FIAT LUX, Crickmore rediscovered his love of folk music and founded THE DURBERVILLES. The combo went on to present a folk show on BBC Radio Leeds and still tour regularly. Meanwhile, Steve Wright joined cult electronic act CAMERA OBSCURA (not the Glaswegian hipster faves) but eventually left music altogether to work in television. Ian Nelson continued to work with his brother Bill. However, he sadly died in April 2006 on his 50th birthday.
But with the accessibility of the internet, in around 2008 several music bloggers were offering a FIAT LUX compilation entitled 'Fact Ut Vivas' for free download… this turned out to be a high quality rip from master tapes of their shelved debut album, allegedly leaked by FIAT LUX themselves after their contract with Polydor ended.
From it, the brooding uptempo North European melancholy of 'Breaking The Boundary' was easily as good as BLACK's 'Everything's Coming Up Roses' while 'Embers' came over like a distant cousin of PINK FLOYD's 'Wish You Were Here'. FIAT LUX were always keen to combine electronics with real instruments such as sax, marimbas, drums, bass and guitars so here they were going virtually the whole acoustic hog. Featuring all the Polydor singles minus 'House Of Thorns', 'Fact Ut Vivas' would have made an impressive debut flaunting FIAT LUX's instrumental versatility and diversity. Alas, this missing album is why FIAT LUX are still one of the forgotten acts of the Synth Britannia era.
Apparently, discussions between reissue label Cherry Red and Universal Music (who now own the FIAT LUX tapes) to release 'Fact Ut Vivas' began in 2009 but have so far come to nought. The band only officially released 13 songs in their recorded career and none are presently available even digitally! However, anything is still possible; but until a formal release is sanctioned, make Google your friend… there could a nice surprise 😉
---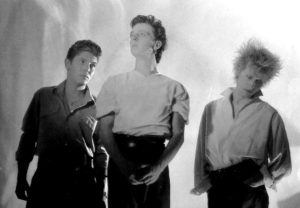 Dedicated to the memory of Ian Nelson 1956-2006
ELECTRICITYCLUB.CO.UK acknowledges the vast archive available on Dave Sewell's FIAT LUX fan site www.hiredhistory.co.uk, without which, this article would not have been quite as detailed
https://www.facebook.com/Fiatluxofficial/
https://twitter.com/fiatluxofficial
---
Text by Chi Ming Lai
7th September 2013, updated 16th December 2016