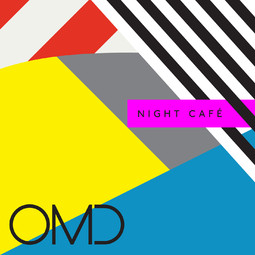 Love and violence, suicide and murder… just a normal day in the office for OMD and it always has been!
Having released their best album for 30 years with 'English Electric' in April, OMD continue the promotional campaign with one of its key tracks 'Night Café'.
Originally demoed under the working title of 'Hopper' after the American realist painter Edward Hopper, the track lyrically references a number of his works in a song which despite its major key template and beautiful melody, resonates with some darker themes.
Reflecting this is the controversial accompanying video which takes a subversively macabre approach. Like Edward Hopper directing 'South Park'
, the adult themes which include casual sex, cross-species coitus, suicide, gang violence and murder have provoked a plethora of complaints. One comment just went "Rubbish video. Created by juveniles for juveniles".
But paradoxically on its suitability for viewing by minors, one observer argued "when I sit down to watch South Park of an evening, I'm expecting a sick and tasteless cartoon. When I sit down to watch an OMD video with my 5 year old on a Friday morning, I'm not" while another said "Being an animation doesn't make the content any less 'disturbing' (though I'd use the word tasteless instead) than live action. I guess it's fine for people who think South Park, Beavis & Butthead, Keith Lemon etc are suitable for a mass audience including younger folk. I don't find any of them funny, mainly because toilet humour isn't clever. I'm glad I'm not the only one who thinks it's a bit naff and not worthy of OMD".
Many of these comments are surprising; OMD's music has always explored the not necessarily pleasant side of the human condition. Indeed, on 'International' from 1983's 'Dazzle Ships', the emotive track began with a news broadcast that announced: "The Youth Anti-Imperialist Tribune was also addressed by a young girl from Nicaragua whose hands had been cut off at the wrists by the former Somoza guards…"
Meanwhile, other lyrical gists in OMD songs between 1980-1993 have included the suicide of a charismatic musician, the suicide of a woman who worked as a stripper because she had no other means of supporting herself, the racially motivated massacre of five innocent demonstrators by the Ku Klux Klan, the death of over 100,000 people by nuclear attack and most notably on two hit singles, the brutal execution of a teenage girl!
In support of the video, VILE ELECTRODES' Martin Swan said: "It reminds me of some of my favourite animations (ie Monkey Dust) and captures the darker undercurrent of the lyrics that some people seem to completely miss… 'a voyeur in a high window…', 'dying like I used to do…' etc".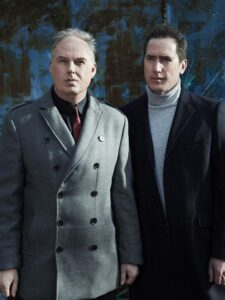 In response to the negative criticisms, Swan also retorted: "Fine, if you don't like it, you're entitled to your opinion, but some people seem to find it extremely disturbing because it's an animation exploring adult themes. In what century do you live? Why are you complaining it's not suitable for your kids? IT'S NOT MEANT FOR YOUR KIDS! It's not f**king CBeebies!".
Meanwhile, VILE ELECTRODES themselves have been the target of many a vented spleen, courtesy of their unsettling 'B-Side The C-side' reworking of 'Night Café'.
A very alternative take on the song, it was inspired by OMD's inventive experimental B-sides of the past such as 'Navigation', 'Annex' and 'I Betray My Friends'.
VILE ELECTRODES were invited to support OMD on their German tour after Andy McCluskey spotted them on ELECTRICITYCLUB.CO.UK; but the 'Night Café' remix roll of honour features not one, or even two but THREE acts that have been championed by ELECTRICITYCLUB.CO.UK
Finnish duo SIN COS TAN, who recorded one of the best songs of 2012 in 'Trust', have provided a Nordic electro disco reinterpretation of 'Night Café'while fresh from the success of their 'Metroland' remix, the appropriately named Belgian duo METROLAND have been invited back to work their crisp mechanised magic on the Nighthawks Remix.
Also featuring on the EP are previously issued B-sides 'The Great White Silence' and 'No Man's Land' which both premiere in physical CD format plus the unreleased McCluskey/Humphreys duet 'Kill Me'.
All intended for 'English Electric' and structured in slow waltz time with particularly emotionally raw vocals by Andy McCluskey on 'No Man's Land', their inclusion on the album would have almost certainly brought a halt to the seamless journey so painstakingly crafted by Paul Humphreys. This also would have made 'English Electric' far too long but despite pressure from within, Mr Humphreys stood his ground and told ELECTRICITYCLUB.CO.UK that in the end, "quality over quantity" won through.
More interesting though as bonuses are 'Time Burns' and 'Frontline' the former initially appeared on the limited edition 'The Future Will Be Silent' 10 inch picture disc, while the latter was from the flip of the 'Our System' 7 inch electric blue vinyl single included in the 'English Electric' luxury tin boxed set.
Musically, both are sample based collage experiments inspired by world events and very much in keeping with the 'English Electric' original vision of "what does the future sound like?"
But as the duo found with 'Dazzle Ships', too many abstract tracks on what, to all intents and purposes, is a pop record can confuse listeners. However, 'Time Burns' would have made a fitting alternative to 'Decimal' and the intense artistic soul searching that must have gone on when the final tracklisting was decided upon can only be imagined.
B-sides and bonus songs are always an interesting appendix to envisage the possible directions an album could have taken. It is a testament to Paul Humphreys and Andy McCluskey that while approaching their mid-50s, they both had the creative drive and emotional resolve to pool such an embarrassment of riches to fully realise 'English Electric'.
---
The 'Night Café'
10  track EP featuring remixes by VILE ELECTRODES, METROLAND and SIN COS TAN plus the 'English Electric' B-sides is released on 16th September 2013 as a CD and download by BMG Records
www.facebook.com/homeofsincostan
---
Text by Chi Ming Lai
14th September 2013