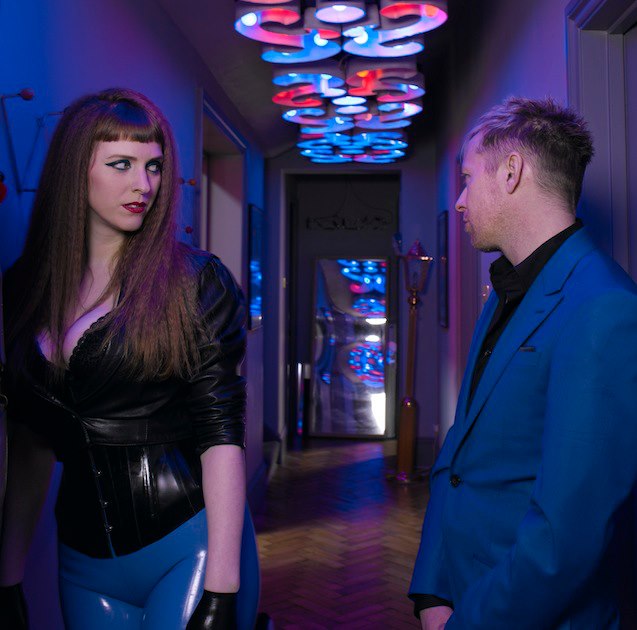 To coincide with VILE ELECTRODES' high profile support slots with OMD and JOHN FOXX & THE MATHS, the south coast duo of Anais Neon and Martin Swan have released an EP Trilogy to showcase their sumptuous brand of electronic pop to a potential new audience.
First featured back in summer of 2010, while they had a quiet 2012, their rise in 2013 has been phenomenal. Spotted on these very web pages by a certain George Andrew McCluskey, they were invited to support OMD on their German tour where they went down extremely well with local audiences intelligently nurtured in synthesizer heritage.
And it was with this opportunity to impress that this trio of beautifully packaged CD EPs has been released. These EPs act as an appendix to their eagerly awaited debut album 'The Future Through A Lens'. And in the fine tradition of NEW ORDER and THE SISTERS OF MERCY's early release manifestos, none of these EP songs will be included on the upcoming long player.
The first EP was issued in 2011 as 'Vile Electrodes' and its brilliant lead track 'Play With Fire' is like THE SMITHS reincarnated as CLIENT. So as told in that ironic Morrissey/Marr ditty 'Paint A Vulgar Picture', this 3 track EP has undergone the "Re-issue! Re-package! Re-package!" treatment although it has to be pointed out that there is no "tacky badge". Meanwhile the frantically panic stricken 'Headlong' finds singer Anais Neon referring to "a rabbit in the headlights" as syndrums are whipped to a frenzy!
The beautifully dramatic 'My Sanctuary' though displays VILE ELECTRODES' more chilling, atmospheric side, a retro-futuristic epic that could have easily come off OMD's 'Dazzle Ships'.
Continuing this early OMD template, the lead track of their second EP 'The Last Time' features a waltz time signature, military drum tattoos and shimmering synth melodics. It more or less confirms that VILE ELECTRODES are indeed the love child of Paul Humphreys and Sarah Blackwood!
The stark 'Little Death Capsule' continues the emotive melancholy but instrumentally borrows more from KRAFTWERK with Martin Swan doing a sterling job in the sort of sparse analogue treatments that would do Kling Klang proud. As a bonus, the Vile rarity 'Fatal Error' (originally from the 'One Life Left Presents – Music to Play Games By Too' compilation) is rescued and gleefully displays Anais Neon's nonchalantly sexy allure to a prominent percussive backbeat and squelch-laden bass odyssey.
The belting Hi-NRG of 'Re-Emerge' begins the third and newest EP with bursts of throbbing sequenced goodness that turns into 'Blue Monday' halfway through, complete with the stuttering drum break in the lead up to the swirling coda. Following on, there's the fan favourite 'Office Politiks' which discusses what it says on the tin.
Adopting the cynicism of SOFT CELL, the amusing narrative on workplace relationships sees Anais Neon viciously attack her hapless colleagues. Everyone can relate to "pointless banter" but "you're such f***ing wan*er!" is not the most serious expletive used! And "If looks could kill, I'd f***ing massacre you all" is possibly the lyrical couplet of the year! The closing number 'Tell Me, Honey' is a claustrophobic cocoon of drones that reveals the more experimental side of VILE ELECTRODES with icy string machine adding to the doomy, unsettling vibe.
The trilogy wonderfully sets the scene with a variety of enjoyable styles for the debut VILE ELECTRODES album 'The Future Through A Lens'. They are setting the benchmark for what can be achieved by a quality UK synthesizer act. With great tracks such as 'Proximity', 'Empire Of Wolves', 'Damaged Software', 'Nothing', 'Drowned Cities' and the gorgeous 'Deep Red', it is set to be one of the best independent electronic releases of 2013.
---
VILE ELECTRODES' 3 Track EPs 'Play With Fire', 'The Last Time' and 'Re-Emerge' are available as downloads are available via http://vileelectrodes.bandcamp.com/
Please note the 9 tracks from this EP Trilogy are exclusive to these releases and will NOT be appearing on the album 'The Future Through A Lens' available from their online store as a CD at http://vileelectrodes.bigcartel.com/
http://www.vileelectrodes.co.uk
http://www.facebook.com/vileelectrodes
https://twitter.com/vileelectrodes
http://vileelectrodes.blogspot.com/
---
Text by Chi Ming Lai
1st June 2013, updated 19th March 2020