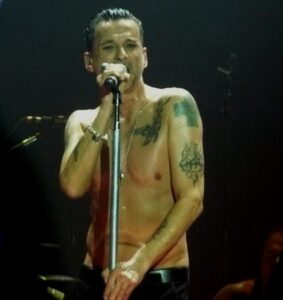 DEPECHE MODE are indisputably the world's biggest synth band. The figures speak for themselves: 100 million records sold to date, and on their last tour they performed to 2.7 million people worldwide.
The 'Delta Machine' tour, which kicked off in May, is even more ambitious in scale with further dates still being added through into 2014.
Sustaining them throughout their 32 year career has been their enormous legion of fans who remain as fiercely loyal and devoted as ever. When a two night residency at London's O2 Arena was announced, both dates sold out in a flash.
It is not unusual for fans to attend several shows and to travel across countries and continents to see the band. There are some Devotees attending up to 16 shows on this tour! The band appear to have rewarded this loyalty, changing no fewer than five songs on the setlist for the second night at the O2 with 'World In My Eyes', 'Behind The Wheel' and 'Only When I Lose Myself' among those getting an airing.
When the first night finally arrived and The Black Swarm started to pour out of the tube station towards the iconic O2 arena, excitement was at fever pitch. Fans stopped to have their picture taken against a giant billboard of the band, and the cafes and bars all over the venue were blasting out DM classics to greet the arriving masses.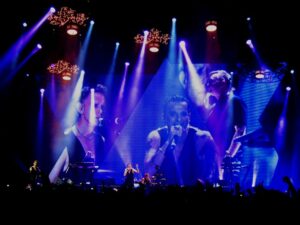 The show itself began in low key style, with the first two tracks, 'Welcome To My World' and 'Angel', mirroring those of the new album. It was a slow build, a teaser for the great things to come.
Sure enough, when the distinctive opening bars of 'Black Celebration' rang out and the massive lighting rig began to descend toward the stage, it was a truly spine-tingling moment that felt like love's first kiss. The setlist overall struck a good balance between perennial classics and new material.
Anthems such as 'Enjoy the Silence' and 'Personal Jesus' were there of course, much to the delight of the 20,000 strong crowd. Of the 'Delta Machine' tracks, the new single 'Soothe My Soul' stood out with its gritty blues-driven riff sounding immense in the live setting. 'Should Be Higher' also impressed, showcasing Dave Gahan's remarkable vocal range and culminating in an impromptu crowd singalong.
However, 'Secret To The End' fared less well, placed incongruously towards the end of the set amongst crowd-pleasing hits and duly prompted an en masse comfort break amongst sections of the audience! Two of the biggest surprises in the set came from reworked versions of old songs. 'A Pain That I'm Used To' was given a new lease of life thanks to the Jacques Lu Cont Remix, which transformed it into a full-on stadium stomper. Later on 'Halo' was performed in the stripped-down, haunting style of the GOLDFRAPP Remix, and was given additional pathos with its stark monochromatic backing projections.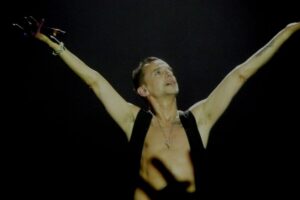 Visually this was a stunning show, with the 'Delta Machine' triangles providing a consistent theme throughout, and video projections complemented by a vast motorised lighting rig.
Anton Corbjin's visuals were typically quirky, but for the most part highly effective.
'Should Be Higher' was given a backdrop of Chinese lanterns and fire breathers, bathing the stage area in a warm glow of embers.
'Enjoy The Silence' featured female contortionists forming human triangles – a striking image but not one for the squeamish! Most impressive of all was 'I Feel You', which featured silhouettes of a frenetic dancing girl framed by coloured triangles… think iPod advert and you wouldn't be far wrong. It was brilliantly executed and compelling to watch.
The band themselves were on fine form and appeared relaxed and at times playful. Dave Gahan is in remarkably good shape for his years, and was as energetic on stage as he's ever been, spinning round wildly with his mic stand, shimmying, pirouetting and totally commanding the attention of the audience throughout. Interestingly, in a 2012 poll conducted by XFM, Gahan came third in a poll for the World's Greatest Frontman behind Freddie Mercury and (bafflingly) Liam Gallagher. However, on tonight's evidence the crown must surely be his!
That said, Fletch is unlikely to take the crown the world's greatest synth player. On the closing finale of 'Just Can't Get Enough' he was let loose on his instrument, with a slightly off tempo bass synth line that delighted and entertained all present.
As for Martin Gore, the enigmatic genius behind the band, his solo slots are revered by the fans, and tonight their devotion was rewarded with a spine-tingling rendition of 'Higher Love', followed by 'When The Body Speaks' from 'Exciter' and, as an encore, the beautifully poignant 'Home', which culminated in the now customary mass singalong.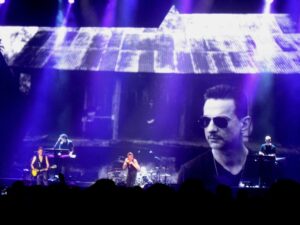 The two hour set climaxed with a roof raising rendition of 'Never Let Me Down Again', and whilst the waving cornfield has become somewhat inevitable, it is still an uplifting sight to see 40,000 arms all swaying in unison.
Such is the power of DEPECHE MODE, although their post-millennium output has not always hit the heights of their glory years, as a live act they remain in a league of their own. The 'Delta Machine' is unstoppable.
---
'Delta Machine' is released by Columbia/Sony Records
DEPECHE MODE return to the UK at the end of 2013 and start of 2014. Dates include: Belfast Odyssey Arena (7th November), Glasgow Hydro (11th November), Leeds First Direct Arena (13th November), Manchester Arena (15th November), London O2 Arena (19th November), Birmingham LG Arena (27th January)
http://www.facebook.com/depechemode
---
Text by Steve Gray
Photos by Meesh Davis and Chi Ming Lai
31st May 2013