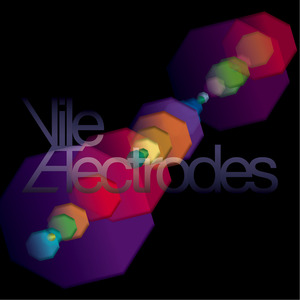 With production interrupted by the small matter of travelling around Germany supporting OMD on their English Electric tour, the debut album from VILE ELECTRODES, 'The future through a lens' has finally landed.
It is long overdue and long awaited, but any skilled craftsman will appreciate that sometimes deadlines come and go in order to deliver perfection.
From the moment you press play and hear the title track, an instrumental homage to John Carpenter, you know you are in for something really quite special.
Dedicated composer Martin Swan has devoted his life to mastering the abilities of analogue synthesizers and his skills coupled with some very fine vocals from Anais Neon have proved potent to all those fellow musicians in the modern day era desperately trying to follow in the footsteps of KRAFTWERK, DEPECHE MODE, OMD and the like.
The competition might very well be quaking in their boots, seriously considering unplugging their synthesizers and walking away from the studios when really, 'The future through a lens' should be their benchmark.
It's difficult to choose a favourite when each of the twelve tracks has something very different to offer. You are instantly taken on a journey, swept away with the swelling and swirling waters of 'Drowned Cities' only to drift away with the ebb and flow of 'After The Flood'; a chilling song particularly when you hear the words "flesh and blood and broken bones", leaving you with thoughts of the devastation that could occur after a tsunami.
Animal instincts take over as suddenly you're whisked on to terra firma, running with 'The Leopard' the rhythm of which beautifully mimics the predator as she runs and pauses for breath through the long dry grassy plains of Africa to chase her prey.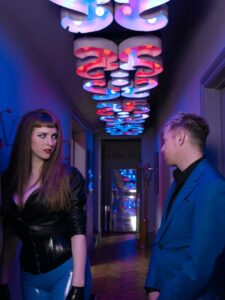 Anais has really experimented with her vocals throughout the album and this is particularly evident in 'Tore Myself to Pieces', a song in which she seems to replicate the tones of Jimmy Somerville, and even the tempo and sounds are reflective of THE COMMUNARDS, especially at the beginning.
'Damaged Software' however could be interpreted as how difficult life can be in the rat race. The lyrics speak of waking from a dream to face the reality, being swept away from comfort zones, having no safety net or knowledge how to evolve, and how many of us switch to auto pilot drifting aimlessly in order just to get through.
Yet it feels far from depressing as musically it's actually quite uplifting and buoyant.
There have been many influences within this album and not just on a musical level. Authors Margaret Attwood and JG Ballard ('After the Flood' and 'Drowned Cities' respectively) have played their part but who would have thought the simple experience of a camping trip would trigger an album track? However, 'Nothing' is just that. It has a very deep, rich earthy sound to it, perfectly reflecting the open space and uninterrupted views that sometimes we all crave and then half way through it just stops. You could hear a pin drop and for a couple of seconds you can actually feel your heart beat through your chest.
The melody and vocals then pick back up with Anais calling repetitively for "oblivion, with reckless abandon". The music continues and eventually fades and the very simple addition of an accordion right at very end makes you wonder if you are by the sea or somewhere in rural France. You choose. But apparently it's there just "because" (says Swan). And it's beautiful; genius.
VILE ELECTRODES have wisely chosen 'Deep Red' as the final track on the album. This is without doubt an outstanding work of art which should be listened to with your eyes closed. Listen to every word, listen to the melody, breath it all in. The when you've come back down to earth and all the goose bumps have retracted, check out the video. It will bring a completely different dimension to the composition, filling you with emotions you may never realised you ever had.
If OMD believe in VILE ELECTRODES then so should you. Buy it. Listen to it. Share it and listen to it again; over and over. Then buy yourself a ticket to see them live should they come to a town near you. You won't be disappointed.
---
VILE ELECTRODES 'The future through a lens' is available as a digipak CD and a deluxe 2CD steel sleeve set from their online store at http://vileelectrodes.bigcartel.com/
Also still available are the 3 Track CD EPs 'Play With Fire', 'The Last Time' and 'Re-Emerge'. The 9 tracks from this EP Trilogy are not featured on 'The future through a lens'.
All tracks are available for download from http://vileelectrodes.bandcamp.com/
http://www.facebook.com/vileelectrodes
http://vileelectrodes.blogspot.com/
---
Text by Karen Buxton
17th September 2013