The Hip-Hop concept of the throne is an interesting one – the way in which there is a competitive fight to be sat on the seat of high power in that genre and remain in said position.
At present there seems to be a three-way fight between JAY-Z, KANYE WEST and EMINEM but that's another story for another website… however, when it comes to new mainstream electronic music, if there was a throne, it has remained frustratingly empty for quite a long while.
Some acts which may have initially promised great things have disintegrated or vanished from view and
Your typical electronic music fan is left perpetually in a state of flux and on the look out for the great white hope or a band that could maybe, just maybe be mentioned in the same breath as OMD, KRAFTWERK, THE HUMAN LEAGUE or <insert your own name here>.
Over-hyped bands often have some listeners running in the opposite direction, the weight of expectation usually resulting in inevitable disappointment, and this is especially so in electronic music. There are several benchmarks that a new electronic artist needs to live up to before it can be championed as "the new Human League"!
Both LA ROUX and LITTLE BOOTS achieved considerable mainstream success by playing the synthpop card and dropping the right names. Several years down the line, one is touted as returning to real instruments on her much delayed follow-up album, whilst the other was last seen touting her new album at Bethnal Green Working Men's Club, a gig which surely rates as THE Spinal Tap comedown moment in synthpop history.
Coming up to date and it's CHVRCHES who have (in a relatively short period of time) built an enviable profile for an electronic pop act and have appeared on the radar as THE band to watch and potentially inherit the mantle of the aforementioned artists.
Wary of the amount of hype surrounding this Glasgow act, it would seem inevitable that for many, their first long player would fail to live up to expectations… but when it's good,  'The Bones Of What You Believe' is VERY good indeed.
The positives are that with the exception of occasional nods to ELLIE GOULDING (similar-style sampled vocal phrases appear throughout) and THE XX (more on those later), CHVRCHES' debut isn't a slave to fashion and steadfastly refuses the temptation to directly reference other forms of current electronic music, be it Dubstep or EDM. Many of the sounds on offer here have a DNA strain which link back to 'Travelogue' (there are plenty of overdriven, warm synth sounds which have become CHVRCHES calling card) and it's this approach which isn't either urban or dance oriented that has given the act plenty of welcome attention from fans of electronic music.
If you have been following the act, then you would have already heard the four singles 'Lies', 'The Mother We Share', 'Recover' and 'Gun' all slices of off-beat drum machine-driven, radio-friendly synth pop with Lauren Mayberry's vocals dominating the proceedings.
Alongside the previously released singles, the two standout tracks are 'We Sink' and 'Science/Visions'; the former ups the tempo, takes matters into 4/4 territory and has a brilliant sequencer/kick-driven momentum which is missed on some of the more mid-paced tracks. 'Science/Visions' also has a more experimental vibe and again provides some much needed differentiation. It starts with filtered vocals and sequencers before dramatic rolling drum fills give way to riffs which recall Australia's finest THE PRESETS.
'Tether' is a bit of curveball, starting off sounding like the offspring of THE COCTEAU TWINS and THE XX, with Lauren's vocals and accompanying guitar work drenched in long, atmospheric reverb before the track climaxes with some more familiar trance-like synths. The main overall strength here is the quality of the band's songwriting, both musically and lyrically – the ambiguity of many of the lyrics leaving an air of mystery as to what the concept behind some of the songs are and this should help give the album more in the way of longevity… Trent Reznor take note!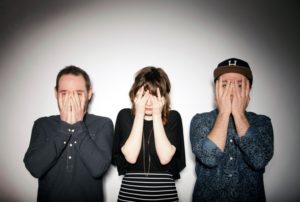 So, so far so good, but there are flaws: with a bit of experimentation, synths are capable of producing a myriad of fantastic sounds and given the fact that CHVRCHES wear their influences/musical heritage clearly on their sleeves, the sonic pallet on offer is limited.
Many of the sounds scream preset and with the exception of the sequencer work on 'We Sink', there is nothing sound-wise that we haven't heard many times before.
However, the main miscalculation is the use of male lead vocals on a couple of the tracks. The attempt to go for an Oliver Sim of THE XX-style vibe using Martin Doherty as frontman on 'You Caught The Light' and 'Under The Tide' really misfires, sounding weak and demo-like in comparison to Mayberry's crystal-clear and pitch-perfect vocals. This would be akin to leaving your star striker on the bench during the World Cup final and being brutal, a couple of instrumentals would have been preferable!
In summary, and with a few reservations, this is a fine debut album which delivers on many levels – great songwriting, strong synthetic production with superb vocals, but whether it will break the glass ceiling and take CHVRCHES into more mainstream territory remains to be seen. But that aside, it will certainly delight those who have followed their steady ascendancy so far. On the evidence here, CHVRCHES have the throne, but it's tricky to predict how long for…
Geek production fact: With the exception of 'Night Sky', CHVRCHES' album has a 'no crash cymbal' policy, a production approach which has been used in the past by PETER GABRIEL (Album III 'Melt'), TEARS FOR FEARS and OMD, the idea being that by removing these high frequency sounds, the resulting tracks will have more space for other timbres and also a noticeable tension due to the lack of the release provided by these sounds.
THE HUMAN LEAGUE's 'Dare' was another example, but rather than being a conscious decision by the band, that was down to the memory limitations of the Linn Drum LM-1! But a note of caution: If you are in a real band (ie without a drum machine) and you ask your drummer to adopt this technique, he or she will probably not be very happy – well, we all know how drummers like hitting things…
---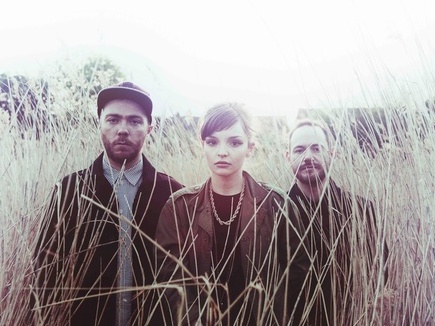 'The Bones Of What You Believe'
is released by Virgin Records on 23rd September as a CD, standard download, iTunes deluxe download and vinyl LP
CHVRCHES UK live dates include:
Glasgow ABC (10th October), Sheffield Leadmill (12th October), Manchester Ritz (14th October), Bristol Anson Rooms (15th October), London Shepherd's Bush Empire (17th October)
http://www.facebook.com/CHVRCHES
---
Text by Paul Boddy
18th September 2013