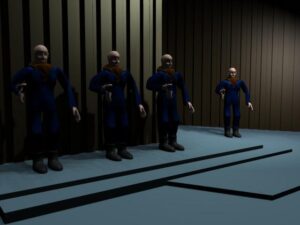 New in 2013 are mysterious combo GIRL ONE & THE GREASE GUNS.
Who are they? Nobody really knows for sure but the band members' names Sissy Space Echo, Warren Betamax, Charles Bronson Burner and Bruce LeeFax are probably a good indicator of their collective mindset.
Their manifesto is "to thrive on causing confusion with a mixture of pure synth pop and more experimental electronic sounds".
GIRL ONE & THE GREASE GUNS came to the attention of small UK indie label Squirrel Records by placing a cassette under the windscreen wiper of a car outside the label's HQ! Containing the dysfunctional indie synthpop of 'Driving Without Headlights (Once Again)' and the noisefest of '(I'm A) Willing Receiver', this pair of paranoid dystopian ditties were released as a 7 inch single in April of this year. Recorded in The Glass Factory, "a freezing cold structure in the middle of a timber yard", their latest single 'Jessica 6' is a tribute to the cult Sci-Fi favourite 'Logan's Run'.
Using footage of the lovely Jenny Agutter from the film in the promo video, the eerie post-punk cacophony laced with icy Yamaha string machine makes 'Jessica 6' the perfect belated choice for the theme tune. Add in a frantic reverbed backbeat and it all comes over like THE PIPETTES fronting an OMD assisted JOY DIVISION.
Despite these winter of discontent overtones, the B-side brings things up-to-date with the brilliantly titled 'Bring On The Dancing Horse Meat'. With sexily nonchalant vocals from Sissy plus a barrage of low-fi guitars, Farfisa and battered Casio, it is an enjoyable slice of progressive mechanical desolation.
The band have declared themselves essential listening for fans of THE NORMAL, CABARET VOLTAIRE, FAD GADGET, DEPECHE MODE, OMD and YAZOO! Their third single '(Here Come) The Catastrophe Machines' which has been described as 'Nag Nag Nag' but more violent is out in October!
---
'Jessica 6' and 'Driving Without Headlights (Once Again)' are released by Squirrel Records as 7 inch vinyl singles and downloads
http://www.squirrelrecords.co.uk/girl-one-and-the-grease-guns/
https://www.facebook.com/pages/Girl-One-And-The-Grease-Guns/440754999339179
---
Text by Chi Ming Lai
24th August 2013