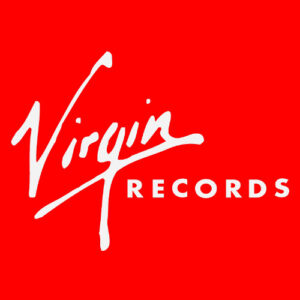 Virgin Records celebrates its 40th Anniversary.
Although the label is now owned by the Universal Music Group, its colourful history is forever associated with the championing of new and unconventional music forms during its fledgling years.
Virgin founder Richard Branson started his empire in 1970 with nothing more than a mail order outlet, selling discounted records. The name Virgin came from the fact that Branson and his team of directors were all new to business. There then came a small record shop in London's Oxford Street a year later.
Not not long after, a residential recording complex in an Oxfordshire mansion which became the now-famous Manor Studios was established. Further shops opened so with the success of the retail arm and studio, a record label was launched in 1973.
Recognising he had no real working knowledge of music, Branson appointed his second cousin Simon Draper (who had been Virgin's buyer) as Managing Director to seek out new talent for the new A&R led company. Beginning with Mike Oldfield's 'Tubular Bells' and the catalogue number V2001, progressive acts such as GONG along with cosmic Germans FAUST and TANGERINE DREAM soon followed, all with varying degrees of success.
But with the advent of punk and keen to shake off its hippy image, Virgin gained notoriety by signing THE SEX PISTOLS in 1977 and releasing 'God Save The Queen'
in the process. The label courted further controversy when they issued the album 'Never Mind The Bollocks, Here's The Sex Pistols' to great fanfare. Virgin ended up in the dock under the 1899 Indecent Advertising Act over a poster in their Nottingham record shop.
But Branson and defending QC John Mortimer had an ace up their sleeve; Reverend James Kingsley, a professor of English Studies at Nottingham University was called as a witness. Under questioning, Kingsley was asked for the derivation of the word "bollocks". Apparently, it was used in the 19th century as a nickname for clergymen who were known to talk rubbish and the word later developed into meaning "of nonsense".
Wearing his clerical collar in court, Kingsley confirmed: "They became known for talking a great deal of bollocks, just as old balls or baloney also come to mean testicles, so it has twin uses in the dictionary". The case was thrown out by the judge… after that, the label reinvented itself as a centre of post-punk and new wave creativity, signing bands such as THE RUTS, XTC, PUBLIC IMAGE LIMITED, MAGAZINE, THE SKIDS, DEVO and PENETRATION.
When David Bowie declared THE HUMAN LEAGUE as "the future of pop music" after seeing them at the Nashville in 1978, Virgin Records were quick to snap them up. Meanwhile, OMD were initially signed to Virgin's Factory styled subsidiary Dindisc Records under the directorship of Carol Wilson; but their success had been an embarrassment to Richard Branson, particularly in 1980 when following the international success of 'Enola Gay', OMD had outsold every act in the parent group!
Despite massive sales of 'Architecture & Morality' in 1981, Dindisc ran into difficulties and was closed by Branson with OMD gleefully absorbed into the Virgin fold. The label threw in its lot with the synthesizer revolution and gave homes to SPARKS, JAPAN, SIMPLE MINDS, HEAVEN 17 and CHINA CRISIS as well as more conventional acts of the period such as Phil Collins and Bryan  Ferry.
In 1982, on the back of 'Don't You Want Me?' having been a No 1 in the UK and USA, Virgin had made a profit of £2 million but by 1983, this had leaped to £11 million, largely attributed by the worldwide success of CULTURE CLUB. Virgin Records was sold by Branson to Thorn EMI in 1992 reportedly for around £560 million to fund Virgin Atlantic Airways.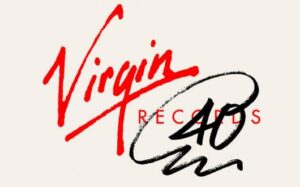 Under new management, the label became less visionary and more corporate with SPICE GIRLS and THE ROLLING STONES, along with Lenny Kravitz, Meat Loaf and Janet Jackson being examples of the brand's continued global success, while many of the innovative acts who had helped build the label were surplus to requirements. Despite this, Virgin Records still maintains a tremendous back catalogue.
Over the years, Virgin Records have been in the fortunate position of having a critically acclaimed act on its roster at each key stage of electronic music's development and its electronic legacy continues today with the recent signing of Glaswegian synth trio CHVRCHES.
So here are twenty albums from the iconic label which ELECTRICITYCLUB.CO.UK considers significant in the development of electronic music. Restricted to one album per artist moniker and featuring only UK releases initially issued on or licensed to the Virgin label, they are presented in chronological order…
---
TANGERINE DREAM Rubycon (1975)
'Phaedra' may have been the breakthrough album but the much under rated 'Rubycon' consolidated TANGERINE DREAM's position as leaders in the field of meditative electronic music with a wider palette and more focussed direction. Featuring the classic line-up of Edgar Froese, Peter Baumann and Chris Franke, the hypnotic noodles of VCS3 and Moogs dominated proceedings while Mellotrons and organic lines added to the trancey impressionism.
'Rubycon'
was released as V2025
http://www.tangerinedream.org/
---
ASHRA New Age Of Earth (1977)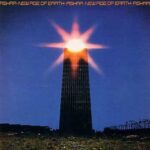 Guitarist Manuel Göttsching had been a member of ASH RA TEMPEL but looking to explore more progressive voxless territory on 'New Age Of Earth', he armed himself with an Eko Rhythm Computer, ARP Odyssey and his signature keyboard, a Farfisa Synthorchestra. An exponent of a more transient soloing style,  he used the guitar for texture as much as for melody. The wonderful 20 minute 'Nightdust' and the gently percussive 'Sunrain' were just two of the jewels in this beautiful treasure trove of an album.
'New Age Of Earth'
was released as V2080
---
STEVE HILLAGE Rainbow Dome Musick (1979)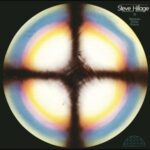 Already an established member of the Virgin family as a member of GONG, solo artist and in-house producer, Hillage had a love of German experimental music and ventured into ambient with long standing partner Miquette Giraudy. Recorded for the Rainbow Dome at the 'Festival for Mind-Body-Spirit' at Olympia, these two lengthy Moog and ARP assisted tracks each had a beautifully spacey vibe to induce total relaxation with a colourful sound spectrum.
'Rainbow Dome Musick'
 was released as VR1
https://twitter.com/stevehillage
---
SPARKS No1 In Heaven (1979)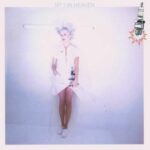 Following the inspirational success of 'I Feel Love', SPARKS were put in contact with its producer Giorgio Moroder who had aspirations to work with a band. The resultant album saw Russell Mael's flamboyant falsetto fitting well with the electronic disco template. 'The No1 Song In Heaven' hit the UK charts a few months before TUBEWAY ARMY's seminal 'Are Friends Electric?' while the follow-up 'Beat The Clock' actually got into the Top 10. However 'No1 in Heaven' overshadowed by the success of Gary Numan.
'No1 In Heaven'
was released as V2115
---
JOHN FOXX Metamatic (1980)
"I want to be a machine" snarled John Foxx on ULTRAVOX's eponymous debut and after he left the band in 1979, he virtually went the full hog with this JG Ballard inspired seminal recording. 'Underpass' and 'No-One Driving' were surprising hit singles that underlined the dystopian nature of Foxx's mindset at the time while the fabulous 'A New Kind Of Man' and the deviant 'He's A Liquid' were pure unadulterated Sci-Fi driven by the cold mechanics of a Roland CR78 Compurhythm.
'Metamatic'
 was released as V2146
---
JAPAN Gentlemen Take Polaroids (1980)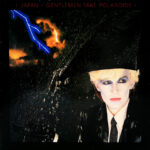 Dropped in 1980 by Ariola Hansa despite the Roxy-ish sound on their third album 'Quiet Life'
being palatable with the emerging New Romantic scene, JAPAN found a refuge at Virgin. As one of the best numbers, 'Swing' succeeded in out Roxy-ing ROXY MUSIC while the haunting 'Nightporter' was the ultimate Erik Satie tribute. A new found interest in Japanese technopop saw Sylvian collaborate with YELLOW MAGIC ORCHESTRA's Ryuichi Sakamoto on the splendid closer 'Taking Islands In Africa'.
'Gentlemen Take Polaroids'
was released as V2180
---
BRITISH ELECTRIC FOUNDATION Music For Stowaways (1981)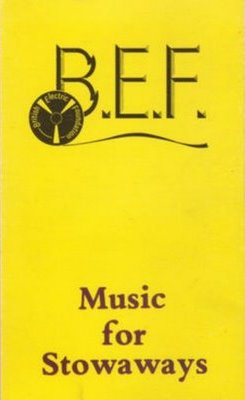 When they left THE HUMAN LEAGUE in Autumn 1980, Martyn Ware and Ian Craig Marsh formed BEF, releasing 'Music For Stowaways', an instrumental album only available on cassette to accessorise Sony's brand new Stowaway portable tape player. However, the name of the new device was changed to Walkman! With economic recession decimating the industrial heartland of Sheffield, the futurist horror of 'Music To Kill Your Parents By' and the doom laden 'Uptown Apocalypse' connected with the album's concept of a walking soundtrack to life.
'Music For Stowaways' was released as TCV2888
---
THE HUMAN LEAGUE Dare (1981)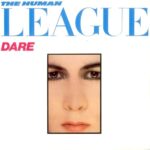 After two albums 'Reproduction' and 'Travelogue' containing "synthesizers and vocals only" failed to set the world alight, manager Bob Last played a game of divide and rule on the original line-up. Vocalist Philip Oakey and Director of Visuals Adrian Wright would recruit Ian Burden, Jo Callis, Susanne Sulley and Joanne Catherall to record the now classic 'Dare' album under the auspices of producer Martin Rushent. Like KRAFTWERK with the heart of ABBA, it was a dreamboat collection of worldwide hits.
'Dare'
 was released as V2192
http://www.thehumanleague.co.uk/
---
HEAVEN 17 Penthouse & Pavement (1981)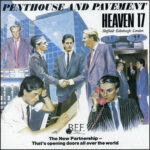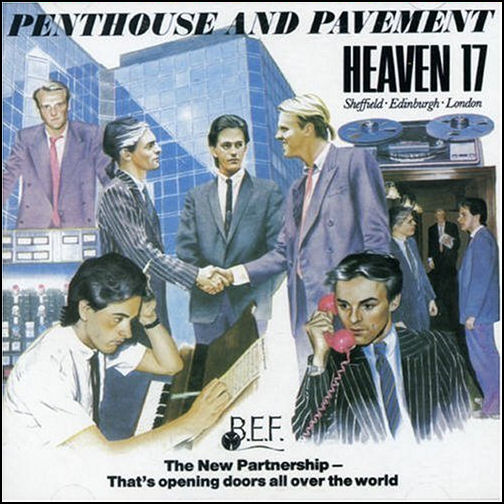 HEAVEN 17's debut 'Penthouse & Pavement' was a landmark achievement, combining electronics with pop hooks and disco sounds while adding witty social and political commentary about yuppie aspiration and mutually assured destruction. The 'Pavement' side was a showcase of hybrid funk driven by the then new Linn Drum Computer and embellished by the guitar and bass skills of youngster John Wilson while the 'Penthouse' side was more like an extension of THE HUMAN LEAGUE's 'Travelogue'.
'Penthouse & Pavement'
was released as V2208
---
SIMPLE MINDS New Gold Dream (1982)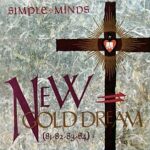 "You want to be with Virgin so bad that you'll sign anyway" said Richard Branson to SIMPLE MINDS when they wanted to defect from Arista Records. And sign they did after the promise of US tour support. SIMPLE MINDS lost their intensity and recorded a great album filled with pretty synthesized melodies, textural guitar and driving lead bass runs. The titles like 'Someone Somewhere In Summertime', 'Colours Fly & Catherine Wheel' and 'Hunter & The Hunted' made investigation essential.
'New Gold Dream'
was released as V2230
---
DEVO Oh, No! It's Devo (1982)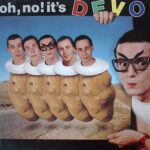 By 1982, DEVO had become much more of a synth based act with programmed percussion to boot. Under the helm of producer Roy Thomas Baker who had worked with both QUEEN and THE CARS, their sound moved away from the guitar dominated art rock of their Eno produced debut 'Q: Are We Not Men? A: We Are Devo!' As quirky as ever, the album's concept was a response to criticism from the press about their imagery… thus they asked "what would an album by fascist clowns sound like?"
'Oh, No! It's Devo'
was released as V2241
---
OMD Dazzle Ships (1983)
For OMD's first album for Virgin, Andy McCluskey and Paul Humphreys delivered 'Dazzle Ships', a brave sonic exploration of Cold War tensions and economic corruption. Although it featured some of the band's best work like 'The Romance Of The Telescope', 'International' and 'Radio Waves', 'Dazzle Ships' sold poorly on release. The band were strictly A&R'ed after that and never the same again, but this fractured nautical journey has since been vindicated as an experimental landmark.
'Dazzle Ships'
was released as V2261
---
RYUICHI SAKAMOTO Merry Christmas Mr Lawrence (1983)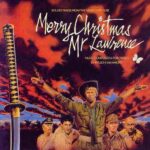 Being the best looking member of YELLOW MAGIC ORCHESTRA, it was almost inevitable that Sakamoto San would turn to acting. His first role was alongside none other than David Bowie in 'Merry Christmas Mr Lawrence' and with it came his soundtrack. The main title theme tune resonated with emotion and traditional melody, even without the voice of David Sylvian whose dulcet tones featured on the single version retitled 'Forbidden Colours' while 'The Seed & the Sower' was also a highlight.
'Merry Christmas Mr Lawrence'
was released as V2276
---
CHINA CRISIS Working With Fire & Steel – Possible Pop Songs Volume 2 (1983)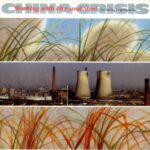 Produced by Mike Howlett, 'Working With Fire & Steel – Possible Pop Songs Volume 2' allowed CHINA CRISIS to deliver a more cohesive album following the four producers who steered their debut 'Difficult Shapes & Passive Rhythms – Some People Think It's Fun To Entertain'! Best known for the brilliant Emulator laced hit single 'Wishful Thinking', the album is much more than that with melancholic synth melodies and woodwind counterpoints over a combination of real and programmed rhythm sections.
'Working With Fire & Steel – Possible Pop Songs Volume 2'
was released as V2286
https://www.facebook.com/pages/China-Crisis/295592467251068
---
DAVID SYLVIAN Brilliant Trees (1984)
By 1984, Sylvian had a lucrative solo deal that gave him total artistic control. Side one of his debut solo offering adopted more of a laid back jazz feel as on 'The Ink in the Well' and 'Red Guitar'. Meanwhile the second side had synthetic Fourth World overtones with avant garde trumpetist Jon Hassell and sound painter Holger Czukay as willing conspirators, with echoes of Sylvian's previous work with JAPAN in the funky 'Pulling Punches' and the emotive 'Weathered Wall'.
'Brilliant Trees'
was released as V2290
---
BRIAN ENO Thursday Afternoon (1985)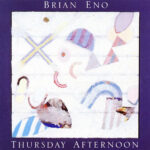 When CD was launched, Brian Eno's inquisitivity asked: "what can be done now that could not be done before? What kinds of music does that suggest?". 'Thursday Afternoon' was a 61 minute ambient journey that could be listened to uninterrupted on CD and the lack of surface noise meant it could also be very quiet. Using a Yamaha DX7 and minimal sustained piano, it soundtracked video paintings of the model Christine Alicino in vertical portrait format, so the TV had to be turned on its side to view it!
'Thursday Afternoon'
was released as EGCD64
---
PHILIP OAKEY & GIORGIO MORODER Philip Oakey & Giorgio Moroder (1985)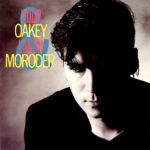 'Together in Electric Dreams' did better than any singles from THE HUMAN LEAGUE's lukewarm 'Hysteria' album. So Virgin swiftly dispatched Oakey to record an album with Moroder and it remains one of the most under rated pieces of work that either party has been involved in. The segued first side was a total delight featuring the rousing 'Why Must The Show Go On?' while the Donna Summer aping 'Brand New Love (Take A Chance)' was another highlight, along with the stupendous 'Now' on side two.
'Philip Oakey & Giorgio Moroder'
was released as V2351
---
THE BLUE NILE Hats (1989)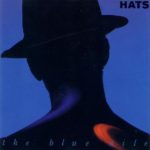 Whenever THE BLUE NILE are mentioned, it's their 1983 album 'A Walk Across The Rooftops' that is always discussed in breathless awe. But actually, the follow-up 'Hats' is the trio's crowning glory. Both albums were licensed to Virgin Records through a deal with Linn, the high quality Hi-Fi manufacturer. 'Hats' featured more synthesizers and drum machines. With hopeless romanticism and rainy drama, the glorious centrepieces were 'Headlights On The Parade' and 'The Downtown Lights'.
'Hats'
 was released as LKH2
http://www.downloadhome.co.uk/thebluenile_dlc/thebluenile.html
---
THE FUTURE SOUND OF LONDON Lifeforms (1994)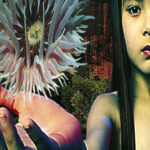 THE FUTURE SOUND OF LONDON became flag bearers of avant garde electronic music and seen as successors to TANGERINE DREAM and Eno. Signing to Virgin in 1992, the duo invested in some Akai S9000 samplers and given free rein to experiment, resulting in the complex sweeps and rhythmical collages of 'Lifeforms'. A double opus of downtempo electronic soundscapes, the influence of the BBC Radiophonic Workshop loomed heavy in the sonic playground.
'Lifeforms'
was released as V2722
http://www.futuresoundoflondon.com/
---
MASSIVE ATTACK Mezzanine (1998)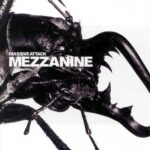 Despite band relations being at an all-time low, MASSIVE ATTACK produced some of their finest work on 'Mezzanine'. With dark undercurrents and eerie atmospherics, the album's highpoints featured the vocals of COCTEAU TWINS' Elizabeth Fraser on the hit single 'Teardrop' and the spy drama magnificence of 'Black Milk'… Heavy on samples, the collective were sued for the unauthorised use of MANFRED MANN'S EARTH BAND's 1972 song 'Tribute' on 'Black Milk'!
'Mezzanine'
was released as WBRCD4
http://www.massiveattack.co.uk/
---
Text by Chi Ming Lai
20th August 2013, updated 1st June 2023