Making sine waves on their extensive tour of North America at the moment are LA based duo SOFT METALS.
The couple met through a mutual love of art and music, releasing their first EP 'The Cold World Melts' in 2010. Fusing Detroit techno and elements of acid house with European experimental forms, Patricia Hall and Ian Hicks have just released 'Lenses'.
It's the follow-up to their well received eponymous debut album, through notable Brooklyn indie label Captured Tracks. Over an arsenal of cool vintage synths and classic analogue drum machines, SOFT METALS' repeating rhythms and incessant arpeggios at times recall ORBITAL, particularly with tracks featuring female vocalists such as 'Funny Break'.
They have an accessibly minimalistic sound with Hall's pretty vocals reminiscent of DOT ALLISON's flirtatious aura combined with ASTRUD GILBERTO's innocent vulnerability as brilliantly showcased on 'Voices', 'Do You Remember?' and 'Psychic Driving'. The result is a sexy ice maiden allure over bright hypnotic electronic sketches that comes over exquisitely Métaux Mous.
Compared with other North American duos, they are maybe a bit shinier than CRYSTAL CASTLES and perhaps have a more accessible sound than XENO & OAKLANDER. But that's not to say SOFT METALS don't have much weightier influences as their affectionate cover of THROBBING GRISTLE's 'Hot On The Heels Of Love' proves.
In the midst of a busy touring schedule, SOFT METALS were kind enough to took time out to chat to ELECTRICITYCLUB.CO.UK…
How did you arrive at using vintage synthesizers for your sound?
Ian: It is the sound of a lot of music that I like; software instruments don't sound the same. If you want a specific sound, you have to get the instrument. The tactical interface, the limitations of the machines and the quirks of the individual interfaces inspire sounds that you might have otherwise not discovered.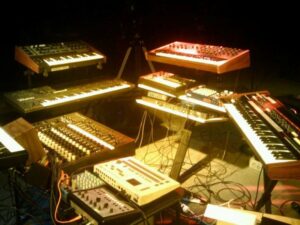 Which particular synths are your favourites and what is it about them that you like?
Ian: I like the Pro-One. It has the 2 track step sequencer which is good for sketching out simple melodies and basslines. It also has very extensive modulation capabilities which can result in near modular sounding tones. I also like the Mono/Poly. It has a really nice SSM filter which is really smooth and silky sounding. Having 4 oscillators that can have different wave shapes and octaves can result in complex tones. If you couple that with the arppegiator, it creates a very hypnotic soundscape.
Patricia: My favorite synth to play is the Juno 60. It's a great synth for live performances since it has patch memory and the layout is very user friendly. Its tones are a big part of the SOFT METALS sound.
You appear to have quite European influences in your sound with the rhythmical template locked in more American dance forms?
Ian: We draw a lot of or inspiration from early Detroit techno from artists such as DREXCIYA, CARL CRAIG, etc. We continue to be influenced by early Warp records releases and early industrial/underground synth music like THROBBING GRISTLE, CHRIS & COSEY and LIAISONS DANGEREUSES.
What is the creative dynamic between the two of you when writing and recording?
Ian: Usually we start a recording session with a jam. That could come from a beat and a bassline. It usually begins with the 808 and Pro-One. We try to keep it pretty simple, maybe adding an additional melodic line from the JX-3P or Juno 60. Patricia will take the raw form of the jam and work in vocals. Once a solid vocal idea is in place, we edit, arrange, and add flourishes to the song.
With EDM being so popular in the US plus the more underground scenes like in New York with XENO & OAKLANDER, Wierd Records and the Minimal Wave label, do you feel an affinity with any of the movements or tribes?
Ian: Yes, we played at Weird Records night a few years ago. We are big fans of XENO & OAKLANDER, Weird Records and the Minimal Wave label.
SOFT METALS have a quite warm sound despite the chills as it were…
Patricia: The dark / cold place that our music comes from is a mysterious place inside your psyche rather than a dystopian outside world. We are more interested in psychedelia and exploring the stratification of consciousness. It's an adventure of the mind and perception. A feeling of caution and reluctance is there, but it's never cold or unfeeling. There are moments of love, beauty, doubt, sadness, ecstasy, and fear, and curiosity in our music. Our music is about intimacy with yourself, the person you love, a feeling of wonder and the weight of life. Some people say that synthesizers can't convey emotions like traditional instruments, but I disagree. I hear my emotions reflected in synthetic tones.
How do you look back on your first album back in 2011?
Patricia: I was really proud of us when we made our debut album and I am really proud of our new album 'Lenses'. SOFT METALS is about learning and growing and dancing and feeling. We give our best to our music and as time goes on, I think we get better and better at what we do. Each recording is a snapshot into out lives, feelings, and skill level at the time. It's exciting for us to see the evolution.
'Lenses' appears to be a natural progression from your debut, how do you see it?
Patricia: I agree. It is a natural progression. Our music comes about very organically. It's a reflection of what we are feeling and thinking at the time. It's a pure expression.
You're experimenting more with tuning, both synthetically and vocally on this album?
Patricia: On the song 'Lenses', the bassline and the lead melody are a shallow experiment with bi-tonality. We were inspired by DREXCIYA with that one. They play with that dynamic a lot and we love it. This is also a device employed by Darius Milhaud who has been an inspirational figure in composition for Ian for a long time. We wanted to try it out.
'Hourglass' is a rather fabulous instrumental. How do you decide whether a track should have a vocal or not as you have done a fair number?
Patricia: I really wanted to write lyrics for that one, but was never quite satisfied with what I came up with. I decided it would be better to let that one be an instrumental. I think it holds up on its own. It's nice to give the listener a chance to interpret its meaning on its own rather than direct them with words.
It was quite a brave move to put a lengthier ambient track such as 'Interobserver' on the album?
Patricia: The first inspirations of SOFT METALS are the improvised sessions we do together. We don't want to get too far removed from what breathed life into SOFT METALS.
Over your two albums, which of your tracks have been your favourites and why?
Ian: I like the mood of 'No Turning Back'. I was really happy with how the drums ended up sounding on that song.
On 'Lenses', I like its simplicity and off-kilter feeling. It feels like it's not quite right, but that's what makes it engaging. 'Celestial Call' was recorded all in one take with no overdubs. I loved how it turned out.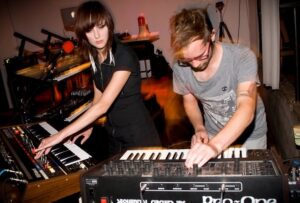 Patricia: 'Psychic Driving' has probably been the best showcase of my voice in a song and when I perform it well at a show, it seems to transfix and captivate the audience. The melodies and tones are beautiful. 'In the Air' is my favorite SOFT METALS song to dance to. We have been getting a great response from the audience with that one. 'Always' is a lot of fun to me, too. I love its spaced out vibe.
You are a well presented duo… is the visual aspect of SOFT METALS important? Will you utilise video more in the future?
Patricia: Yes, we have been taking a DVD of original video art created by our friends Eva Aguila and Brock Fansler on tour with us to be projected at our shows. It looks amazing. We shot 3 music videos for this album and will be in the videos which is a new for us.
You're embarking on a very extensive tour of North America at the moment. How are you finding it and does being a couple make it easier, or more challenging?
Patricia: So far the tour has been going very well. We are currently driving through Wyoming in what seems to be the middle of nowhere. The shows have been a lot of fun. I think we needed to do an extensive tour. Previous to this, we only felt comfortable with the studio environment which made live performances come off stiff. We have shaken off our inhibitions and have become more adaptable to various environments. I'm having a lot of fun and I'm not tired yet. Every show has been different, but that's a good thing. Being a couple makes it feel like we are on holiday.
What next for SOFT METALS. Have you any plans to come to Europe?
Patricia: We definitely want to come to Europe.
---
ELECTRICITYCLUB.CO.UK gives its warmest thanks to SOFT METALS
Special thanks also to Sara Casella at Captured Tracks
The albums 'Soft Metals' and 'Lenses' are released by Captured Tracks and available in CD, vinyl and download formats
They undertake an extensive tour of the USA and Canada throughout August and early September. Please visit https://www.facebook.com/softmetals for more details
http://soundcloud.com/soft-metals
http://capturedtracks.com/artists/softmetals/
---
Text and Interview by Chi Ming Lai
17th August 2013