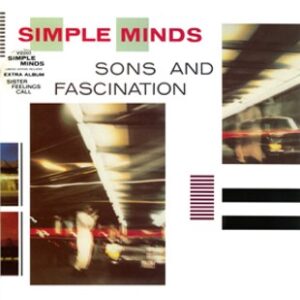 Mere mention of SIMPLE MINDS always recalls horrible memories of plodding stadium rock with Jim Kerr's tiresome shouts of "LET ME SEE YOUR HANDS" accompanied by overblown ten minute arrangements, swathed in pomposity.
Indeed, ELECTRICITYCLUB.CO.UK's first truly awful concert was SIMPLE MINDS at Hammersmith Odeon in 1984 when the band played just twelve songs in two hours… you do the maths! Meanwhile The Tube's broadcast of their tedious 1985 concert at The Ahoy with the 11 minute version of 'Waterfront' was most people's cue to get out.
But there was a time when SIMPLE MINDS were one of the most promising young bands in Britain. And in 1981, they delivered what has now become their most forgotten body of work; 'Sons and Fascination / Sister Feelings Call'. Even a great 2009 article about 'The Rise and Fall of SIMPLE MINDS' on Popmatters largely overlooked this great double album.
Despite a shaky start with 'Life In A Day', the Glaswegians started experimenting with more electronics on 'Reel To Real Cacophony' and 'Empires & Dance' with the latter being cited by writer Chris Bohn as "the record DAVID BOWIE could have made with 'Lodger', if he'd been alittle bit more honest to himself". This monochromatic European travelogue with its claustrophobic demeanour, courtesy of future RADIOHEAD and MUSE producer John Leckie, had been a critical if not commercial success.
After an unhappy sojourn with Arista Records which led to them being dropped following the failure of 'I Travel' as a single, SIMPLE MINDS signed to Virgin Records who were at this point gambling their future on synthesizer based acts such as THE HUMAN LEAGUE, JAPAN and through its Dindisc subsidiary, OMD.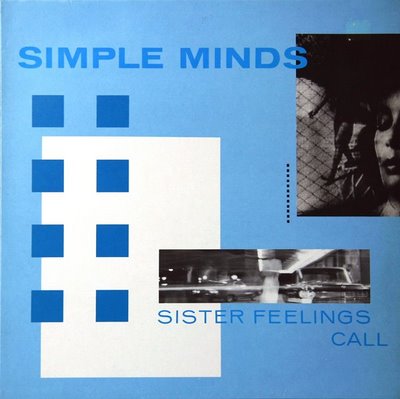 To exploit their KRAFTWERK, NEU! and LA DÜSSELDORF influences to the full, SIMPLE MINDS were teamed up with producer Steve Hillage.
A hippy musician formally of the band GONG, Hillage was also a big fan of the German experimental scene which by now was shaping the intelligent pop landscape along with home grown heroes DAVID BOWIE and ROXY MUSIC.
He gave SIMPLE MINDS a more accessible brightness that had been noticeably absent in the band's Arista work. Bursting with ideas, the band not only recorded an album, they sort of did two!
The main feature was entitled 'Sons and Fascination' and contained eight songs that captured the motorik energy that was always apparent with the flanged bass powerhouse of Derek Forbes steering proceedings alongside solidly dependable drummer Brian McGee.
With Forbes constructing rhythmical but articulate basslines not unlike Mick Karn from JAPAN, the works were then coloured by Mick MacNeil who came armed with his Roland Jupiter 4, Roland RS09 and Korg 770 alongside the guitars of Charlie Burchill which were often so layered in effects that when harmonised together with MacNeil's synths, they were almost as one.
Opening with the tremendous 'In Trance As Mission', the solid bass over a slight offbeat is progressively built up with keyboards as Jim Kerr rambles almost unintelligibly about the "courage of dreams" – dreaming and ambition were always part of SIMPLE MINDS' manifesto. The lost single 'Sweat In Bullet' is the more frantic older brother of 'Someone Somewhere (In Summertime)', driven by scratchy guitar while what follows is a sound that has never been repeated.
On the mighty '70 Cities As Love Brings The Fall', the distorted bass is counterpointed by the horrifying noise of a dentist's drill! Almost industrial, the aural discomfort is something that will shock anyone that has only ever heard the abomination of 'Belfast Child'! The raw edge continues on the thundering 'Boys From Brazil' where Kerr attacks the rise of the extreme right wing.
'Love Song' is the hit single that at the time, never actually was. Pulsed by sequencers and driven by that distinctive syncopated bassline, Hillage's production is a "coat of many colours" although the song's inherent repetition means that it perhaps outstays its welcome by about 45 seconds; this incidentally was later fixed on Gregg Jackman's subtle '92 single remix.
Whatever, 'Love Song' is still a classic despite Kerr's abstract observations being almost gibberish. After the release of all that pent up energy, a lone chattering rhythm box announces the arrival of the beautiful ballad 'This Earth That You Walk Upon'.
The drum machine remains for 'Sons and Fascination' which sounds positively Roman, clattering away like a synthetic tattoo for the chariot race in 'Ben Hur'. And to finish, a repeated synthesizer motif and elastic slap leads the atmospheric palette of 'Seeing Out The Angel'.
Of course, this wasn't actually the end as initial copies of the album came with a seven track Siamese Twin called 'Sister Feelings Call'. In the context of the modern day bonus disc containing half a dozen pointless remixes, 'Sister Feelings Call' has to be one of the greatest freebies ever. It starts with the amazing 'Theme For Great Cities'.
Fusing CAN with TANGERINE DREAM, MacNeil's haunting vox humana and the rhythm section covered in dub echo bridge into possibly one of the greatest instrumental signatures ever!
This is then followed by 'The American', imperial in its Apache-like approach, pounding to the heart of the dance without the need for hi-hats, just triggered electronics and funky hypnotic bass.
Inspired by the bright colours of Jackson Pollock's modern art, Kerr's varied cosmic intonation of the word "American" in the chorus is delightfully bizarre and memorable.
The rich Roland organ lines of '20th Century Promised Land' confirm what an inspired period this must have been for Kerr and Co although the collection's remaining tracks 'Careful In Career' and 'Wonderful In Young Life' don't quite soar to such great heights while 'League Of Nations' does possess a stark charm with its beat box led tribal TALKING HEADS feel.
One thing that is noticeable about this era of SIMPLE MINDS is how the compositions are more fragments of music with multiple riffs modulating over a minimal chord structure. This may sound like a recipe for poor songwriting but the end results were perhaps more musically inventive and interesting than the traditional rock approach.
The fine perfect balance between art and pop was finally achieved with the massively successful and outstanding 'New Gold Dream' album in 1982. But then it went horribly wrong with 'Sparkle In The Rain' when the production helm was given to the vastly over rated Steve Lillywhite who did what he normally did and made the band sound like they'd been recorded down a drainpipe! Released in 1984, it was quite obvious that the lure of the Yankee dollar in light of U2's success just couldn't be resisted.
Judging by the original 'Sparkle In The Rain' demos, a technologically sophisticated album had been planned with 'Speed Your Love To Me' in particular sounding more like VISAGE's 'Fade To Grey' than its eventual BIG COUNTRY pastiche. But it was rock music tailored for American ears that the band opted to aim for. It was this embracement that later made the band's name quite ironic.
But to be fair, dumbing down the sound for the synthphobic USA was starting to be common place among British bands. However, it's also ironic that around this time, having been influenced by 'New Gold Dream', U2 decided to get a bit more artier and took on board some Eurocentric experimentation with Brian Eno as their willing conspirator.
Whereas after the massive sales of the 1985 FM rock flavoured long player 'Once Upon A Time', SIMPLE MINDS gradually experienced a law of diminishing returns, U2 more or less maintained their standing in the long term and are still working with Eno to this day.
Interestingly, at their most recent concerts, remaining founder members Jim Kerr and Charlie Burchill may have finally seen the light about what was musically SIMPLE MINDS' most glorious period – 'Sons and Fascination' and 'This Earth That You Walk Upon' are in the live set along with material from the 'New Gold Dream' album while 'Belfast Child' has finally been dropped!
---
'Sons & Fascination / Sister Feelings Call'
 is available on Virgin Records
https://www.facebook.com/simpleminds/
https://twitter.com/simplemindscom
---
Text by Chi Ming Lai
11th July 2011