'Themes for Great Cities: A New History of SIMPLE MINDS' is a new biography by Graeme Thomson on the Glaswegian band that formed in late 1977.
Childhood friends Jim Kerr and Charlie Burchill had been in JOHNNY & THE SELF-ABSUSERS who famously split up the day that their debut single 'Saints & Sinners' was released on Chiswick Records. On hearing Donna Summer's 'I Feel Love', they realised that integrating electronics into their music was the way forward.
Renaming themselves SIMPLE MINDS after a lyric in David Bowie's 'The Jean Genie', they retained Brian McGee on drums from their previous band and after specifying "synthesizer" as prerequisite for any keyboardist, recruited Mick MacNeil; Derek Forbes joined later on bass. From humble working class beginnings, SIMPLE MINDS were to become one of the biggest bands in Scottish music history.
With the biography's focus on the band's formative years between 1979-85, Jim Kerr said to the author: "Nobody owes us anything, but the SIMPLE MINDS story has been too condensed. After Live Aid and 'Don't You (Forget About Me)' there hasn't been quite the credit for those first few records. I think they contain some really special music. I can hear the flaws but there's something about the spirit and imagination in them that feels good. They draw from such a wide range of influences … but the spirit of it was always SIMPLE MINDS".
Indeed there are several distinct phases of SIMPLE MINDS to which the wider public find unrelatable, much like with DEPECHE MODE. Just as the Basildon combo went from folk-rooted origins to synthpop to dark pseudo blues, the Glaswegians went from punk to electronically assisted art rock to stadium monsters, although Kerr quipped in 2006 to The Word magazine of his unexpected rivals "Who would've thought DEPECHE MODE plink-plonking away would play in stadiums?"
But in 1978, SIMPLE MINDS were establishing themselves as an exciting live prospect, with influences such as THE VELVET UNDERGROUND, ROXY MUSIC, SPARKS, KRAFTWERK, LA DÜSSELDORF, NEU! and MAGAZINE. They came to the attention of Bruce Findlay, owner of the Bruce's Records shop chain who also ran Zoom Records, an Arista Records subsidiary; he brokered a deal with head office for SIMPLE MINDS while also signing them to his Schoolhouse Management company.
Recorded at a very low temperature in early 1979, their debut album 'Life In A Day' was a promising if shaky start. The first of three albums produced by John Leckie, it suffered from comparisons with MAGAZINE while SPARKS could be heard all over the title track. THE BOOMTOWN RATS also loomed in the new wave pop of 'Sad Affair', but the catchy 'Chelsea Girl' was the undoubted highlight and probably would have been a Top10 single had it been by Bob Geldof & Co; that was partly remedied in 1982 when A FLOCK OF SEAGULLS borrowed its synth line for 'Wishing (I Had A Photograph Of You)'.
Inspired both musically and visually by Brian Eno, Dieter Moebius and Hans-Joachim Roedelius' collaborative album 'After The Heat', the Glaswegians started experimenting with more electronics on the swift follow-up 'Reel To Real Cacophony'; McGee purchased a Dr Rhythm drum machine in support of the new ethos. While the songs on the debut album were written by Kerr and Burchill, composition was now democratised via group jamming with Forbes often taking a lead role on bass, a legacy of ditching guitar as his first instrument on joining the band.
Adopting a much more European austere, SIMPLE MINDS were underground and pulsating through on 'Changeling' which became an anthem at The Blitz Club, thanks to the rhythmic interplay of Forbes' bass with McNeil's synths. Burchill was now thinking beyond the sound of a conventional electric guitar while the precision of McGee locked the glue. It left Kerr to throw his bizarre shapes and pontificate lyrically with his impressionistic anxiety.
Another album highlight 'Premonition' really was a sign of things to come while the album's opening title song saw SIMPLE MINDS present their own take on KRAFTWERK's 'Radio-Activity'. 'Film Theme' showcased the band's developing interest in instrumentals although the schizo sound sculpture 'Veldt' was frankly quite bizarre. Overall, 'Reel To Real Cacophony' was a stronger and more confident offering than 'Life In A Day'.
Tours opening for Gary Numan and Peter Gabriel took SIMPLE MINDS around Europe to experience the Cold War tensions that were more apparent than back home. Their wired mood began to polarise their music into black and white for their third long player 'Empires & Dance'. With its speedy Moroder-esque influence, 'I Travel' was a screeching futuristic frenzy where Kerr stated "Europe has a language problem".
But as 'Celebrate' brought some industrial Schaffel to the party and '30 Frames A Second' took a trip down the autobahn, the cerebral rap of 'Twist / Run / Repulsion' accompanied by a sexy French girl monologue messed with the headspace of listeners. Meanwhile the sinister 'Today I Died Again' would be later sampled by TEARS FOR FEARS for the B-side 'Empire Building'; it was a trick that would be repeated on the huge 1985 hit 'Everybody Wants To Rule The World' with its bass and snare taken from 1983's 'Waterfront'.
Despite critical if not commercial success, Arista Records was proving to be the wrong home for SIMPLE MINDS' wider ambitions. A label more used to dealing with Barry Manilow and Dionne Warwick, the band were dropped in the wake of the failure of 'I Travel' as a single. They soon found a more sympathetic home in Virgin Records who were at this point gambling their future on synthesizer based acts such as THE HUMAN LEAGUE and JAPAN.
Their first fruit of labour for Virgin was the 'Sons & Fascination' / 'Sister Feelings Call' double opus and it proved to be the start of SIMPLE MINDS' wider breakthrough. To exploit their KRAFTWERK, NEU! and LA DÜSSELDORF influences to the full, the quintet were teamed up with producer Steve Hillage who was a big fan of the German experimental scene. He also brought a more accessible brightness that had been noticeably absent in the band's Arista work.
The main 'Sons & Fascination' feature opened with the tremendous In 'Trance As Mission' with Kerr rambling almost unintelligibly about the "courage of dreams". The mighty '70 Cites As Love Brings The Fall' featured the horrifying noise of what sounded like a dentist's drill while 'Boys From Brazil' attacked the rise of extreme right wing politics.
The flanged bass powerhouse of Forbes steered alongside the solidly dependable McGee while MacNeil came armed with his Roland Jupiter 4, Roland RS09 and Korg 770, harmonising with the guitars of Burchill almost as one. Of the singles, 'Sweat In Bullet' was the more frantic older brother of 'Someone Somewhere In Summertime' while pulsed by an Oberheim OBX, 'Love Song' was the hit that never actually was, until a subtle remix by Gregg Jackman in 1992.
Bursting with ideas, 'Sons & Fascination' spilled over into its Siamese Twin 'Sister Feelings Call', possibly one of the greatest freebies ever. Fusing CAN with TANGERINE DREAM in a dub echo, 'Theme For Great Cities' featured one of the greatest instrumental signatures ever while another single 'The American' was imperial in its Apache-like approach, pounding to the heart of the dance without the need for hi-hats, just triggered electronics and funky hypnotic bass.
Possibly their most under-rated body of work, although the 'Sons & Fascination' / 'Sister Feelings Call' collection provided their biggest seller yet and captured SIMPLE MINDS at their most musically inventive, the time was now right to adapt their arty fragmented approach into a more accessible clarity. But just as they were about to hit the big time, Brian McGee departed, seeking a more domestic life… strangely he now has his own tribute act EX-SIMPLE MIND featuring his brother Owen Paul on vocals to perform hit singles he never originally played on at nostalgia festivals…
Based on a synth brass riff from a funk track 'Too Through' by BAD GIRLS which had been taped off Kiss FM in New York by stand-in sticksman Kenny Hyslop, 'Promised You A Miracle' signified a more positive and colourful SIMPLE MINDS with Kerr's vocals actually intelligible if still enigmatic. It finally gave them the hit single they had long desired, reaching No13 in the UK in Spring 1982. The sparkly 'Glittering Prize' followed it to No16 and set the scene for 'New Gold Dream' which would turn out to be the best album of their career.
Fitting in with the New Pop movement as exemplified by the chart success of ABC and ASSOCIATES, SIMPLE MINDS lost their intensity on 'New Gold Dream', inspired by their success touring in Australia, opening for ICEHOUSE. With lush panoramic production and arrangements by Peter Walsh, space was filled with pretty synthesized melodies, textural guitar and driving lead bass runs. Track titles such as 'Someone Somewhere In Summertime', 'Colours Fly & Catherine Wheel' and 'Somebody Up There Likes You' made investigation essential.
With two drummers drumming in Mel Gaynor and Mike Ogletree, as well as lashings of keyboards and a throbbing bass engine, the 'New Gold Dream' title song highlighted an ambitious streak in SIMPLE MINDS and its impact was felt later in 1993 when it was sampled for the basis of URSURA's sizeable club hit 'Open Your Mind'. With a fine perfect balance between art and pop, the glorious 'Hunter & The Hunter' presented a wonderful wash of sound and a guest synth solo from Herbie Hancock.
The huge success of 'New Gold Dream' in Europe led to invitation to play its huge outdoor festivals. Often sharing the bill alongside more rockcentric acts like U2 and BIG COUNTRY, with the heavier presence of Mel Gaynor now ensconced in the drumstool, SIMPLE MINDS began tailoring their sound to the vast open spaces in front of them.
As a result, things began to get very contrived with bombast and stadium theatrics now figuring on their 1984 long player 'Sparkle In The Rain'. After the lush tapestries of 'New Gold Dream', U2 producer Steve Lillywhite proceeded to make SIMPLE MINDS sound like they had been recorded down a drain pipe. It was now quite obvious that the lure of the Yankee dollar in light of U2's stateside success just couldn't be resisted.
Advances in technology with sequencers, drum machines and portastudios meant Burchill and MacNeil began writing as a pair, leaving Forbes slightly out on a limb. Judging by the original 'Sparkle In The Rain' demos which were leaked in 2006, a musically sophisticated album had been conceived with 'Speed Your Love To Me' sounding more like VISAGE's Fade To Grey than its eventual BIG COUNTRY pastiche.
But with SIMPLE MINDS now throwing in their lot with the likes of U2 and BIG COUNTRY, the more conventional 'Sparkle In The Rain' was a disappointment with jagged piano taking the place of crystalline synths and the bass guitar becoming more percussive rather than melodic. However, opening with 'Up On The Catwalk', the first side was equal in quality to anything from the first two Virgin-era albums with 'Waterfront' and 'Book Of Brilliant Things' being particular highlights, although the guitars, drums and vocals were far too loud and harsh.
Worse was to come as Kerr fell ill towards the end of the 'Sparkle In The Rain' UK tour and had to take an enforced break, with the final run of eight dates at Hammersmith Odeon rescheduled. When the band re-emerged, the audience were aghast at Kerr perched up rather unsteadily on a pole during the opening number 'East At Easter', later hectoring the audience with bellows of "SHOW ME YOUR HANDS", "UP" and "HIGHER"!
What then followed was a ponderous 2 hour show featuring just 12 songs, an average song length of 10 minutes! The attempt at grand music led to attempts at grand gestures! As the band were plodding away, the synths barely able to be heard amongst all the bombast! The artier eloquence had been exchanged for a tedious pomposity. It was time to give the dog a Bono!
Renowned journalist and earlier biographer Adam Sweeting commented in 'The Sony Tape 1984 Rock Review' that those Hammersmith shows were "a heady mixture of tragedy and farce" while "the band played collectively as though auditioning for a spot on the Des O'Connor show, devoid of their usual subtlety and grace"! 'Sparkle In The Rain' was the start of SIMPLE MINDS' artistic slide.
Come 1985 and SIMPLE MINDS were offered a song written by Steve Chiff and producer Keith Forsey for a John Hughes movie entitled 'The Breakfast Club'. The song had already been rejected by Billy Idol and Richard Butler who Forsey had worked with, as well as by Bryan Ferry, so was rearranged and recorded reluctantly by the band at a studio in London.
Forsey had already co-written the theme tunes to 'Flashdance' and 'Never Ending Story' with Giorgio Moroder, so with his amiable personality and the fact that he had been the drummer on 'I Feel Love', he smoothed the path to his goal. With the right balance of synths and FM rock, 'Don't You (Forget About Me)' became an unexpected US No1 on the back of the movie's success; it took Kerr and Co into the sports arenas of North America.
Feeling guilty about achieving such massive success with a song they didn't write, SIMPLE MINDS opted to record their next album 'Once Upon A Time' with American rock heavyweights Jimmy Iovine and Bob Clearmountain to prove they could have a US hit with one of their own songs. But along the way, Derek Forbes was asked to leave the band with concerns about his commitment and reliability, having been distracted by the trappings of rock 'n' roll.
Forbes was replaced by John Giblin who played much less of a lead melodic role on bass and arrived just in time for SIMPLE MINDS' appearance on Live Aid and another international hit in 'Alive & Kicking'. With a more commercial Trans-Atlantic sheen, the 'Once Upon A Time' album was what it was intended to be; an immediately enjoyable, uptempo rock pop album that successfully exploited its possibilities with a sharp radio friendly outlook.
The SIMPLE MINDS sound had changed from absorbing instrumentals with vocals to actual songs. There were also more soulful interventions thanks to guest singer Robin Clark who featured quite prominently on 'All The Things She Said', 'Alive & Kicking' and the title song while the band went on a full SPENCER DAVIS GROUP rhythm 'n' blues blow-out for 'Sanctify Yourself'. There were reminders of the more understated 'New Gold Dream' period on the album closer 'Come A Long Way' but otherwise, 'Once Upon A Time' was made for straightforward crowd singalongs.
However, The Tube's broadcast of their tedious 1985 concert at The Ahoy with an 11 minute version of 'Waterfront' was most people's cue to get out. But to be fair, the 9 minute 'Don't You Forget About Me' with the entire audience joining in the elongated "la-la-la-la" closing refrain was a rousing affair and ensured that SIMPLE MINDS would be damned to play someone else's song in their shows for the rest of their lives.
The 'Live In The City Of Light' document that followed in 1987 featured more manageable if not entirely successful, edited arrangements of songs that for the most part, did not outstay their welcome compared with what had been going on at The Ahoy. Had SIMPLE MINDS finally seen the light and realised that less could mean more? The answer was no, as meandering overlong arrangements dominated the 1989 album 'Street Fighting Years'.
Lambasted for embracing stadium rock, the fragmented nucleus of Kerr, Burchill and McNeil retreated to the tranquillity of rural Scotland to inspire a more earnest, political direction. Instrumentally, the bombast and synths were replaced by the brushes, rootsy bottleneck guitar, strings, bagpipes, accordion and Hammond organ which were ubiquitous of the period.
The production skills of Trevor Horn and Stephen Lipson struggled to get the best out of what even Kerr now refers to as "a troubled record" – new technology had affected band dynamics and perceived roles again with Burchill now creating keyboard parts that led to tensions with McNeil. Meanwhile, Gaynor was side-lined with noted session drummer Manu Katché taking his place. Giblin also left the sessions, having already written 'Let It All Come Down' and inspired 'Belfast Child' after being heard playing the traditional Irish folk song 'She Moved Through the Fair' on the studio piano by Kerr.
Many of the songs on 'Street Fighting Years' meandered along at over six minutes at a time; despite being their only UK No1 single, 'Belfast Child' outstayed its welcome by at least four and a half minutes! Come the anti-climactic tour to support the album, although SIMPLE MINDS were now regularly playing the stadiums they craved, with so many personnel on stage, things got far too muso and self-indulgent as the audience struggled with the political nature of the new record and its lengthy understated dynamics.
Things got even stranger during those shows as Kerr stopped mid-song during 'Ghostdancing' to tell a short story about Elvis Presley while the band performed a formless coda jam of 'Book Of Brilliant Things' rather than playing the actual song! With the show almost reaching the 3 hour mark, Kerr was still hectoring the audience with shouts of "LET ME SEE YOUR HANDS" and "SINGALONG WITH ME", as if he was trying to cover up for something…
Having looked unhappy throughout much of the 'Street Fighting Years' tour, Mick McNeil left just prior to the recording of the interim 'Amsterdam' EP which included a pointless cover of Prince's 'Sign O' The Times'; a few months later after a management reshuffle, Bruce Findlay was gone too. Now reduced to a duo for their 1991 album 'Real Life', Kerr and Burchill retained Mel Gaynor on drums while producer Stephen Lipson played bass and keyboards on a number of tracks. Utilising much shorter and sharper arrangements, 'Real Life' was better than 'Street Fighting Years' with the sparse minimalism of 'Woman' being one of the highlights, along with the U2 aping 'See The Lights'.
The 'Real Life' album though was a retread of SIMPLE MINDS' recent past with 'Let The Children Speak' basically an under par vocal version of 'Theme For Great Cities' while 'Ghostrider', 'Stand By Love' and 'Travelling Man' respectively owed more than a debt to 'Ghostdancing', 'Sanctify Yourself' and 'Waterfront'. Although in concert, SIMPLE MINDS had dialled down many of their more overblown tendencies, the 'Real Live' tour was still very much a "let me see your hands" experience.
An exhausted SIMPLE MINDS took a 4 year break before delivering 'Good News From The Next World', their final album for Virgin Records. Produced by Keith Forsey and with the emphasis on guitars, only '7 Deadly Sins' captured hints of former glories. It was telling that 'Hypnotised' was superior in its stripped down instrumental B-side guise titled '#4'.
Meanwhile the lead single 'She's A River' with its guitar histrionics, big drums and anonymous verse had no real hooks. This turned out to be case with the rest of the album and things must have been bad because the band only featured 3 songs from it at their 1995 Wembley Arena show; the band were bereft of charisma while new drummer Mark Schulman played like he had a wooden leg.
Signing with Chrysalis Records, the return of Derek Forbes for 1998's 'Néapolis' failed to reverse fortunes although the electro-kosmische instrumental 'Androgyny' stood out in an underwhelming collection of music. The writing on the wall and their new label declined to release the next album 'Our Secrets Are the Same'.
While SIMPLE MINDS have continued to release albums since, with 2015's 'Big Music' being hailed as the inevitable "return to form", it is in the live arena with a revolving door of session players that Kerr and Burchill have continued to be a draw. The front man may still want to see people's hands but SIMPLE MINDS' ability to continue playing arenas three decades after their commercial height deserves respect and wonderment.
In comparison to U2 who brought in a new brain in Brian Eno after hearing 'New Gold Dream' to help continue their artistic development, SIMPLE MINDS were an exhilarating plane ride across the Atlantic where engines kept falling off but has continued gliding ever since. Their legacy can be found in dance artists such as CORPORATION OF ONE, UTAH SAINTS, MOBY and ITALOCONNECTION, along with rock and pop exponents like MANIC STREET PREACHERS, WHITE LIES and HURTS.
While they were not New Romantics, the movement's embracement of their music made them as pioneering as ULTRAVOX and TUBEWAY ARMY in their use of electronics within a conventional band format. Interestingly, in the last 10 years, it has dawned on Kerr and Burchill that their 1979-1982 period was SIMPLE MINDS' most glorious period and the '5 X 5' tour in 2012 performing material from that first phase of the band satisfied those who had tired of the audience hectoring and hand showing.
Fast forward to 2022 and 'Act Of Love', a never before released live favourite from 1978, has been recorded as a new single in time for SIMPLE MINDS upcoming '40 Years Of Hits' world tour. Although SIMPLE MINDS can boast several double and naturally triple greatest hits collections to their name, it was the period before they had those really big hits that they were truly at their imperial and imaginative best.
---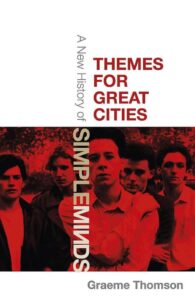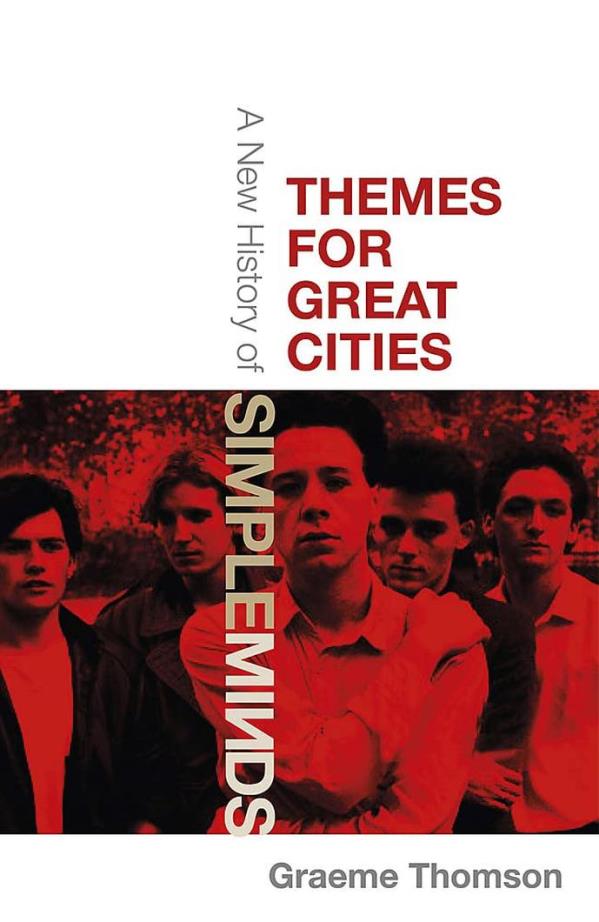 'Themes for Great Cities: A New History of SIMPLE MINDS' written by by Graeme Thomson is published by Constable in hardback and Kindle editions
'Celebrate: The Greatest Hits' is released as a 2CD set by EMI Music
'Live In The City Of Angels' is released as a 2CD set by BMG Rights Management
https://www.facebook.com/simpleminds
https://twitter.com/simplemindscom
https://www.instagram.com/simplemindsmusic/
---
Text by Chi Ming Lai
7th February 2022