Like their contemporaries JAPAN, Scotland's ASSOCIATES are a band that burned briefly but brightly.
Fronted by the mercurial Billy MacKenzie and driven musically by multi-instrumentalist Alan Rankine, the group's entire back catalogue has been remastered, accompanied by a new compilation.
The MacKenzie / Rankine era albums 'The Affectionate Punch', 'Fourth Drawer Down' and 'Sulk' have been supervised by silent partner and bassist Michael Dempsey.
These 2CD deluxe editions include previously unreleased tracks and 28 page booklets featuring unseen photos, rare memorabilia and extensive sleeve notes to do justice to the ASSOCIATES legacy.
The young Alan Rankine grew up in Linlithgow, a town that was stuck between Glasgow and Edinburgh in more than just the geographical sense.
The way he and MacKenzie came together seemed almost predestined, with the pair forming a live covers band to keep themselves afloat as a sustainable entity, while demoing their own material.
Courted by a number of labels, they decided to take control of the situation and independently released a cover of 'Boys Keep Swinging' only weeks after the Bowie original came out. As if by magic, Fiction Records offered a deal and their first album 'The Affectionate Punch'
came out in 1980.
However, they were unhappy with their time on a conventional label and opted thereafter to licence their material, first with Situation 2 for their second album 'Fourth Drawer Down'
and WEA for their commercial breakthrough 'Sulk'
. During their run of three chart hits in 1982, it would be fair to say ASSOCIATES gave SIMPLE MINDS a run for their money in the art rock stakes.
But stardom was not really something that suited ASSOCIATES, particularly MacKenzie. Sadly after the cancellation of a world tour, the pair parted ways, leaving SIMPLE MINDS to head for the stadiums while A-HA took up the mantle left vacant for melancholic cinematic multi-octave synthpop.
With the upcoming reissues soon to be released, Alan Rankine kindly spoke about his time with ASSOCIATES and the legend of Billy MacKenzie.
You and Billy played in a covers band which seems miles away from the usual route to the way bands at the time. Is the cover 'Eloise' on the 'Very Best of ASSOCIATES' indicative of the material were you playing?
Bill and I had a real affection for these kinda big sounding singles from the '67-'68, we're talking about things like 'Rainbow Valley' by LOVE AFFAIR, horns and strings and stuff. So we ended up doing a punk version of 'Eloise' by BARRY & PAUL RYAN, it was at breakneck speed!
As his catalogue has shown, Billy was very comfortable with doing covers?
We were both very keen on doing the occasional cover version. When we were in the studio or even at soundchecks, we would start playing 'Brown Sugar' or 'Let's Spend The Night Together' by THE ROLLING STONES, or a Bowie or Roxy song. And then we would go onto 'The Look Of Love' by DUSTY SPRINGFIELD.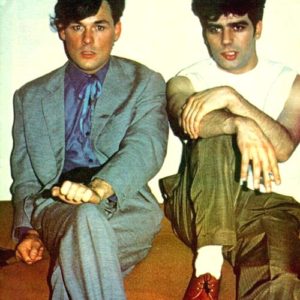 You and Billy bonded over a shared love of ROXY MUSIC, DAVID BOWIE and SPARKS. Was it a gradual process coming up with that Venn diagram which became your sound?
I know exactly what you mean… it's a Venn diagram with a few circles crossing over, but central to a lot of it was Bowie, a bit of Roxy, a bit art of art rock a la THE TUBES maybe and a bit of zaniness like THE REZILLOS. There was always an element of cheekiness in there. Anyone that was into music at that time just could not help be influenced by Bowie, but I think we had a more cinematic approach.
We loved our film themes, how they could hug your emotions and pull you this way and that way, just with a change of a chord here and the introduction of a different instrument there.
The cover of 'Boys Keep Swinging' forced Fiction's hand and led to the recording of 'The Affectionate Punch'. You seemed to almost immediately find your own sound.
We did the recording of 'The Affectionate Punch' very quickly in about three and a half weeks including mixing and mastering. Then we went into rehearsals and only played three songs from the ten track album which didn't please the record company very much. But we just said "F*** YOU", we just played what we felt was good. 'The Affectionate Punch' has a lot of keyboards on it and we wanted to go out as just guitar / bass / drums / vocals. We played 'Gloomy Sunday' as well, which didn't surface on record until 1982, so it was a bit of a mish-mash.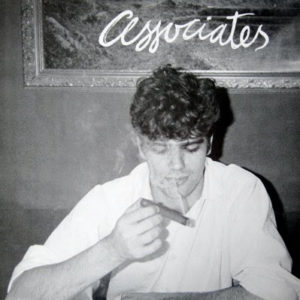 How did you get back into using synths again?
When you're out there playing live to 600-700 people, it's really fun to have a post-punk aesthetic but when you start recording again, it's a luxury and you've got to have this sound. So we had five keyboards all lined-up ready to go, five different guitars and five different amps.
We would work at breakneck speed, not because there was a time pressure, but because we had so many ideas coming into our heads at the same time. We wanted sumptuousness and for it to be dripping with silk and satin, we didn't want cotton! *laughs*
Which keyboards where you using?
Digital-wise, we used the Synclavier. These geeky guys used deliver this thing which we hired by the day and it had floppy discs. It was fairly primitive, but it worked. Apart from that, we used Oberheims, Solinas, Yamaha CS80s, that sort of thing… there was another one starting with a 'P' but I can't remember what it was! *laughs*
We liked to try and do different things; very seldom did we just use a preset sound and not put an effect on it in some way. Sometimes, we would just play a sound and hold down the notes of a chord and changed positions as the chord progression changed, and the sound would open up as the snare drum would hit. So it was like a Wah-Wah effect which was in time with the snare. The snare drum triggered off the sound, so it would open up and immediately shut.
'White Car In Germany' was an obvious nod to KRAFTWERK and LA DÜSSELDORF, but I seem to remember Billy saying he was really into THE HUMAN LEAGUE?
Yes, I can remember when we were in Ashley Newton of RSO Records' BMW and he was playing THE HUMAN LEAGUE when he drove us to the studio. We thought it was great; I wouldn't call Phil Oakey a vocalist, I would call him a vocaliser and there was brilliant songwriting from Jo Callis who was in THE REZILLOS. He wrote 'Don't You Want Me?' so yeah, it was just the sheer pop of it. To us, it was really no difference between that and 'Dancing Queen' by ABBA, that's bloody genius!
You and Billy popped down to The Blitz Club occasionally and you documented your experiences on 'Club Country'…
We were definitely there fairly early on when it was in Great Queen Street. Yes, it was a bit exotic and yes, it was a bit pretentious but it was a young animal finding its feet; sometimes it did feel a little bit elitist and I think that was the nature of the beast, it was what it was.
I don't think we really fitted in; I think SPANDAU BALLET fitted in there but I think we fell between two points. We were not New Romantics, we were not post-punk… were we new wave? I don't know! The closest I can think of, if there was a category called Barking Mad, that's where we would lie! *laughs*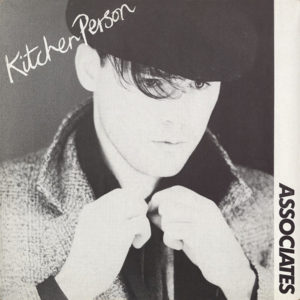 What was the approach to recording Billy? Do you remember any particular quirks you can remember?
Recording Bill was such a luxury. After I went on to produce other people, I thought everyone was like that, I thought they all got it in one or two takes!
God, how wrong I was! I found myself thinking "this is sh*t" and they're on like their 40th take in the studio and it's still not right!
So you're having to make up composites of five different takes!
On 'White Car In Germany' and 'Kitchen Person', Bill did sing through greaseproof paper and a comb. And into the bargain, on 'Kitchen Person' he was singing down the hose of a vacuum cleaner before it got to the mic.
'Party Fears Two' hit the top 10 in early 1982. The instrumental version included on CD2 of 'Sulk' brought a tear to my eye for a number of reasons. It revealed a lot of layers and each instrument has its own voice, but ultimately, Billy is missing…
You're exactly right there; it's like a great big hole. Yes, the instrumental sounds good and you can hear things more clearly in a more defined way. But yes, the lyrics, the vocal expression and the colour of the human voice, Bill had it all.
Looking back, you weren't ones for following the usual script. With the subsequent success of 'Sulk', it set you on the path that led to implosion of the band.
We recorded 'The Affectionate Punch' in the Spring of 1980 but promptly ditched most of the album and did new songs, some of which would appear on later albums and played in Scotland.
I've looked up our gigography and we were up there for about two and a half months, playing maybe thirteen or fourteen gigs. So there was no tour laid out in front of us, it was more "oh, have we got a gig this week?"
Then we moved down to London and it was slightly more structured there. We'd play a month of Sundays at The Marquee etc but still, not like a world tour. But having your life mapped out for the next fifteen months, where you're going to be, who's going to meet you, how many radio stations you're doing, how many press interviews you're doing, that to Bill was just an anathema… that would freak anyone out, but it freaked Bill out because he was being boxed in. All we really wanted to do was be creative. Or if he was going to do a concert or two or three, that would be enough… ten days into the future was enough for Bill to take.
'18 Carat Love Affair' is often considered the anomaly in the ASSOCIATES' cannon and has been described as "quasi Neil Sedaka"… how do you look back on it? In retrospect, it was quite subversive to have a perfect pop song about a secret gay relationship in the charts in 1982.
Yeah, that's another one. With 'Party Fears Two', the piano motif was written by us in 1977… we stared at each other hungover one Sunday morning and said "this is good but we can't use this right now". And indeed, we didn't until five years later, the market just wasn't there for it.
Similarly with '18 Carat Love Affair', to me it's like 60s pop song, the melody, the feel of it. I like the fact it's got an agony aunt in the lyrics, Evelyn Home who was in 'Woman' magazine and it was about a secret gay affair.
Is there anything you could have done differently in retrospect to keep the partnership together with Billy?
I really don't think so, because Bill needed to stretch his legs creatively and work with other people… I get that now. At the time, yes I was mad as hell and all the rest of it, but that's what he needed to do. He needed to work with YELLO and write the lyrics and melody to 'The Rhythm Divine'
; he needed to not be with me. I don't think there was anything we could have done about that.
You continued to record with other artists like PAUL HAIG and WINSTON TONG. Would the recordings you did with them be an indicator of how ASSOCIATES might have sounded if you'd continued to work with Billy?
They're different in that Paul's a great vocalist, but he's not Billy; he's not got a four octave range and Paul really can't sing unless it's through microphones, he needs his voice to be electrified for him to feel comfortable.
Winston? Not the greatest singer! You had a forty-five minute window to try and get a performance out of him before he fell over, he was taking a little too much heroin although I'm glad to say he's clean now. But he was having a real bad time when he was recording the 'Theoretically Chinese'
album with me.
Again, with Paul and Winston and with whoever else, everything was done very quickly and it was always a great laugh and good fun.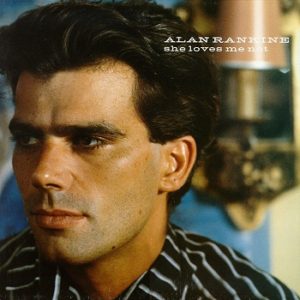 After several solo records on Les Disques du Crépuscule and Virgin, you got back together with Billy in 1993 but he didn't follow it through with the pressure for live shows. Was there no-one willing to take ASSOCIATES on as a studio-only band?
No, all the record companies were interested, but they were saying "PROVE IT!"… that was like a red rag to a bull for Bill, he just said "I'm not f***ing proving myself to anyone! Get real!"
Would the environment of today with self-releasing been better for him?
It probably would have suited Bill right down to the ground.
Are you surprised by people's continual fascination with the band?
I think there's a great deal of good will with regards the memory of ASSOCIATES and the memory of Bill, plus a certain amount of frustration because a lot of people that heard us in '81 and '82 hadn't seen us play live in 1980-81, so you never know… *laughs*
What are your personal favourites from these releases?
On 'The Very Best Of ASSOCIATES'
, it's got to be 'International Loner' and 'Edge Of The World'. These were both done in the 1993 sessions; I see and hear them as a much more mature sound. I suppose 'Skipping'
is probably my all-time favourite, although really, it's 'Party Fears Two' because it gets played a lot.
But also, if you go back to the cover versions, 'Long Hangover' because I can remember being in Moulin Rouge Studios and Bill did that in two takes. There's something about doing a cover version because you're not in any way insular or self-conscious. Just watching and listening to Bill in full flight without a care in the world, there's something very special about that.
What does the future hold for yourself?
I've done everything from perfume adverts to wet your panties teen pop. I just write and write whatever comes into my mind.
---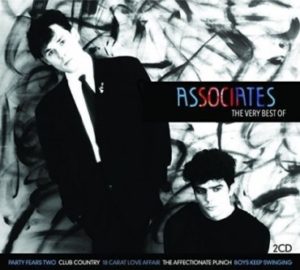 ELECTRICITYCLUB.CO.UK gives its warmest thanks to Alan Rankine
Additional thanks to Stuart Kirkham at Hall Or Nothing Independent Publicity
The expanded 2CD deluxe edition reissues of 'The Affectionate Punch'
, 'Fourth Drawer Down'
and 'Sulk'
are released by BMG on 13th May 2016
The 2CD anthology 'The Very Best Of ASSOCIATES'
is available now via Union Square through the usual retailers
https://www.facebook.com/theassociatesofficial/
---
Text and Interview by Chi Ming Lai and Ian Ferguson
28th April 2016