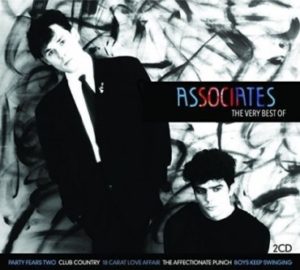 The timely release of 'The Very Best of ASSOCIATES' featuring their hits 'Party Fears Two', 'Club Country' and '18 Carat Love Affair' creates an opportunity for the work of Billy MacKenzie and Alan Rankine to be re-evaluated and re-discovered.
With a partnership covering a period of just three albums, this anthology is only a part of the story.
It's an artistic legacy that has influenced the likes of CLAUDIA BRÜCKEN, HEAVEN 17, A-HA, BJÖRK and SIN COS TAN.
Thus, the new 2CD slipcased deluxe editions of the MacKenzie / Rankine era ASSOCIATES albums 'The Affectionate Punch', 'Fourth Drawer Down' and 'Sulk', supervised by bassist and silent partner Michael Dempsey, delve even further with a treasure trove of previously unreleased tracks, accompanied by 28 page booklets featuring extensive sleeve notes, unseen photos and rare memorabilia.
With Billy MacKenzie's otherworldly four-and-a-half octave range on top of Alan Rankine's intricate instrumentation, ASSOCIATES were a majestic and outlandish new pop take on Weimar cabaret in a newly emerging electronic world. But MacKenzie's eccentricity could make him difficult to work with and led to the pair eventually parting ways in late 1982. MacKenzie continued sporadically with the ASSOCIATES name and as a solo artist, but always a troubled soul, he sadly took his own life in 1997 a year after the death of his mother.
Very much Bowie fans, ASSOCIATES opened their account with a not particularly good cover of 'Boys Keep Swinging' in 1979, released not long after the original. MacKenzie was very much into reinterpretation and despite this lacklustre debut, history has shown he could be highly adept at it. On the second CD of extras, an unreleased take on Barry Ryan's 'Eloise' explores heavier rock templates and points as to where ASSOCIATES could have headed instead of the kaleidoscopic sound they became known for.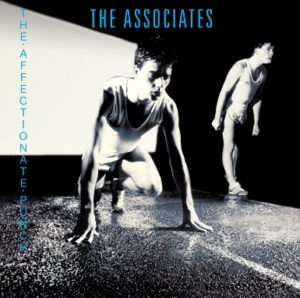 Poignantly, 'The Very Best of ASSOCIATES' includes a live cover of 'Gloomy Sunday', a suicide song composed by Hungarian pianist Rezső Seress in 1933 and said to have cursed every artist who has ever performed it.
ASSOCIATES' first long player was the guitar dominated 'The Affectionate Punch'
with its great 'Low' pitched title song opener on Fiction Records.
But the duo were quickly dissatisfied with it, so they requested to end their deal and reworked a number of tracks for its subsequent 1982 re-release; this reissue campaign reinstates the original 1980 album.
Aspiring to expand their sound with a wider palette, the first musical signs of a fascination with European electronic music came with the funereal pulse of 'White Car In Germany'. The swirling electronics were intended to sound as un-American as possible and accurately captured post-war tensions under the spectre of the atomic bomb.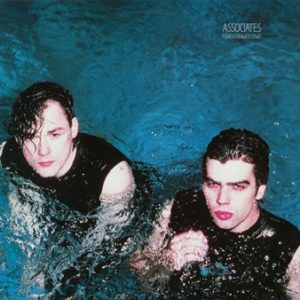 It was part of a singles deal with the Beggars Banquet subsidiary Situation2 which eventually formed ASSOCIATES' second album 'Fourth Drawer Down'
in 1981.
Also featuring the almost out-of-tune 'The Associate', the quirky instrumental showcased their sense of fun with MacKenzie's distorted screaming making its presence felt. Meanwhile 'Q Quarters' and 'Tell Me Easter's On Friday' were produced by a young Flood, later to work with DEPECHE MODE on 'Violator' and 'Songs Of Faith & Devotion'. The resultant press exposure led to a deal with Beggars Banquet's distributor WEA.
Throughout this period, Rankine and MacKenzine were almost holding themselves back, fighting against the poppier instincts that had come from their love of early ROXY MUSIC, SPARKS and Philadelphia soul. In the interim, they produced yet another cover 'Kites' for RSO Records, under the pseudonym of 39 LYON STREET with Christine Beverage on lead vocals. Originally recorded by SIMON DUPREE & THE BIG SOUND, it featured a more post-punk disco template and prepared for ASSOCIATES' brief entry into the big league alongside fellow Scots SIMPLE MINDS in Spring 1982.
With its iconic jangle piano line, 'Party Fears Two' was the first time that many had heard the neo-operatics of Billy MacKenzie. Dealing with the perils of schizophrenia, it also kick started the brief imperial phase when ASSOCIATES subverted the UK charts with an outlandish approach that fitted in with the concurrent New Romantic movement. They felt a slight affinity with The Blitz Club crowd, but noting the scene's vacuous nature, MacKenzie and Rankine opted to attack it in the magnificent 'Club Country'.
Produced by Mike Hedges, the parent 'Sulk'
album, featuring different versions of 'Party Fears Two' and 'Club Country', was a triumph.
From the frantic instrumental 'Arrogance Gave Him Up' to the chromatic overtures of 'Skipping' to the evocative drama of 'No', the music had the basis for being more accessible, but was still challenging and inventive.
Although MacKenzie's more bonkers instincts couldn't be masked on tracks like 'Nude Spoons' and 'Bap De La Bap', the brilliant 'It's Better This Way' was art and pop in perfect unison.
ASSOCIATES' imperial phase closed in the summer of 1982 with '18 Carat Love Affair'; it was their most commercial offering and described by MacKenzie as their "quasi-Neil Sedaka" song. While the narrative was subversive in the extreme, being about a gay affair that MacKenzie was trying to hide, Rankine was uncomfortable with its overt poppiness. So unhappy was Rankine, that the song was instrumentalised to become the 'Sulk' album closer 'nothinginsomethingparticular'.
Whatever, '18 Carat Love Affair' possessed one of the greatest synthesizer riffs ever. Released as single, after it charted, it was eventually flipped for the B-side, a joyous art funk cover of disco-era Motown standard 'Love Hangover' which Rankine was more satisfied with.
Sales of 'Sulk' meant a demand for touring and a nine-piece live band featuring notable musicians such as Martha Ladly and Stephen Emmer was assembled by Rankine for a world tour. But in the cocaine frenzy that was now seriously affecting the partnership, MacKenzie pulled out of the tour, disillusioned by the expectations of success.
The duo reconvened in 1993, demoing six songs including 'Stephen, You're Really Something', MacKenzie's response to THE SMITHS 'William, It Was Really Nothing'.
But any label interest came with the pre-requisite of live shows; for MacKenzie, that was unacceptable and sadly that was that.
ASSOCIATES' strength and weakness was their refusal to play the record industry game, but it led to both triumph and tragedy. In that respect, the most tearful moment in this series of deluxe reissues is the previously unissued instrumental of 'Party Fears Two' found on CD2 of 'Sulk'… while the marvellous subtle layers of Rankine's arrangement are now more revealed, what ultimately is missing is the voice of Billy MacKenzie 🙁
---
Dedicated to the memory of Billy MacKenzie 1957-1997
With thanks to Stuart Kirkham at Hall Or Nothing Independent Publicity
'The Very Best of ASSOCIATES'
is released by Union Square / BMG as a 2CD digipak set and download
The expanded deluxe edition reissues of 'The Affectionate Punch'
, 'Fourth Drawer Down'
and 'Sulk'
are released on 6th May 2016 in a variety of formats
A 500 edition green vinyl 7 inch version of 'Party Fears Two' backed with 'Australia' is available for RSD2016
https://www.facebook.com/theassociatesofficial/
http://www.billymackenzie.com/
---
Interview by Chi Ming Lai
9th April 2016