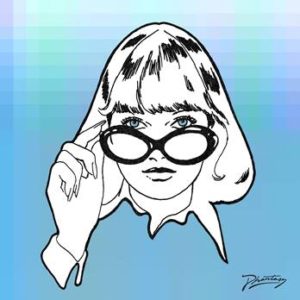 It's only April, but could 'Diagram Girl' by BEYOND THE WIZARDS SLEEVE be one of the songs of 2016?
The psychedelically monikered sonic brotherhood of DJ Erol Alkan and Richard Norris, who is best known for his partnership with Dave Ball in THE GRID, BEYOND THE WIZARDS SLEEVE are set to release their debut album proper 'The Soft Bounce' on 1st July 2016, following establishing their reputation as remixers with their series of 'Re-Animations'. 'Diagram Girl'
is the gorgeously enticing lead track from the album and comes over as a blissfully sequenced electronic take on M83 or MAPS, but with the twist of unisex vocals by HANNAH PEEL.
Directed by BAFTA winner Kieran Evans, the wonderful monochromatic video for 'Diagram Girl' is a wonderful surreal homage to Nouvelle Vague cinema, capturing a forlorn woman surreally trapped in a derelict house stalked by a ghost and assorted crow-like beings; meanwhile the delightful Miss Peel also makes a cameo appearance.
Released as a single, the bundle also contains a Re-Animation
which takes off the male lead vocal and leaves just Peel's natural dreamily breathy tones over the extended electronic workout.
The Craigavon-born songstress and composer herself has been very busy of late. As well as  juggling projects such as THE MAGNETIC NORTH and MARY CASIO, there will also be the live debut of a collaborative work called 'In The Shadows Of Steam', celebrating the lost railways of Donegal at the Cathedral Quarter Arts Festival on Thursday 5th May 2016.
And this is without Peel's own upcoming second solo album 'Awake But Always Dreaming', contributing her vocals to a new JOHN FOXX & THE MATHS song 'A Man & A Woman' which will feature on a new compilation '21st Century: A Man, A Woman And A City' and a South Coast tour of eight record shops in support of her 'Rebox 2' mini-album release on gold vinyl for RSD2016 on Saturday 16th April.
Meanwhile, promising an album of "pleasure and pain, doubt and transcendence" with other guest such as Blaine Harrison of indie rockers MYSTERY JETS, Euros Childs from GORKY'S ZYGOTIC MYNCI, Jane Weaver and Holly Miranda, BEYOND THE WIZARDS SLEEVE launch 'The Soft Bounce' with a 4 hour DJ set at The Moth Club in London on the evening of its release.
---
'Diagram Girl'
is available now on 12 inch turquoise vinyl with a download key via https://shop.phantasysound.co.uk/
https://www.facebook.com/beyondthewizardssleeve/
https://soundcloud.com/beyond-the-wizards-sleeve
---
Text by Chi Ming Lai
10th April 2016