Dave Ball is best known as the musical genius of SOFT CELL.
Together with Marc Almond, they recorded 'Tainted Love', a marvellous hybrid of Northern Soul and KRAFTWERK that was possibly Synth Britannia's first true crossover song. It started a run of hit singles that ensured SOFT CELL would be Top 40 chart fixtures for the next three years. Their self-released 'Mutant Moments' EP in 1980 came to the attention of DJ Stevo Pearce, who had been compiling "futurist" charts for the music papers Record Mirror and Sounds.
Stevo gathered a number of fledgling acts like DEPECHE MODE, BLANCMANGE, B-MOVIE and THE THE who appeared alongside SOFT CELL on the independently produced 'Some Bizzare Album' compilation in 1981.
This eventually led to SOFT CELL signing to Phonogram Records. After 'Tainted Love', a cover of a Northern Soul favourite by Gloria Jones, became a UK No1 in September 1981, Ball and Almond became unlikely pin-ups with poster spreads in 'Smash Hits'. The follow-up single 'Bedsitter' reached No 4 and proved SOFT CELL could have hit singles with their own material.
Meanwhile, a further three Top 3 hits came with 'Say Hello Wave Goodbye', 'Torch' and 'What' during what could be now considered as SOFT CELL's imperial phase, a period which undoubtedly broke down barriers and paved the way for many of the acts who followed, like PET SHOP BOYS, ERASURE, BRONSKI BEAT and FRANKIE GOES TO HOLLYWOOD.
However, as former art students who had met at Leeds Polytechnic, commercial success and pop stardom did not sit well with Ball and Almond; inevitably, the pair began to implode. SOFT CELL disbanded in 1984 but while Almond went solo, Ball eventually found solace in the burgeoning house scene.
With his new musical partner Richard Norris, he found success as THE GRID. Their debut album 'Electric Head' proved to be quite influential, with Canadian DJ TIGA probably one of the artists who owe a debt to its timeless musical template.
Around this time, Ball began collaborating with Marc Almond again. The results ended up on 'Tenement Symphony', possibly the most mainstream recording of Almond's career.
This eventually led to a full SOFT CELL reunion in 2001 and the album 'Cruelty Without Beauty' in 2002.
Following an impromptu meeting at a recent Wolfgang Flür gig Under The Bridge in Chelsea, Dave Ball kindly agreed to a chat with ELECTRICITYCLUB.CO.UK about his career with SOFT CELL, THE GRID and more.
What inspired you to adopt synthesizers as your tools of expression, rather than guitars?
I first started out as a guitar player but I wasn't good enough and after hearing 'Autobahn' by KRAFTWERK, I decided I was more interested in the possibilities of synthesizers, so I part-exchanged my Fender Telecaster for a second hand synth.
Which were your first couple of synth and drum machine purchases?
My first synth was a Mini Korg 800DV, followed by a Korg Synthe-Bass SB-100 and I had Rhythm Master drum machine that played presets like Bossa Nova, then I got a Boss Dr Rhythm which was programmable.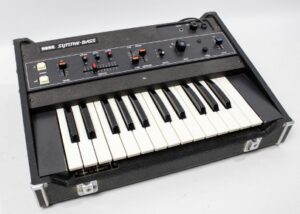 One of the key instruments in the SOFT CELL sound was the Korg Synthe-Bass SB-100, a little two octave synth which no-one else appeared to use.
The SB-100 was great because it was specifically a bass instrument, although the twangy topline on 'Bedsitter' is made on that instrument using the two pitchbend buttons. The B52s are the only other group I know of that also used that keyboard.
I've always been interested in how you connected your love of Northern Soul with your rhythm structures for SOFT CELL, particularly once you'd acquired the Roland TR808?
I would say the only similarity was to do with the tempo of Northern Soul and our faster numbers. On 'Tainted Love' I used a Roland Compurhythm CR78 drum machine, I first used a TR808 on 'Bedsitter', the follow-up single. I think that was possibly the first record in the UK Top 10 to use an 808.
SOFT CELL self-released 'Mutant Moments' which brought you to the attention of Some Bizzare and the inclusion of 'The Girl With The Patent Leather Face' on the subsequent era defining compilation. Do you have any key amusing memories of that period and those 'Some Bizzare Evenings' playing live alongside DEPECHE MODE, BLANCMANGE, THE THE and B-MOVIE etc?
They weren't amusing at the time I assure you although I can laugh about them now. When we played with DEPECHE MODE, it was at a club called Crocs in Rayleigh and they were the house band so they were our support act, believe it or not. They were really tight and played really well and I was very nervous about going on after them as various members of ULTRAVOX, VISAGE, SPANDAU BALLET had come down from London to check us out. We played maybe the worst gig of our careers, the crowd were chucking pennies at us and laughing at us. That was when we realised we had to get our shit together or think about getting day jobs.
'Non-Stop Erotic Cabaret' is still much talked about and certainly was a better debut than say, DEPECHE MODE's 'Speak & Spell'. How do you yourself look back on it today in the pantheon of classic synthpop?
I think it was the result of working on loads of songs together for two years solid and we seemed to catch the zeitgeist – it was very of its time and I think the S&M references helped. It was quite dangerous imagery for a pop band. It took DEPECHE MODE a few years before they got into the black leather and druggy stuff that we were into from day one.
By 'The Art Of Falling Apart', you had expanded the instrumental palette to include guitar and bass plus early samplers and digital drum machines.
I think we were trying to sound heavier and slightly rockier. In retrospect I actually prefer the TR808 drum machine on the previous album, as opposed to the Oberheim DMX and Linn Drum MkII on 'The Art Of Falling Apart'.
The sampler we used was a Synclavier MkII that belonged to our producer, Mike Thorne. I only used the sampler for the bass guitar on the track 'Martin' on the bonus 12" single.
You recorded a solo album 'In Strict Tempo' and produced VICIOUS PINK PHENOMENA. What did you find creatively by doing these that perhaps you hadn't done with SOFT CELL?
My solo album was really just me wanting to work with some different people and experiment with the studio. It was more like a sketchbook than a fully realised album. VICIOUS PINK were good friends and were on the first SOFT CELL album and I desperately wanted to become a producer, as I was never really into the live performance thing.
After SOFT CELL disbanded, you took an interest in acid house and met Richard Norris to form THE GRID. How did that and then the subsequent availability of the Akai samplers and other equipment become a game changer for you?
I first met him a mutual friend, Genesis P. Orridge of THROBBING GRISTLE / PSYCHIC TV fame when we were working on an album called 'Jack The Tab'.
What was really crazy about the tech at that time was the affordability. When I first used a Synclavier, they cost £120,000. Then I used a Fairlight III, they cost £60,000! Suddenly you could buy an Atari computer and an Akai sampler and still have change out of £2,000.
It made the whole thing available to many more people and people started sampling records and creating a whole new kind of loop based music. It was a totally new thing and I found it incredibly exciting.
THE GRID's debut album 'Electric Head' stills stand up and a track like 'One Giant Step' hasn't dated at all. Why do you think that might be?
To be quite honest, there's a lot of electronic music out there that hasn't dated because a lot of it is timeless; also because we often tried to sound futuristic.
The single versions of 'A Beat Called Love' and 'Floatation' featured recognisable musical elements that could be linked back to SOFT CELL. Had that been a conscious thing or was it proof that the rave scene was a natural progression from the ecstasy fuelled recording sessions for 'Non-Stop Cabaret'?
Regarding 'A Beat Called Love' and 'Floatation' – we were under pressure to have hit singles, so in that respect you could make a link to SOFT CELL, albeit slightly tenuously. There was a link in terms of the ecstasy / dance music progression I guess.
What inspired the move to the now infamous "cow-punk techno" sound of 'Swamp Thing' and 'Texas Cowboys'?
I've never heard it called "cow-punk techno" before. "Swamp Thing" was inspired by a guy I saw playing sort of Bluegrass with an Irish band in a pub in Marylebone and it occurred to me that the tempo and feel would work with a 4/4 dance beat. Unfortunately it became a bit of a novelty record. We sold a million copies worldwide and it got synched on a John Waters movie, 'Pecker' and on Robert Altman's film 'Pret A Porter' – so it's not all bad. 'Texas Cowboys' was inspired by the Andy Warhol / Paul Morrisey film, 'Lonesome Cowboys'.
THE GRID became in-demand remixers / producers for people like BILLIE RAY MARTIN, SPARKS, ERASURE, PET SHOP BOYS, DAVID SYLVIAN and ROBERT FRIPP. Do you have a particular favourite remix that you did?
I like our mix of 'Am I Right' by ERASURE, I was pleased they included it on their recent anthology that got to number 9 in the UK charts. I like the mixes we did for HAPPY MONDAYS, 'Bob's Yer Uncle' and 'Loose Fix'.
How did you come to be writing again with Marc again for 'Tenement Symphony'?
I think it was after we'd done a mix of his track 'Waifs & Strays'. We hadn't spoken for some time and that got us working together again on a few tracks.
What was the process in composing and recording 'Meet Me In My Dream', a song which many regard as a SOFT CELL song in all but name?
I think anything I've ever done with Marc sounds like SOFT CELL really. It's hard not to. My process is always I'll work out a few chords and sketch out a topline then pass it to him.
This eventually led to a full SOFT CELL reunion and the 'Cruelty Without Beauty' album in 2002. Had SOFT CELL been unfinished business for you?
Well, as the saying goes "Never say never again". We were originally trying to write songs for other people, there was no plan to reform SOFT CELL, but when we did the demos in my studio it just sounded like SOFT CELL… so we just said, "OK, it's SOFT CELL".
Did you and Marc achieve all you had hoped for artistically in getting back together?
I'm glad we did one more album, I can't say I had any hopes or expectations but I like the album.
You were one of the last people to work in the studio with the late Martin Rushent with your NITEWRECKAGE project?
Yes, Martin was a lovely man and a total genius in the studio. I wish I'd worked with him earlier in both our careers. He is sadly missed.
Which five tracks from all aspects of your career have you felt the most satisfaction from?
'Baby Doll' – SOFT CELL off 'The Art of Falling Apart' – it reminds me of a very special time in New York.
'Floatation' – THE GRID – I was pleased when it was recognised as an Ibiza chill out classic.
'Your Loving Arms' – BILLIE RAY MARTIN– it was our first GRID production to get in the UK Top 10 and in the Billboard 100 in the US.
'My Hand Over My Heart' – MARC ALMOND off 'Tenement Symphony'- I love Trevor Horn's epic production and Anne Dudley's arrangement.
'Say Hello, Wave Goodbye' – SOFT CELL – I think it's become an anthem.
Are there any projects you are working on at the moment?
Yes, I'm producing an album for Gavin Friday and another one for Anni Hogan with my production partner, Riccardo Mulhall.
What floats your boat musically these days?
Messing about with modular synths.
---
ELECTRICITYCLUB.CO.UK gives its grateful thanks to Dave Ball
https://www.facebook.com/David-Ball-393529214088933/
https://twitter.com/dbelectrode
https://www.discogs.com/artist/62914-Dave-Ball
https://www.facebook.com/softcellband/
http://www.soundonsound.com/sos/apr12/articles/classic-tracks-0412.htm
http://www.soundonsound.com/sos/dec02/articles/softcell.asp
---
Text and Interview by Chi Ming Lai
Photos by Paul Cox, Fin Costello, Peter Ashworth and Piers Allardyce
10th March 2016