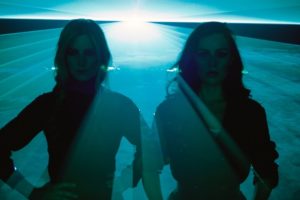 London based duo KALEIDA first gained wider attention while supporting RÓISÍN MURPHY on her 2015 European tour.
Some have compared vocalist Christina Wood and synthesist Cicely Goulder to PURITY RING, AUSTRA and LADYTRON. ELECTRICITYCLUB.CO.UK thinks their brooding demeanour is more akin to BLACK NAIL CABARET, EMIKA and early EURYTHMICS.
Formed in 2013, Goulder had been working in the film industry and her contacts no doubt helped KALEIDA's first single 'Think' to be considered for inclusion on the soundtrack of the 2014 noir action thriller 'John Wick', starring Keanu Reeves. With hints vocally of LONDON GRAMMAR and KOSHEEN, the thoughtful synthpop approach of 'Think' contrasted the violence it accompanied. It became the title track to their eventual EP issued in April 2015.
From it, the almost spritely 'Tropea' maintained the standard of 'Think', with a bass synth motif seemingly borrowed from the middle section JEAN-MICHEL JARRE's 'Second Rendez-Vous'. Meanwhile 'Aliaa', a tribute to women's rights activist Aliaa Magda Elmahdy, showcased their developing downtempo sound and a haunting drum machine driven reinterpretation of AL GREEN's 'Take Me To The River' illustrated the breadth of their musical knowledge and a knack for inventive cover versions.
While some acts have been trying to make a big noise about themselves after just a handful of singles, KALEIDA have been biding their time, letting the music and visuals do the talking for them. They have gradually and carefully built up a mystique that provokes curiosity.
From their recently released second EP 'Detune', the marvellous 'It's Not Right' stands head and shoulders above much of the output that has been released independently in the UK during the last 18 months. With a contemplative atmosphere providing resonance, a spike in tempo utilising sequences and variation in percussive colours provides an access point for those intrigued by KALEIDA.
The deeper stance displayed on 'Aliaa' makes its presence felt on the mellow title track and 'Power'; both show a close affinity with EMIKA, with the prominent use of multi-layered voices, sub-bass and inventive percussion programming on the former.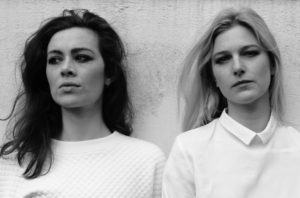 However, be prepared for a surprise with the vocal arrangement for THE CURE's 'A Forest', which is almost from the folk tradition and barely recognisable from the original.
KALEIDA are in the studio to record their debut album for 2017 release. Based on the evidence of the two EPs so far, it will be eagerly anticipated.
---
'Detune'
is released as digital EP by Lex Records, available from http://shop.lexrecords.com/products/detune-ep
https://www.facebook.com/KALEIDAMUSIC/
https://soundcloud.com/kaleidamusic
---
Text by Chi Ming Lai
7th March 2016