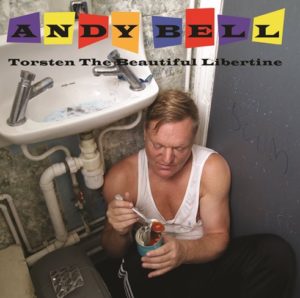 With the beautiful, dramatically expressive voice, which has dominated the UK electronic scene for some 30 years, mainly under the umbrella of ERASURE, as well as his solo releases dating back to 2005, ANDY BELL likes to take on new enterprises.
While the wait for 2014's 'The Violet Flame' was gearing up fans of the powerful duo for something spectacular, Bell was well underway being Torsten, an age-defying polysexual, in the first stage of the Torsten productions. Barney Ashton, the poet and writer responsible for Torsten, first approached Bell six years ago, having the idea of the show in mind; the show with a character perfect for the voice of ERASURE.
Being a lover of challenge, Bell keenly accepted the invitation, having previously played a part of 'Montesor' in 'The Fall Of The House Of Usher' opera by Peter Hammill. Loving the leftfield, off-off Broadway types of productions, which are less commercial, but often more like 1960s British black and white movies, the artist embraced the über controversial role of the tortured individual, trapped in his semi-immortality and bad luck in relationships.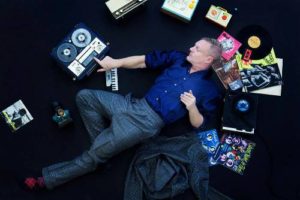 Indeed, for Andy it had been "the biggest challenge of (his) career so far", and being Torsten does not mean he would "necessarily get on with him, if I met him". The first production, 'Torsten The Bareback Saint', was "sporadic, psychotic, quite confusing to people" according to the man himself, with stories from Torsten's childhood, school years, his job in the local bingo, his lovers of both sexes, his alcoholic father and submissive, abused mother and, above all, his fragile mental state.
'Torsten The Beautiful Libertine' paints a clearer picture of the character, with more insight into his background and how he was shaped while growing up. To Bell himself, it's "much more song oriented", where "Barney definitely has found a rhythm", where he loves being Torsten, "even more now that he's becoming slightly unhinged, unravelling before our very eyes… he is putting everything into perspective and copying… just".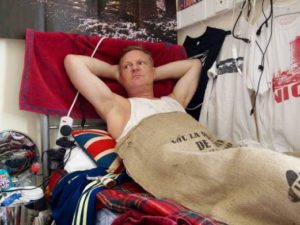 'Statement Of Intent' pretty much describes the entire story of the semi-immortal, in an honest, crude and straight forward manner, before 'Beautiful Libertine' comes in with a gentle piano canvassing further excerpts from Torsten's experiences since he was 15, 'Loitering With Intent'.
The gleeful revenge on a lover, who "stole respect from young man just like me" is the prevailing theme of the track, where Torsten is keen to "trash (his) f***ing face".
The conclusion is that 'This Town Needs Jesus', where sexual perversions prevail everywhere one looks, with almost medieval approach to sexuality and where drugs and money can buy anything, where 'The Slums We Loved' project the basic needs of anyone: from the poorest, through the working class (with individuals like 'Lady Domina Bizarre'), to the rich ('Bond Street Catalogues').
The song cycle continues to flow further, expanding into the flowery descriptions of vulgarity and obscenity, which is ultimately laced with the basic need to be loved and approved in the Bowie-esque 'I'm Your Lover' or 'I Am The Boy Who Smiled At You'. Torsten's mother did accept his sexuality, understanding that one cannot help "where love falls" in the super synthy 'We Were Singing Along To Liza', something that gave him the ultimate content and comfort.
Just like 'I Don't Like' from the first production, 'My Precious One' stands alone, as an endearing love story, Torsten manages to "retain a certain naïveté in spite of these experiences. (He) bears witness to these scars"
The endless talent of ANDY BELL continues to shine; part two of Torsten's story is as thought-provoking, as it is shocking. The tale of a man, who "finds himself in extraordinary circumstances", having outlived many friends and lovers and plunging further into the state of melancholy and bittersweetness, is sung with poise, nativity and hope; a hope that there is something left for the tragic character after all.
Where ERASURE takes precedence above all, this may just be the role of Bell's life-time, perhaps?
---
With thanks to Matt Ingham at Cherry Red Records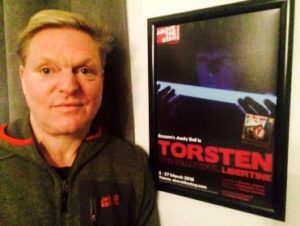 'Torsten The Beautiful Libertine' is released by Cherry Red Records as a CD and download, available from http://shop.cherryred.co.uk/shopexd.asp?id=5299
The 'Torsten The Beautiful Libertine' show plays at the Above The Stag Theatre, Arch 17, Miles Street, London SW8 1RZ until 27th March 2016; please visit www.abovethestag.com for more information
---
Text by Monika Izabela Goss
4th March 2016