And here it is! Another digital marvel from Andy Bell and Vince Clarke, celebrating nearly 30 years of songwriting and having sold 25 million albums, the eagerly awaited 16th studio album, 'The Violet Flame'.
A rather different approach was adopted for preparing this one, which follows the success of 2013 Christmas album 'Snow Globe'
.
The collaborative writing process took place in Miami, with Vince's pre-recorded dance grooves, which Andy Bell found "very inspiring".
The album was recorded in London and New York and produced by Richard X. Andy Bell himself admits that ERASURE "definitely found (their) mojo again with this record". The songs were written on synthesisers, rather than, traditionally on the guitar, which made them more immediate and free flowing. 'The Violet Flame is a bold celebration of vintage ERASURE-sque sounds, filled with tuneful, orotund songs, made up of robust melodies and empowering lyrics.
The first single 'Elevation', which sees no less then nine versions of the track on the CD single format, is a joyous celebration of life and love that only ERASURE can portray in such a hedonistic manner and with such euphoria. From the start, the track hits the listener with amazing amount of energy. Starting with a vocal intro by Andy, it beautifully transcends into a sheer "elevation" of emotions.
As one would expect from the duo, the song does not disappoint as a cheerful dance track, perfect for letting your hair down and doing the campest of dances to some interesting synth combos.
Musically it is a mixture of mainly modern digital sounds, interspersed with analogue gems. All in all, it is a great, representative choice for a single. The video accompanying it, has neither Andy nor Vince in it, but, instead, a happy bunch of free-spirited young people, perfectly painting the mood of this anthem.
The opening track of the album however is 'Dead Of Night', which hits the listener with a heavy synth sound and exquisite vocals from Andy that are more 'Wonderland' than 'Tomorrow's World'; it's a very different style to the same titled DEPECHE MODE song from 2001's 'Exciter', mixing both digital and analogue sounds.
'Elevation' proudly follows, before the vibrant 'Reason' with its piano intro over a complicated synth section and Andy's vocal, creating an exhilarating, full-bodied dance track. The song offers elements of vintage ERASURE sounds intertwined with newer, digitally enhanced melodies. 'Promises' is yet another up tempo, rhythmic, and sonorous gem, filled with layered synth sounds, followed by 'Be The One', seemingly a ballad at first, yet evolving into a beautiful tune, reminiscent of the tracks from 'I Say I Say I Say'.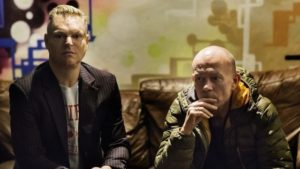 'Sacred' is yet another vintage ERASURE tune, true synthpop at its best and this song, too, shares its title with DEPECHE MODE's 'Music For The Masses' track.
The soothing melody of 'Under The Wave' makes you imagine an intimate, yet epic ocean journey of life, with skilfully written lyrics embedded in electronic sounds.
'Smoke and Mirrors' offers a hypnotising opening, creating an atmosphere of suspense continuing throughout a track which is slower than the other songs on the album. Andy Bell's beloved Eurotrance sound shines through on 'Paradise' which has been compared by Brian Mansfield of USA Today to Giorgio Moroder. The album closes with 'Stayed A Little Late Tonight', a classic tune depicting a complicated love story over a synth background and simple piano elements.
In spite of lacking powerful gay anthems like 'Love To Hate You', 'The Violet Flame' is a solid record, providing pleasure to the ear for synthpop and electronica fanatics, as well as any easy listening or dance music fan. The Violet Flame is a must have for any self-respecting synth pop fan, it truly is amazing!
---
'The Violet Flame' is released by Mute Artists on a variety of formats. Please visit http://www.pledgemusic.com/projects/erasure for more information
ERASURE's 2014 European tour includes:
Belfast Ulster Hall (8 Nov), Dublin Olympia (9 Nov), Dublin Olympia (10 Nov), Reading Hexagon (12 Nov), Southampton Guildhall (13 Nov), Reading Hexagon (14 Nov), Nottingham Royal Concert Hall (15 Nov), Guildford G Live (16 Nov), Bristol Colston Hall (17 Nov), Aberdeen Music Hall (19 Nov), Edinburgh Corn Exchange (20 Nov), Glasgow O2 Academy (21 Nov), Brighton Dome (23 Nov), Cardiff St. David's Hall (24 Nov), Preston Guildhall (25 Nov), Newcastle O2 Academy (28 Nov), Wolverhampton Civic (29 Nov), Manchester Apollo (30 Nov), Cologne Palladium (4 Dec), Dresden Schlachthof (5 Dec), Hamburg CCH1 (7 Dec), Berlin Columbiahalle (9 Dec); Aarhus Musikhus (10 Dec), Copenhagen TAP (11 Dec), London Forum (14 Dec), London Forum (15 Dec)
https://www.facebook.com/erasureinfo
---
Text by Monika Izabela Goss
22nd September 2014