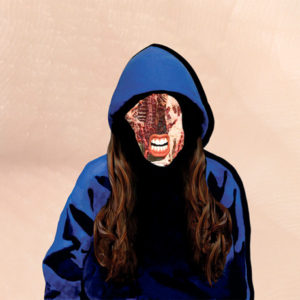 GAZELLE TWIN's second album 'Unflesh' is a collage of artistic violence that has allowed the Brighton based songstress Elizabeth Bernholz to extract her demons.
A raw, rhythmical attack to the senses with a deliberate lo-fi sound away from the cinematic hauntronica of debut album 'The Entire City' and interim EP 'Mammal', 'Unflesh' takes risks by being even less obviously melodic and throws caution to the wind.
It is bleak and not easy listening.
However, while uncompromising, 'Unflesh' has more accessible entry points perhaps than THE KNIFE's 'Shaking The Habitual'. Partly autobiographical, Bernholz conceived 'Unflesh' as a means of acting out vengeance on her antagonists like teenhood, recurring dreams and her own body.
As the album's song titles alone indicate, her lingering metaphysical concerns continue. Bernholz told TEC: "That's something I can't switch off. But I don't want to. There are rarely moments where I'm not considering the wider meaning of all things, on a day to day basis. I'll make a sandwich and think of the former life of all the ingredients, all these particles that are being slammed together to ultimately end up as my sh*t… I like that sort of thought process".
One of the key tracks is 'Exorcise', an impressively aggressive cross between PINK FLOYD's 'On The Run' and KRAFTWERK's 'Home Computer'. It is accorded additional resonance by Bernholz's deadpan as a vicious percussive and synthetic crescendo takes hold. Meanwhile, her trademark metaphysical commentary comes with the industrialised tribal salvo of 'Belly Of The Beast' and the rhythmic stutter of 'Anti Body'. Both are strangely danceable and even deviantly sexy while warped Moog Modular arpeggios kick in on 'Belly Of The Beast', courtesy of Chief Mathematician Benge who co-mixes 'Unflesh' with Bernholz.
But with a 6/8 pulse and a whisper to a scream, the opening 'Unflesh' title track is barer but no less unsettling with banshee wails and soprano cries in abundance while 'Guts' adds an almost PRINCE-like funk groove while fusing the Fourth World overtones of JON HASSELL and a sombre gothic take on THE ART OF NOISE. Throughout the album, Benge throws some extra Formant and CS80 machinery into the process. The end result of this external influence is that Bernholz becomes freer in her expression.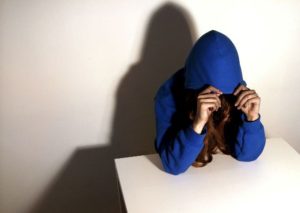 As well as these adrenaline crushes, there are gentler but still dark moments like the eerie neo-acapella of 'Child' and the ghostly COCTEAU TWINS lullaby of 'Premonition' which like GARY NUMAN's 'A Prayer For The Unborn', reflects on the trauma of miscarriage. And the theme of mortality is explored further with 'Good Death', a stark eulogy on the subject of Euthanasia given extra sonority with Bernholz's hauntingly slithery pitch manipulations.
And things get even more unsettling. The primitive Linn driven oddness of 'Human Touch' looks at the children raised by animals while the history of European colonisation is told on the self-explanatory 'I Feel Blood' with an eerie string machine extending further sonic chills to the subject matter. But as the album draws to its conclusion with a drifting drum mantra, things end as they began with Bernholz screaming into submission before a series of distorted snaps on 'Still Life'.
As something outside of the routine synthpop or generic industrial conveyor, 'Unflesh' is a worthy aural journey capturing the mood of an uncertain world. Tortured, cathartic and uncomfortable, 'Unflesh' is a considerable artistic achievement for GAZELLE TWIN.
---
'Unflesh'
is released by Anti-Ghost Moon Ray / Last Gang on 22nd September 2014, download available from https://gazelletwin.bandcamp.com/album/unflesh
GAZELLE TWIN 2014 live appearances include: Brighton Dome Studio Theatre (26th September), London Corsica Studios (1st October), Glasgow Old Fruitmarket (3rd October – with WRANGLER + SCANNER) and London Red Gallery (18th October – with WRANGLER + MINNY POPS)
https://www.facebook.com/gazelletwin
http://www.antighostmoonray.com
---
Text by Chi Ming Lai
19th September 2014