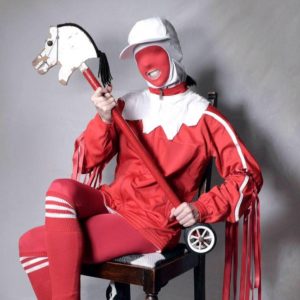 Following the success of her highly acclaimed 'Unflesh' album, Elizabeth Bernholz made her conceptual art as GAZELLE TWIN complete, with its continuation in 'Out Of Body' originally commissioned by the London Short Film Festival in 2015.
But the elusive artist saw a string of life changing events, one of them being her move "far out of the city". Relocating to the good, old England countryside, would seem the right move to enjoy more pastoral matters, the joys of quaint, idyllic countryside, while residing amongst animals and flowers, knitting and making jam.
Of course GAZELLE TWIN would do none of the above. Instead she nitpicked on the absurdity of our existence, no matter where we are located. And her latest long player 'Pastoral'
says it all, from the striking Deutsche Grammophon referencing artwork co-conceived with Jonathan Barnbrook and beyond.
Elizabeth Bernholz chatted about her "deranged, absurd reflection of deranged and absurd times" in deepest Old England.
The four years since 'Unflesh' was a rather busy period for you…
Yes it was, much of that time was spent touring the 'Unflesh'
album worldwide and working on new or offshoot projects in between. It was a fantastic two years of adventure and fun, and then I fell pregnant towards the end of 2015 with the plan to take break to write for a couple years.
If 'Unflesh' shocked, 'Out Of Body' only cemented the feeling, aren't you worried some will simply not get you?
No. Being understood has never been a concern of mine, least of all with what I create.
You like a bit of dystopia, as shown in 'Kingdom Come'?
A brief look into the history of art, literature, or film shows us that fictional projections of dystopia often prove to be like prophecies. Ballard was known as "the seer of Shepperton" for just that reason. I wouldn't say I like dystopian ideas, but that I feel that there is great truth in them.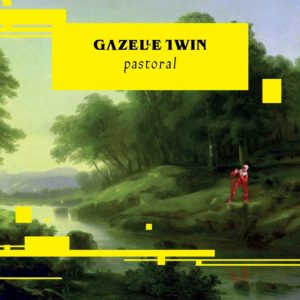 So there was the big move out of Brighton? Why was this purely for domestic reasons or had there been artistic motivations too?
The decision was purely financial, if we didn't move out of Brighton, we would not be able to tour 'Unflesh' around America, Canada or elsewhere and still keep our day jobs going or our rent paid. It was that simple!
And it was an opportunity that we did not feel we had much to lose on, as we thought we could easily move back to Brighton should we wish to. Ha! No chance now.
And in the depths of the idyllic countryside, are you still "hypersensitive to everything around (you) all the time"?
Yep. It's just the person I am. It's useful for a creative sensibility, as I don't need to look very far for inspiration. I can literally find it anywhere! It's all about being able to tune in (or out).
How are you observing the state of the country post-Brexit and the shenanigans in the US of A?
People are still people, they flock together with others they feel safe to be neighbours with, and those boundaries get more and more protected when people feel afraid or threatened by something. That is happening on a mass scale right across USA and Europe, and it is alarming to see the way that people are responding, but I don't think it's anything new.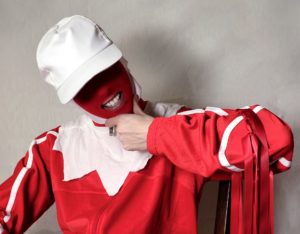 And the red and white 21st century jester outfit just sums it all up…
The idea is that the Jester is the base figure upon which there are layers of traditional clichés and modern clichés applied. It's no singular thing. The Jester adopts different characters, it caricatures, it imitates and mocks and mongers fear… that is how I see the red imp. It's a multi-puppet.
The football mascot twist adds an extra sinister quality, is this a statement on mob mentality?
Not specifically no, but of course there is a lot of meaning behind those aspects and they are there to make a point – my focus here is on contemporary clichés, and the demographics that are pandered to but also scapegoated by the tabloid press, depending on their agenda.
'Better In My Day' and 'Little Lambs' are just fierce, even more aggressive than anything that was on 'Unflesh'?
I very much wanted there to be a sense of mania and relentless energy running through the album. I think it's important to have that rhythmical hook for live performance, but also to be able to work up a frenzy. It's all part of the mood I'm trying to create and get myself and the audience completely immersed in.
'Glory' comes over like creepy GOLDFRAPP, how did that shape up in the studio?
I would say that the musical influences prevalent in 'Glory' are pretty far away from GOLDFRAPP to be honest, they are not a band I really have ever listened to at all. What I had in mind on this particular song was something closer to Scott Walker or even Bowie on 'Low'. I wanted to harness a kind of towering, God-like voice. The barebones of the track was actually an unused demo for 'Unflesh'. I think I started with a bassline and built from there, I hadn't really planned on making a song in that style, for this album at all. I felt very far away from melodic drama at that point but the song just sort of grew into itself and worked as the centrepoint of the record.
You continue with the heavy vocal processing on 'Pastoral', what decides the tone of voice for each track and what effects to use?
Vocals often come last in the production chain, so it usually depends on the theme and the mood of the song and what I feel it needs texturally or rhythmically… whatever I can bring to it through vocal technique and / or manipulation I do as much or as little as needed.
You continued the experimentation with the musical side of things, from medieval instrumentation to rave culture… how did you come to experience these two very different forms originally?
Early music seems to have always been a part of my musical education and palette, but I think this is probably the first project where I felt it was truly relevant to the themes I was working within. The rave culture, or more specifically – house and techno influence really came from being a younger sibling to a brother and two teenaged sisters growing up in the 1990s when illegal raves were happening all over the countryside near where we lived. My experience of that was secondhand, but nevertheless quite memorable. The music frightened me, because it was all very alien at the time.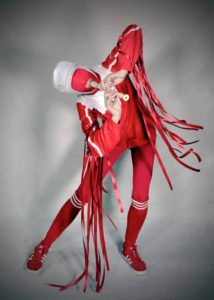 How will the upcoming 'Pastoral' live presentation differ from 'Unflesh' and 'Kingdom Come'?
In terms of production value, the 'Pastoral' tour is not so different from the 'Unflesh' set-up. It is simple and direct, noisy and strange. But there's more smiling 🙂
What are your hopes and expectations for 'Pastoral'?
Well I am already pretty blown away by the response to the album.
I never expected to sell out of vinyl and CDs within the first week of release but just that has happened, and I am stunned and exceptionally happy.
The last four years has been a really long and rocky journey full of dramatic life changes, and there have been plenty of times where I felt I may never return to touring, or get the opportunity to release music in the way I was able to in 2014. I am pleased I have been able to do all the things I set out to do with this concept and that it has already been so well received.
I hope that there will be a great run of live shows worldwide this coming year and beyond and that I can hopefully open up some more opportunities for making new projects.
---
ELECTRICITYCLUB.CO.UK gives its grateful thanks to Elizabeth Bernholz
Additional thanks to Zoe Miller at Zopf PR
'Pastoral'
is released by Anti-Ghost Moon Ray as a red vinyl LP, CD and digital download available from https://gazelletwin.tstor.es
GAZELLE TWIN 2018 live dates include:
Warsaw New Theatre (3rd October – 'Kingdom Come' performance), Manchester Soup Kitchen (5th October), Brighton Attenborough Centre for the Creative Arts (11th October), London Somerset House Lancaster Rooms (16th November)
https://www.facebook.com/gazelletwin
https://twitter.com/gazelletwin
https://www.instagram.com/gazelletwin/
https://gazelletwin.bandcamp.com/
http://www.antighostmoonray.com
---
Text and Interview by Monika Izabela Trigwell and Chi Ming Lai
1st October 2018, updated 18th October 2018