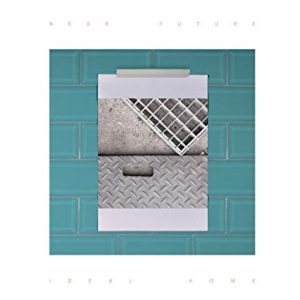 Neil Arthur and Jez Bernholz are NEAR FUTURE, a project featuring the BLANCMANGE front man and the Brighton based artist who also co-founded the Anti Ghost Moon Ray art collective that spawned GAZELLE TWIN , ROSEMARY LOVES A BLACKBERRY and ANNEKA.
Their debut album 'Ideal Home'
has been several years in the making, constructed through the modern medium of remote collaboration, although the pair have shared a stage on numerous occasions, notably on BLANCMANGE's Semi Detached' tour.
With both Arthur and Bernholz being vocalists as well as musicians, the pair experiment with voice-derived textures in NEAR FUTURE perhaps more than with their other work. Opening with the delightfully sombre 'Ideal Home' title track, it is a fractured number which takes a detached dual vocal into Eno-produced TALKING HEADS territory with a gently tribal rhythmic feel and asks "should I be full of regret?"
Meanwhile, 'Field This' is centred around a hypnotic bass mantra and a bleeping backbone surrounded by an impressionistic fourth world choir, as Arthur points to a period "pre-Madonna" while surreal lyrics recall "I remember when you were freshly peeled" before asking to "try semaphore".
'Overwhelmed' captures shrill strings cocooned in an aural cavern with a claustrophobic Neil Arthur lead vocal that while recognisable, is quite different from anything by BLANCMANGE. The appropriately titled 'Thought Terminating In Your Night' sees Arthur's voice raw and exposed before an eerie metronomic backdrop builds around him. The instrumental 'Come And Play' adopts a quite menacing atmosphere of synthetic chorals.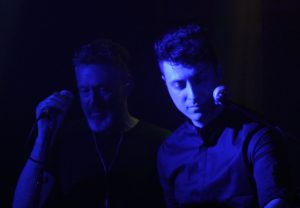 Based around a repetitive synth line, the spoken word art piece 'Dawn' features a skewed Bernholz reciting images of "coffee headaches" over sustained guitar sweeps and a building percussive rumble alongside uneasy thoughts of "teeth that felt like glassware". But there's the most amazing and chilling lead shimmer on 'Gap In The Curtain'; driven by a primitive drum box, it comes over slightly like a contemplative OMD reimagining 'Sad Day'… yes "you couldn't make it up".
Another spoken-word piece 'Kites Over Waitrose' is almost poetry over electronic backing with some exotic acoustic sounding Oriental textures where Arthur talks of the "scattering masses", before closing with the sub-drone drama of 'Bulk Erase'. Laced with a melancholic droll where "so much needs fixing but so little time", Arthur takes the Eno-esque atmosphere into his own green world for "one thing at a time", with the closing synthesized heartbeat echoing ULTRAVOX's 'Just For A Moment'.
'Ideal Home' is a fine debut record from NEAR FUTURE, and it's one that sits well next to Neil Arthur's BLANCMANGE and FADER as well as Jez Bernholz's own brand of eccentric pop. It's an extremely prolific period for Neil Arthur and with another BLANCMANGE album 'Wanderlust' on the way in the Autumn, there will be even more escapist expressionism to come.
---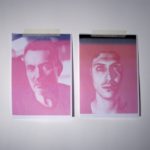 'Ideal Home'
is released by Blanc Check Records on 25th May 2018, available in vinyl LP and CD formats, pre-order from https://nearfuture.tmstor.es
A NEAR FUTURE live show plus Q & A with Neil Arthur and Jez Bernholz takes place at The Institute of Light, 10 Helmsley Place, London E8 3SB on Thursday 6th September 2018
https://www.facebook.com/futureisnear/
https://twitter.com/_nearfuture
---
Text by Chi Ming Lai
15th May 2018, updated 20th May 2018