Swelling in sonic density, NEAR FUTURE's ten-track debut album 'Ideal Home' is an enjoyable experimental collection of songs and soundscapes.
From the art pop of the album's title track and the serene 'Gap In The Curtain', to spoken word set pieces like 'Dawn', all blended in with assorted field recordings and neo-instrumentals, the album showcases the music combination of Neil Arthur and Jez Bernholz.
Arthur is best known as the front man of BLANCMANGE, while Bernholz will be remembered by some as the opening act on 2015's 'Semi Detached' tour, having issued his first long player 'How Things Are Made' the year via the Anti Ghost Moon Ray art collective he co-founded with GAZELLE TWIN.
Having been involved in five albums since 2015, Neil Arthur is probably at the most prolific stage of his career. As well as juggling BLANCMANGE, there has also been FADER with Benge, resulting in the 'Ideal Home' album being several years in the making.
NEAR FUTURE kindly took time out to chat about their first full length fruit of labour and described how their partnership has allowed each of them to think outside of their regular artistic boxes to produce a quite unusual but accessible body of work.
How would you each describe NEAR FUTURE compared with other projects you've been involved in?
Neil: Freeform. Good to share the work load. Half the pain, twice the gain!
Jez: Definitely. It's been freeing as well, from a songwriting perspective. A lot less pressure than I put on myself as a solo artist.
You've shared live bills together but how was the bones of this album constructed? Has it been a lot of remote work?
Jez: I felt that it evolved from the email exchanges and anything goes approach, to when we prepared for our first live performance at Sensoria. Those rehearsals cemented everything for me, it gave the songs more structure and coherence.
Neil: Mainly by remote, with other parts on our meetings. The Sensoria cementing experience, followed by a trip to the home of gravity.
Being musicians of different generations, where did you find your common ground in influences and motivations?
Neil: No boundaries, anything goes. Discussions on lack of sleep and emergency repairs. Mundane everyday tasks, often became the detail of our focus I think.
Jez: The lyrics for me, ending the poetry in the everyday. We exchanged music by others and I discovered something new. I felt that subliminally we were both thinking of Michelson, NEU! and HARMONIA, but we never explicitly talked of other artists, it seemed to just gel naturally. Maybe I shouldn't think too hard for fear of breaking the magic!
With you both being vocalists as well as musicians, how did you decide who would sing lead on particular tracks?
Neil: I think we only once discussed who would do the vocals on one song, 'Dawn'.
We'd send ideas to each other, eventually it'd be time for a voice and somehow one appeared. A bit like choosing another synth sound really, oh yes, except there's the words too.
Jez: My own view originally was that whoever wrote the music, the other person would eventually add a vocal to it. It didn't quite end up that way but it definitely started in that way. I actually remember the track 'Ideal Home' coming more musically from Neil as a starting point and I finished it with the lyrics and vocals. 'Overwhelmed' came more from an inspired Neil vocal in response to some music that I had written. But in the end, it was just going instinctively with what felt right and trying out different things.
As a result of that, there appears to be a lot more experimentation in NEAR FUTURE with vocal texturing and processing?
Jez: Without any pressures with this project, I was definitely a chance to take that process further. I enjoyed the idea of Neil's voice being so familiar to so many people and perhaps producing it in a way that would be totally unexpected, like on the track 'Thought Terminating' where, as Neil says, it definitely fits with the music and the lyrics.
Neil: It seemed to fit not only the music and field recordings, but also the lyrics on some tracks.
The album's title track 'Ideal Home' was also the first single, what do you remember of its genesis?
Neil: Jez started this idea off and wrote the lyrics. I chopped stuff up and moved the arrangement around a bit to fit the sounds added. Oh hold on… scrap that, it must have been another song. I'll have to look through my hard drive, to find the origins of this. No doubt the title would have been changed knowing me.
Jez: I remember it completely the other way around! This was the first project that we did together and Neil had the basis track written and I did chop it up a lot and added the vocals and lyrics. Neil responded by adding his vocal and some other synth parts.
Neil: I found it. Of course, Jez is correct, I started it off and it was called 'Pallet' and stuck in my BLANCMANGE hard drive.
There's a tribal rhythmic feel on a number of tracks?
Neil: As Jez mentions, it just felt right. Sometimes as you listen through to the song or parts that make up the track, you start to hear other stuff, that isn't physically recorded, but is suggested by the interplay of what has been printed.
Jez: I think it just felt right, particularly on 'Dawn', like an angry pagan army coming over the hills with the sunrise behind them, some kind of reckoning; it somehow seemed appropriate.
You got a most amazing and chilling lead shimmer on 'Gap In The Curtain'?
Jez: It's a very, very heavily stacked combination of sounds from a PSS-170, about 40 different layered guitars, sax and a synth made from vocals and it just keeps building. Lots of reverb too. It really turned out nicely and it's one of those elements that keeps the track unique to us, I don't think it would be easily replicated.
'Kites Over Waitrose' is a great title and almost poetry over electronic backing, what inspired that?
Neil: Pincer movement panic buying! Jez sent some music over and we weren't sure if it would be best left as an instrumental as I thought it worked without words. A while later, rifling through notes, I had these words and tried it out with the music, and our field recordings.
Jez: I love Neil's lyrics for this. Again, I think he just captures the poetic mundanity of these otherwise forgettable moments. The title really does capture the duality of that.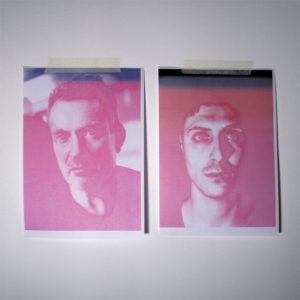 Another spoken-word piece is 'Dawn'…
Neil: I couldn't sleep, so went to do some writing and heard this amazing early dawn chorus, that I recorded on the phone.
When I listened back to it, there in the background was this mechanical throbbing rhythm. I enhanced that with synths, then Jez took over and came back with these wonderful words. Last, we added the feedback sounds.
Jez: I'd had some words for a while which I could never really make fit without them sounding rushed.
When I saw Neil's working title 'Dawn' for the music, it made me think about how my life had changed since the birth of my son, and I revisited those words with more clarity about what they meant, added more to them referring not only the past, but also the near future. The pace of the music gave me the impetus to speak slowly, and they worked nicely.
'Field This' has a quite mechanical backbone, is the "prima-donna" referring to anyone in particular and where is this "car park" that was?
Neil: Ha ha! Yes well, last thing first, the car park was in Leeds and first thing last, the story line is set in the time before Madonna. So it's pre-Madonna. Not though, pre-Maradonna!
The neo-instrumental 'Come & Play' has a quite claustrophobic atmosphere?
Jez: It is definitely about that, like being allured to stay somewhere that's maybe not quite right, there's something sinister underneath it all.
Is NEAR FUTURE likely to hit the road alongside your other commitments?
Neil: No doubt.
Jez: ASAP.
---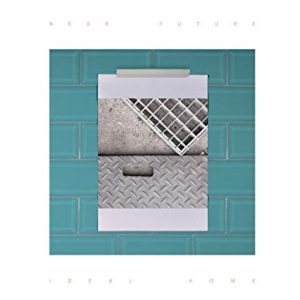 ELECTRICITYCLUB.CO.UK gives its grateful thanks to NEAR FUTURE
Special thanks to Steve Malins at Random PR
'Ideal Home'
is released by Blanc Check Records on 25th May 2018, available in vinyl LP and CD formats, pre-order from https://nearfuture.tmstor.es
https://www.facebook.com/futureisnear/
https://twitter.com/_nearfuture
---
Text and Interview by Chi Ming Lai
28th April 2018