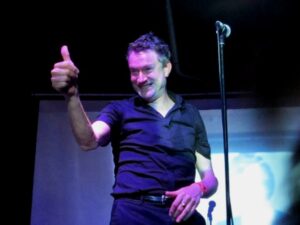 In some ways, 'Semi Detached' is BLANCMANGE's technolstalgic album. It could be seen Neil Arthur's personal recollections as an art student, set to a midlife narrative.
With tremendous wordplay, it acts as both a commentary on English suburban aspirations and the fact that this new long player is Arthur's first of completely new material recorded without his long time partner-in-crime Stephen Luscombe.
A pair of weekend live shows at Shoreditch's Red Gallery was chosen as the venue to launch this latest opus from BLANCMANGE, perhaps surprisingly only the fifth of their career. In the band were Ogoo Maia, album producer Adam Fuest and regular collaborator David Rhodes.
Opening the evening was BERNHOLZ, a member of the Brighton based artist collective Anti-Ghost Moon Ray which has also spawned GAZELLE TWIN and GREAT PAGANS.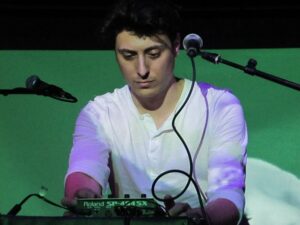 Appearing on stage alone, he performed a brave, honest set of resonant art pop in an Eno-esquse tradition that also recalled that other synth duo from The Wirral, DALEK I LOVE YOU.
Beginning with the starkly minimal new number '28', the set then launched into two songs from his promising debut album 'How Things Are Made'; 'Austerity Boy' and 'Horses Part 2' both merged to form a progressive adventure involving frantic sequencers and obscure rhythms.
Other previously unheard numbers like 'Animals' and 'Door' continued on an experimental framework, but the set finished with a great new song 'Alive' which crossed PRINCE styled funk with TALKING HEADS.
Arriving to the wonderful instrumental 'MKS Lover', BLANCMANGE opened with 'The Fall', an eight minute number that actually referenced Mark E Smith's cult combo as well as the London Underground. These Red Gallery shows were radically different to BLANCMANGE's last two tours in support of 'Happy Families Too' and HEAVEN 17, as Neil Arthur promised some rarely played cult favourites as well as songs from 'Semi Detached'.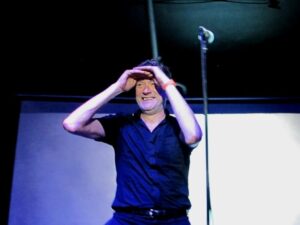 The first of the those rare numbers was 'I Would', a song recorded for a John Peel session that ended up on the 12 inch B-side of 'Living On The Ceiling'. Rearranged with a less frantic but more precise machine rhythm, despite being of 1981 vintage, it sounded totally within the aesthetic of 'Semi Detached' in a strangely slower but faster pace.
Neil Arthur was on fine comedic form, taking mock selfies during 'Like I Do' as a performance art satire on society's obsession with mobile phones.
And when introducing the most recent single 'Paddington', he told the audience it could have been named after Marylebone, Kings Cross or Liverpool Street railway stations but that 'Paddington' fitted best into the song! Featuring some of the Middle Eastern aesthetics that BLANCMANGE became known for in the mainstream, it took its place as a possible live favourite for the future.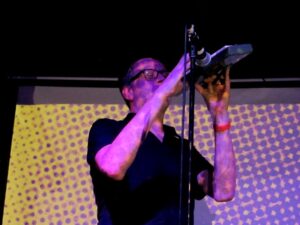 Alternating between past and present, 'Running Thin', the other B-side from 'Living On The Ceiling' was also dusted off while the bouncy 'Acid' provided one of several dancing opportunities, demonstrating BLANCMANGE's link with both art school and disco. While there was no 'Useless'(possibly the most immediate song on 'Semi Detached'), there was however an outing for the tremendous 'Starf*cker' from 2011's 'Blanc Burn', a vicious BLACK GRAPE styled attack on the vapid celeb obsessed culture of today.
There was a further surprise in the shape of 'Holiday Camp' from BLANCMANGE's debut EP 'Irene & Mavis'. With Neil Arthur taking to a melodica on this instrumental, it was a fine homage to 'The Big Ship' from ENO's 'Another Green World' long player.
With David Rhodes' guitar taking centre stage on the moody 'Bloody Hell Fire', Neil Arthur gave it his all, as he did with the charismatic Ian Curtis meets David Byrne intensity on fine, dance friendly versions of 'I Can't Explain', 'Feel Me' and 'Blind Vision'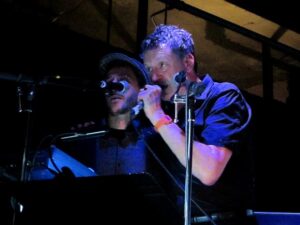 Returning for a joyous cover of CAN's 'I Want More' and a rapturous 'Living On The Ceiling' to end the evening, Neil Arthur certainly delivered on his promise of a fan friendly set and looked like he thoroughly enjoyed performing the new and less well known material to an enthusiastic, receptive crowd. With a mature, artful approach on 'Semi Detached' and the new instrumental album 'Nil By Mouth', this can only be good for BLANCMANGE's longevity as both a recording and live act in the 21st Century.
---
With thanks to Steve Malins at Random PR
BLANCMANGE's 'Semi Detached' and 'Nil By Mouth' are both available on CD via the official online store at http://blancmange.tmstor.es/
https://www.facebook.com/BlancmangeMusic
BERNHOLZ's 'How Things Are Made' is available in CD and download formats from http://bernholz.bandcamp.com/
https://www.facebook.com/bernholzmusic
---
Text by Chi Ming Lai
Photos by Richard Price
20th May 2015