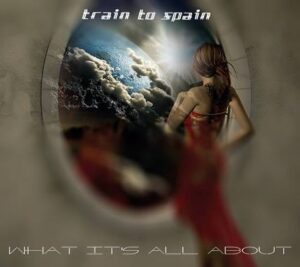 Following their appearance at 'An Evening With The Swedish Synth' last March, Gothenburg synthpop duo TRAIN TO SPAIN have finally released their debut album 'What It's All About'.
Named after a lyric from THE HUMAN LEAGUE song 'The Things That Dreams Are Made Of', the duo's first long player is an enjoyably flirtatious affair centred around a crashing metronomic heartbeat akin to the 1985 'Philip Oakey & Giorgio Moroder' album combined with Jonas Rasmusson and Helena Wigeborg's love of LADYTRON and DEPECHE MODE.
Indeed, titles such as 'Work Harder' and 'Martin, David & Fletch' indicate that this passion has permeated lyrically too. The immediate opener 'Blip Bop' has slightly banal lyrics but is good fun, with Wigeborg coming over like LANA DEL REY fronting YAZOO.
Following through, the album's first single 'Keep On Running' is a wonderfully melodic ditty driven by thumping synth drums and a solid octave shift bassline that allows Wigeborg's raspy voice to run free like she was fronting a reboot of BRONSKI BEAT.
In variations to the sprightly theme, the enticingly uplifting 'All About' and the more frantic sub-Italo 'Screw It Up' both maintain the energetic disco synthpop pace. Utilising many classic synthesizer sounds in the vein of Vince Clarke, musically at least, darkness is not on the agenda.
Things get slightly more serious through with a decreasing tempo on 'Adam', possibly a steadfast tribute to The Dandy Highwayman but more likely, an enigmatic character in a fictional love story. A descending sequence introduces 'Pressure' which takes the pace down further with its looser beat, but it would appear Wigeborg's voice is perhaps less suited to slower numbers.
TRAIN TO SPAIN could be perceived as being a bit pop and fluffy, but 'Grab and Touch' deals with the rather serious subject of harassment. "You can't get this girl over a drink" Wigeborg tells a sex pest who tries to excuse his bravado with drunkenness and society's macho expectations. The album returns to its synth disco template with TRAIN TO SPAIN's best known number 'Passion'. The demo version was part of the free 'Swedish Electro Vol 2' compilation download package and Wigeborg's lovely vocals remain enticingly vulnerable over a newly beefed up backing track from Rasmusson.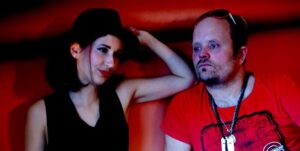 The perky electronic disco of 'Work Harder' with its cooing ad-libs is another welcome addition but the best is saved for the marvellous Euro stance of 'Remind Myself'.
A very classic pop number, it derives from the crashing metronomic flavour of the album's earlier songs.
With hints of faux lesbian duo TATU but without the helium, these are Wigeborg's strongest vocals of the set and the whole vibe locks together brilliantly with Rasmusson's fast and furious electronics.
The final song 'Martin, David and Fletch', while affectionate, is perhaps a bit throwaway, although a few fan references are thrown in to give it credibility. The melody is more CAMOUFLAGE than DEPECHE MODE and almost trance-like, Wigeborg's spoken monologue will be seen as either alluring or nonchalant on this polarising track.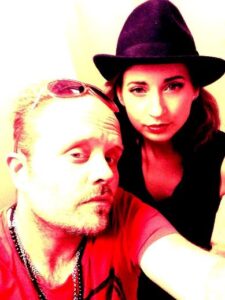 Overall, 'What It's All About'
 is a promising debut from TRAIN TO SPAIN that wears its disco synthpop influences on its sleeve. Jonas Rasmusson must be relieved to have finally released a body of work after more than ten years recording with various line-ups as TRAIN TO SPAIN .
Whether others will embrace it will depend on their views of female fronted synthpop… some like it, others refuse to embrace it on some strange chauvinistic principle that music always needs to have balls.
But ELECTRICTYCLUB.CO.UK happens to love female fronted synthpop and has no interest whatsoever in balls 😉
---
'What It's All About'
 is released by Sub Culture Records and available from
http://subculturerecords.bandcamp.com/album/what-its-all-about
https://www.facebook.com/pages/Train-To-Spain/252355014792419
---
Text by Chi Ming Lai
20th May 2015