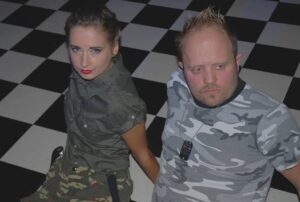 First spotted sharing a stage with PAGE and MACHINISTA at Cold War Night Life's 'An Evening With The Swedish Synth' last March, promising Gothenburg synthpop duo TRAIN TO SPAIN are finally set to release their debut album.
Named after a lyric from THE HUMAN LEAGUE's 'The Things That Dreams Are Made Of', synthmeister Jonas Rasmusson has been making music for a while as TRAIN TO SPAIN.
Having previously used a variety of different singers since 2001, he subsequently met "a girl on a boat" and recruited the sultry Helena Wigeborg as vocalist. Combining their love of DEPECHE MODE and LADYTRON, the journey got underway again for TRAIN TO SPAIN.
The first single is the steadfast 'Keep On Running', a wonderfully melodic number driven by thumping synth drums and a solid octave shift bassline that allows Wigeborg's raspy voice to run free like a female fronted version of BRONSKI BEAT.
In variations to the theme, TRAIN TO SPAIN's developing brand of uptempo, energetic pop utilises classic synthesizer sounds in the vein of Vince Clarke and a metronomic rhythm structure akin to the 1985 'Philip Oakey & Giorgio Moroder' album. These are best represented by the crashingly immediate 'Blip Bop' and the enticingly uplifting 'All About'.
Coming over like LANA DEL REY fronting YAZOO, Wigeborg's cooingly vulnerable vocals on 'Passion' let rip on a suitably complimentary electronic backbone from Rasmusson. And for the B-side of their first single release, 'Passion' has been superbly remixed by MACHINISTA for some beefy gothic disco goodness.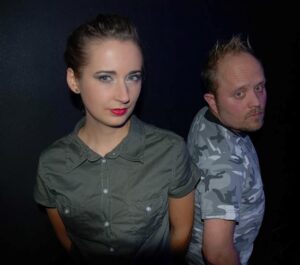 The release of 'Keep On Running' ends a period of uncertainty for the pair following business upheavals at the record label they had originally signed to following 'An Evening With The Swedish Synth.
It would have been a shame if this material had not seen the light of day so thankfully, TRAIN TO SPAIN's first album is now slated for a Spring 2015 release via Sub Culture Records, the Norwegian label that recently issued the single 'Activity Of Sound' by iEUROPEAN featuring WOLFGANG FLÜR.
---
The single 'Keep On Running' b/w 'Passion (Machinista Club Remix)' is available via the usual digital outlets
https://www.facebook.com/pages/Train-To-Spain/252355014792419
---
Text by Chi Ming Lai
10th March 2015