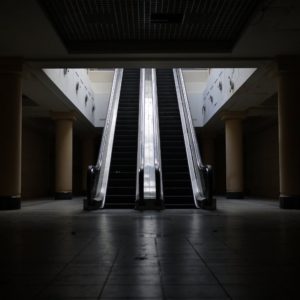 Keeping her privacy well under wraps always seemed rather important for Elizabeth Bernholz aka GAZELLE TWIN.
The concept of portraying herself via her music, instead of physical looks surely speaks for itself. "This is me" she says, through the animated noises, quirky sound manipulations and captivating imaginary, both audio and visual. Not a stranger to artistic enterprises, such as her 'Out Of Body' project and its predecessor, 'Unflesh', Bernholz isn't the one to dissect her musical directions, "explain or justify my work to anyone, least of all try persuade someone to persevere with it if they don't already have the desire to do so".
For those after easy listening pieces of electronica, GAZELLE TWIN is not at all suitable; one won't find gentle, beautifully orchestrated musical gems, catchy hooks and the challenges of "what can this synth do for me" type. What you will find is: reflection, politically charged landscapes, metaphysical elements and the most unusual sounds, painting utopian visions of the world of today.
While 'Out Of Body' dealt with the beauty and ugliness of our mortality, with the intricacies of how our bodies work, the crude physicality of the shell versus the mind, 'Kingdom Come' looks at the devastation of modern societies and the very social diseases that eat away at nations and individuals.
Based on the eponymous book by JG Ballard, the father of dystopian modernism, who in music has influenced everyone from GARY NUMAN to MADONNA, 'Kingdom Come' is a thoughtful representation of how the corporate greed and misplaced alliances alienate individualism and crash what's truly important, all the while eliciting the tribal and primal behaviours from, otherwise docile human beings. Homosapiens are violent predators, lead to believe we have an alternative. If Ballard's notions felt unpleasant, GAZELLE TWIN likes to "get under the skin of those ideas, because they are bizarre, and uncomfortable."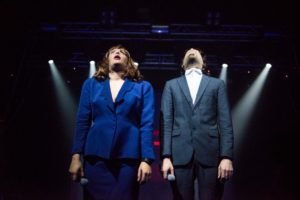 The audio visual experience was first commissioned for Manchester's Future Everything festival; 'Kingdom Come for Two Vocalists' saw the production from Bernholz performed by Natalie Sharp, also known as LONE TAXIDERMIST, and Stuart Warwick.
Dressed in a mixture of sharp business suits and gym outfits, the pair run the rut of life on treadmills, getting nowhere.
The life of work, controlled leisure activities, contrived fun and artificial happiness ooze from the performance, which has now been presented in an audio mini-album of seven tracks.
Opened by 'See How They Run' with its haunting aura of dread, it is followed by galling 'Metro' ,quoting the utopian truths such as "choices are compulsory", uttered in frightfully distorted mantric voices are deeply disturbing. Next, the machine gunned out 'The Suburbs' continues the feelings of danger and inability to escape the reality, while the cinematic 'I Consume Only' emulates the voice of a Catholic father preaching the mass of never-ending greed , "I can suck you dry".
'Hallowed' deafens with a paralysing sound of horns, suppressed female vocals and the occasional sigh of struggle, or is it sexual? It matters not, it's all monitored by the state, right? We are all on the 'Death Drive'; a fast paced road to nowhere, where's the end of it? Death is the end of it. To summarise, 'Cling Film' covers it all, in a further rise of unnerving sound elements and frightening voices.
GAZELLE TWIN feels dystopia as a theme is here to stay for a while; after all it's an indefinite source of inspiration, and the world events observed unfolding daily certainly can't provide the alternative. And what's the alternative? Socialism? Religious freedom or anarchy?
Elizabeth Bernholz's conceptual approach to music has reached higher levels.
It is weird watching two vocalists on treadmills, uttering sometimes indescribable sounds, crying out mutilated words and twisting in agony of something incomprehensible may feel peculiar; but what an interesting approach to portray the wrongs in this world.
Terrifying? Yes.
Food for thought? Definitely.
---
'Kingdom Come' is released by Anti-Ghost Moon Ray as a digital download, available from https://gazelletwin.bandcamp.com/album/kingdom-come
https://www.facebook.com/gazelletwin
https://twitter.com/gazelletwin
http://www.antighostmoonray.com
---
Text by Monika Izabela Trigwell
2nd December 2016