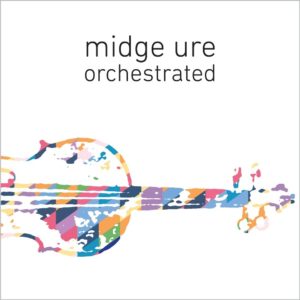 Giving your back catalogue an orchestral rework has become the thing to do of late, be it using classical musicians as a bolster for a full band performance such as the farewell live A-HA shows at the Royal Albert Hall, or the recent performances by the likes of COVENANT, VNV NATION or OOMPH as part of the Gothic Meets Classics concerts where synths are replaced by wood, brass and strings.
Another band that performed on the GMC stage were MESH whose recently released 'Live at Neues Gewandhaus Leipzig' shows how well electronically realised songs can transfer over to an Orchestral setting.
The melding of pop/rock and classical performers is nothing new of course. From DEEP PURPLE and the Royal Philharmonic at the Royal Albert Hall (a performance that was famously conducted by Malcolm Arnold who on hearing that the classical musicians were being 'sniffy' towards their rock brethren told them they weren't fit to tie Purple's "f*cking bootlaces…") to the ill advised ELP US orchestral tour of the USA, many have made the foray into placing their songs under the baton.
One musician who has worked with large orchestral groups over the years is MIDGE URE. In the past, he has performed with the likes of SCHILLER to spectacular effect live on 'Let it Rise' and with the Royal Scottish National Orchestra at the Ryder Cup concert where 'Vienna' brought the house down. He has also played a number of the Night Of The Proms shows over the years, so is no stranger to working and reworking material in this setting.
So to his latest release, 'Orchestrated', a collection of ULTRAVOX and solo career songs arranged by the composer Ty Unwin, who's work will be familiar to anyone that has watched a BBC documentary over the last 10 years. A graduate of Huddersfield University, which fittingly is in Billy Currie's hometown, Unwin has assisted Ure in bringing out the drama and at times hidden depths in a group of familiar songs.
Opening with a sweeping 'Hymn', the album quickly sets out its stall. The arrangements on all the pieces are pretty much as on the original recordings which is sensible, as an album like this can become a hard sell if presented more esoterically.
Few could argue that the music of ULTRAVOX and to an extent Ure as a solo artist doesn't drip with drama and this is shown to immediate effect on 'Hymn' with the tension of the original maintained throughout.
Next is one of my standouts on the album, 'Dancing With Tears in My Eyes'. I will admit this track is one of my least favourite ULTRAVOX releases, I always thought that at least one other track on 'Lament' would have made a better single (more of which later…) but here, it is quite frankly spectacular. Slowed down and driven by a plaintive piano, Ure's voice is dripping in sadness and regret that the original rockier setting didn't allow.
On the subject of Midge's vocal… he has frankly never sounded better. Always 'some chanter' as we say in Glasgow, his vocal now has a depth and richness that many of his peers would kill to have. As a front man, Ure always favoured letting his talent do the talking without resorting 'rockstar' histrionics and few can hold a candle to the voice he now has, irrespective of age or stadium filling ability.
The arrangement on 'Breathe' with be familiar to anyone that has seen the acoustic tours undertaken of late. 'Man of Two Worlds', the track I alluded to as being a more suitable UK single release from 'Lament', goes for the full cinematic treatment with sweeping strings and romantic underpinning to the female vocal coda.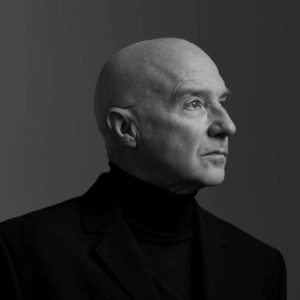 'If I Was' and 'Vienna' are here because they are expected to be and these versions add little to the originals and I'm still not sure about the guitar soloing on the later as opposed to Billy's viola, but the original is so iconic nothing is going to replace its power and beauty.
'The Voice' gallops along wonderfully and highlights clearly those classical influences Billy Currie brought to ULTRAVOX with the familiar themes in this song still recognisable performed by a different set of instrumentation. 'Ordinary Man' is the only new song on the album and wouldn't be out of place in a West End musical.
Like the 2014 'Fragile' album show that Ure still has songwriting chops a plenty in an age where a six minute plod can be hailed as an epic/classic from other artists, he grabs the opportunity presented by the setting. It will be interesting to see if in the future he flips this into an electronic band arrangement.
Next my favourite track on the album, a spectacular reworking of '(I Remember) Death in the Afternoon' from 'Rage In Eden'. Building from a swirling string part the driving synthesised throb of the original is replicated easily by cellos and basses. The rock drums are retained which means this version needs to be played loud!
'Lament' actually adds a bass synth and follows the original's template as does 'Reap The Wild Wind', before closer 'Fragile' brings the album to marvellous close with a signature Ure guitar solo reminding us of his and the song's rock roots.
'Orchestrated' as noted earlier sensibly both keeps it familiar and allows Unwin free rein to work the songs into at times memorable versions. This is clearly not the sound of an artist who is either releasing a career end quick buck maker or who has run out of ideas. A recommended release and I didn't even miss those ARP solos, well not that much…
---
'Orchestrated'
is released by BMG in CD and digital formats
MIDGE URE's Band Electronica' will be the special guest of THE HUMAN LEAGUE on the following 2018 dates:
Southend Cliffs Pavilion (21st November), Brighton Centre (23rd November), Manchester Arena (24th November), Glasgow SEC Armadillo (25th November), New Castle City Hall (27th November), Cambridge Corn Exchange (28th November), Bournemouth BIC Winter Hall (30th November), Birmingham Arena (1st December), Cardiff Motorpoint Arena (2nd December), Leicester De Montfort Hall ( 4th December), Nottingham Royal Concert Hall (5th December), Sheffield Fly DSA Arena (7th December), London Hammersmith Apollo (8th December)
https://www.facebook.com/midge.ure/
---
Text by Ian Ferguson
1st December 2017