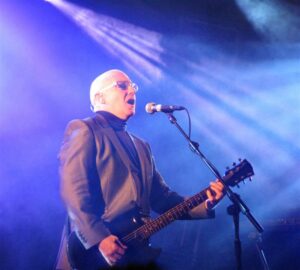 Following their triumphant reunion in 2009 to celebrate the 30th anniversary of their classic incarnation with the 'Return To Eden' tour, ULTRAVOX came back to the Hammersmith Apollo for the second leg of shows which also takes in a number of European territories.
The line-up of Warren Cann, Chris Cross, Billy Currie and Midge Ure, which first came together in 1979, became one of the most successful of the new wave of synthesizer based bands.
Fusing the classical overtones of Bela Bartok with dynamic Teutonic influences such as KRAFTWERK, NEU! and LA DÜSSELDORF, ULTRAVOX scored 12 consecutive Top 30 hits in a highly competitive era and produced a series of classic albums in 'Vienna', 'Rage In Eden', 'Quartet' and 'Lament'. During this period, they were a highly stylish outfit who wore their intelligence on the sleeves with their Peter Saville curated artwork, lavish stage sets and self-directed promo videos; all of which possessed a thoughtful continuity throughout.
But an unsuccessful attempt at a back-to-basics sound in 1986 for the disastrous folk / brass / rock / orchestral album 'U-Vox' saw Warren Cann unceremoniously fired from the band before recording started and the remaining trio losing momentum before finally splitting.
That these four strong minded individuals are able to even take to the stage together again is a positive testament in itself, judging by the well documented tensions between several members of the group.
At their peak, ULTRAVOX used nearly 30 keyboards and electronic gadgets on stage including ARP Odysseys, Minimoogs, PPGs, Emulators, assorted Yamaha keyboards and Warren Cann's infamous percussion console 'The Iron Lung'.
Modern technology has now enabled the live set-up to be reduced to a few workstations and laptops but tonight, it all still managed to sound as grandiose as ever. The LED video screens from 'Return to Eden' may have gone but to make up for it, three songs have been added to 'RTE2', although the sparse mental breakdown of 'Your Name Has Slipped My Mind Again' has now been dropped. Overall, the setlist was as good as perfect, with that paean to futurism 'New Europeans' opening proceedings. Now that electronic music is back in favour again, the line "his modern world revolves around the synthesizer's song" couldn't have been more fitting for the largely male audience 30 years on.
ULTRAVOX have within their DNA, a very symphonic style of playing which is thanks largely to Billy Currie's classical training. Jumping from screaming synth solo, electric violin and piano modes, the former Huddersfield Music College graduate was as intense as ever but really enjoying the limelight.
Doubling between bass guitar and his trademark triggered synth was Mr Chris Cross who came to the fore on tracks like 'We Stand Alone'. At times CC was so cool, he even managed the two functions simultaneously on the brilliantly progressive instrumental 'Astradyne'!
The mighty Warren Cann's contribution to the band has often been understated but he did write lyrics to songs such as the amazing synthesized heavy metal of 'All Stood Still'. Also he was one of the pioneers of electronic percussion; how he had to wire a voltmeter in series to his Roland drum machine and put marks on its dial to be able to set the exact tempo for tracks at early gigs just shows how determined the technological innovation was that lay at the heart of ULTRAVOX.
Meanwhile at the front, Midge Ure was looking very dapper in a dark polo neck and grey suit combo after some of the sartorial mishaps of the previous year. He was in fine voice, hitting most of those big notes but also showing off his renowned versatility on guitar and synthesizer. This was the talent that not only drove ULTRAVOX, but also VISAGE.
It was VISAGE of course that led him to working with Billy Currie in the first place and being invited to take over from the then recently departed JOHN FOXX as lead singer. Incidentally Foxx himself will be featuring some early ULTRAVOX material at his own live retrospective at The Roundhouse on 5th June 2010.
'White China', the full fat sequencer number from 1984 about the eventual handover of British ruled Hong Kong to Red China makes a welcome addition to the set. A development of NEW ORDER's 'Blue Monday', it shows the direction that ULTRAVOX could have taken post 'Lament'. The authentic electronic rendition tonight erased bad memories of the rotten, plodding rock arrangement from the disappointing 'U-Vox' tour. Robotic spy story 'Mr X' voiced by Warren Cann thankfully remains and is one of those amazing set pieces that mark out why the 'Vienna' album was so special.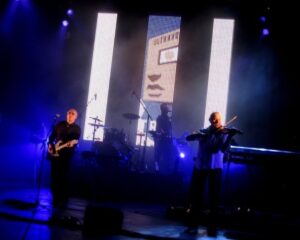 There are also some brave choices to include moodier material such as 'Visions In Blue' and 'Rage In Eden'. On the latter, 21st Century sampling has allowed the rich Arabic toned "noonretfa eht ni htaed… rebmemer i ho" vocal phrase to be accurately reproduced and fully compliment the atmospheric live version.
'Hymn' becomes a singalong anthem while 'One Small Day' is a decisively hands in the air rockist statement.
The inevitable 'Dancing With Tears in My Eyes' and 'Vienna' take their place on the final straight but these are classic songs, part of our popular culture and proud musical heritage. It could only be some fairly dour, unsophisticated individuals who wouldn't get pleasure out of these two gems! And on 'Vienna', Currie amusingly just makes it back to the piano in the nick of time after the violin solo!
As well as most of the singles, a big hit that was missing from last year's tour makes its appearance at the start of the encore. 'Love's Great Adventure' is glorious, sounding like it's being driven at full speed by a speedboat engine. Meccanik dancing oh we go but in reality, this one is totally undanceable!
Finishing with the "fun-fun-fun on the autobahn" of 'Sleepwalk' and 'The Voice', magnificently complete with Ure, Cross and Currie pounding synth drums in syncopation to Cann's motorik beat, it was a rousing climax!
This bunch of old guys can make a hell of a racket but the sound managed to stay crystal clear throughout. Even the backing vocals which were barely audible last year could actually be heard.
With no new material planned, if this really is the end for this phase of ULTRAVOX as has been rumoured, this was a fitting farewell.
---
The live DVD/2CD set 'Return To Eden – Live At The Roundhouse'
 featuring last April's show at The Roundhouse is released by Chrysalis/EMI.
https://www.facebook.com/UltravoxUK/
https://twitter.com/UltravoxUK
---
Text by Chi Ming Lai
Photos by Richard Price and Chi Ming Lai
13th April 2010