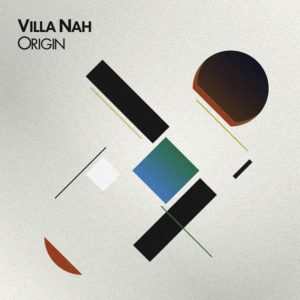 VILLA NAH are a brilliant new duo hailing from Finland.
Juho Paalosmaa and Tomi Hyyppä took their name from the East Helsinki suburbs where they lived and deliver a form of dreamy synthesizer pop that conjures up aural paintings of snow, fjords and glaciers.
Like their Nordic neighbours KLEERUP and A-HA, the soundtrack they construct has a melancholic edge with uplifting pop melodies. The sadness of Juho's vocals is often offset by Tomi's gorgeous vintage sound textures and crisp electronic experimentation.
The single 'Running On' is superb octave shift driven pop, sparse and coated with haunting piano. Meanwhile its flipside 'Ways To Be' was crowned 'Song Of The Year' at Finland's Dance Awards and at times sounds like GARY NUMAN produced by Daniel Miller.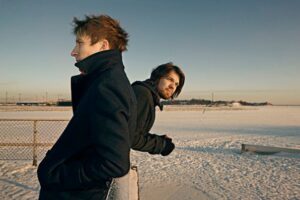 But the debut album 'Origin' is actually co-produced with Jori Hulkkonen, hailed by some as 'the most underrated producer in the world'. As ZYNTHERIUS (and not as an F1 driver!) with TIGA, he had a Top 30 hit with an electroclash cover of 'Sunglasses At Night' in 2002. He has also since worked with JOHN FOXX and CLIENT as well as a variety of other electronic projects. He keeps 'Origin' uncluttered and maintains a body to the sound without having to refer to dirty distortion.
It's VILLA NAH's potential to enter the big league. 'Origin' also follows the journey of the classic electronic pop album from days gone by featuring the tasteful instrumental interludes 'Time For Tea' and 'Way Of The Future' in the set.
Of the songs, big percussive claps and analogue soloing really do make 'Some Kind Of Dream'  and 'Envelope', while 'Autumn Gone' recalls early BLANCMANGE and is a close cousin to their 'Wasted'; but halfway though, the track stops and enters into a segment that does exactly what the title says on the tin. Accompanied by sweeping synth patches with steady attack, you can literally see the leaves turning a beautiful brown in your mind.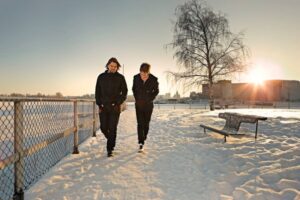 'Kiss And Tell' provides winter chills but is driven by an incessant machine beat. But have you ever heard GARY NUMAN almost jaunty?
With previous single 'Remains Of Love', you now can on the poppiest thing that the former Gary Webb never recorded. Juho is next to crying in the wonderful chorus over Tomi's sharp crystal melodies.
VILLA NAH can be very danceable when the mood takes them and on 'All The Days', they effectively rework GIORGIO MORODER's 'The Chase' and put their own raved up stamp on it. 'Rainmaker' is also quite housey, with echoey, treated piano effects to keep counter the blissful effect of the pulsing bassline.
'Origin' is synth dominated and romantic, where dance and pop meet in the middle. The soundscapes and tunes will satisfy those who hark back to a classic blueprint of the male synth duo but want a true 21st Century take on it. Fresh and vibrant while still having an emotive core, VILLA NAH do the job on 'Origin'.
---
'Origin'
 is released worldwide as a CD or digital download via Keys Of Life
https://www.facebook.com/villanah/
---
Text by Chi Ming Lai
17th April 2010, updated 20th August 2017