Midge Ure and Rusty Egan first became friends as members of THE RICH KIDS back in 1977.
The pair went on to form VISAGE with Steve Strange following their growing interest in synthesizers and electronic rhythms, inspired by the likes of KRAFTWERK, GIORGIO MORODER and NEU! The music formed part of the soundtrack to the Bowie Nights that eventually found a home at The Blitz Club.
And now following its audio premiere during Rusty Egan's DJ set opening for Michael Rother at Under The Bridge in London, it can be confirmed that Midge Ure has contributed lead vocals and guitar to the song 'Glorious'
from The Blitz Club legend's debut upcoming solo album 'Welcome To The Dancefloor'; it was composed by Ure with Egan and Chris Payne who co-wrote 'Fade To Grey', a German No1 for VISAGE in 1981. The album will additionally feature vocals from luminaries such as Peter Hook and Tony Hadley.
Midge Ure kindly took time out from his tour of the US to chat to ELECTRICITYCLUB.CO.UK about this brand new collaboration.
What did you think when you were presented with the 'Glorious' demo'?
I liked the music, Chris Payne and Rusty had done a great job but I didn't think the song / melody / lyrics were strong enough, so I rewrote all of that in my studio.
How did you go about transforming the track?
I stripped the demo down to the basic track, edited it down into a more 'song like' format and started working on a glorious melody. I added the main melodic synth line and layered guitars over it, ending with the 'hopefully' uplifting solo over the outro.
Was how developed 'Glorious' the same as when you worked on 'Fade To Grey'?
Yes, very similar where the track was inspiring but needed a vocal line to lift it beyond the level it was at.
What's it like to collaborate with Rusty again for the first since 'The Anvil', albeit virtually?
Rusty is a very talented guy. Remember the two of us put VISAGE together back in 1978 because we were both inspired by the electronic music coming out of Europe, Germany in particular. We had similar tastes back then, so working on his album has been a good thing.
Have you had a chance to hear any of the other tracks on 'Welcome To The Dancefloor' yet?
Not yet, but he has great contributors with Hooky and Tony Hadley. It shows the respect Rusty has in the music world.
---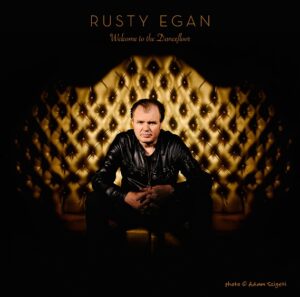 ELECTRICITYCLUB.CO.UK gives its grateful thanks to Midge Ure
'Glorious'
features on RUSTY EGAN PRESENTS 'Welcome To The Dancefloor'
is released via Black Mosaic in CD, deluxe 2CD, vinyl and download formats
https://www.facebook.com/midge.ure/
https://www.facebook.com/rusty.egan/
---
Text by Chi Ming Lai
Photos courtesy of Rusty Egan, 2012 photo by Tapio Normall
3rd October 2016