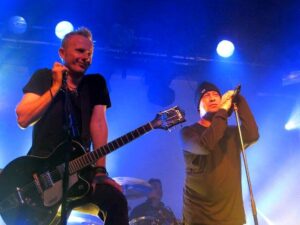 With their new album 'Looking Skyward', MESH alleviated any fears that they might not be have been able to sustain the artistic momentum following the success of 2013's 'Automation Baby'.
With the final show of an intensive European jaunt, this continued with a confident and impressive London show that drew from much of 'Looking Skyward'
. Along for the ride were AESTHETIC PERFECTION and EMPATHY TEST.
The latter have been much talked about as electronic pop's new saviours but from the moment they opened with 'Kirrilee', their overall sound came over as hollow and steadfast. Singer Isaac Howlett once arrogantly boasted in an interview that EMPATHY TEST rarely rehearsed… from his attempts at soaring vocals on 'Demons', it showed.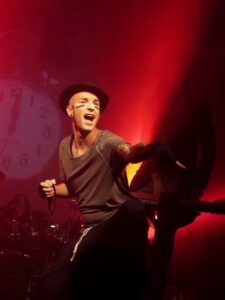 Giving the crowd a welcome wake up were AESTHETIC PERFECTION, the project of LA based musician Daniel Graves.
His earlier Aggrotech has become much more melodic over the years and his short set accompanied by energetic synthesist Elliot Berlin featured songs from the recent 2015 reboot of 'Blood Spills Not Far From The Wound'
as well as some of AESTHETIC PERFECTION's more accessible material.
The vibrant 'Antibody' made an ideal opener, while the brilliant 'Vapor' was a perfect future disco moment. 'The Little Death' amusingly showcased Graves' schizophrenic approach to vocals which were bizarrely one part Darren Hayes / two parts Marilyn Manson…
While his vocal style polarised some, what couldn't be denied was the production quality of his meaty backing tracks. This was particularly evident on an impressive 'Big Bad Wolf' where Graves declared to the object of his desire that they were "good enough to eat".
When the MESH live band of Mark Hockings, Rich Silverthorn, Sean Suleman and Lord Richard Broadhead finally took to the stage, it was to a tremendous roar with the quartet satisfyingly opening with 'My Protector', a tune with a synth line that captured the raw energy of classic MESH.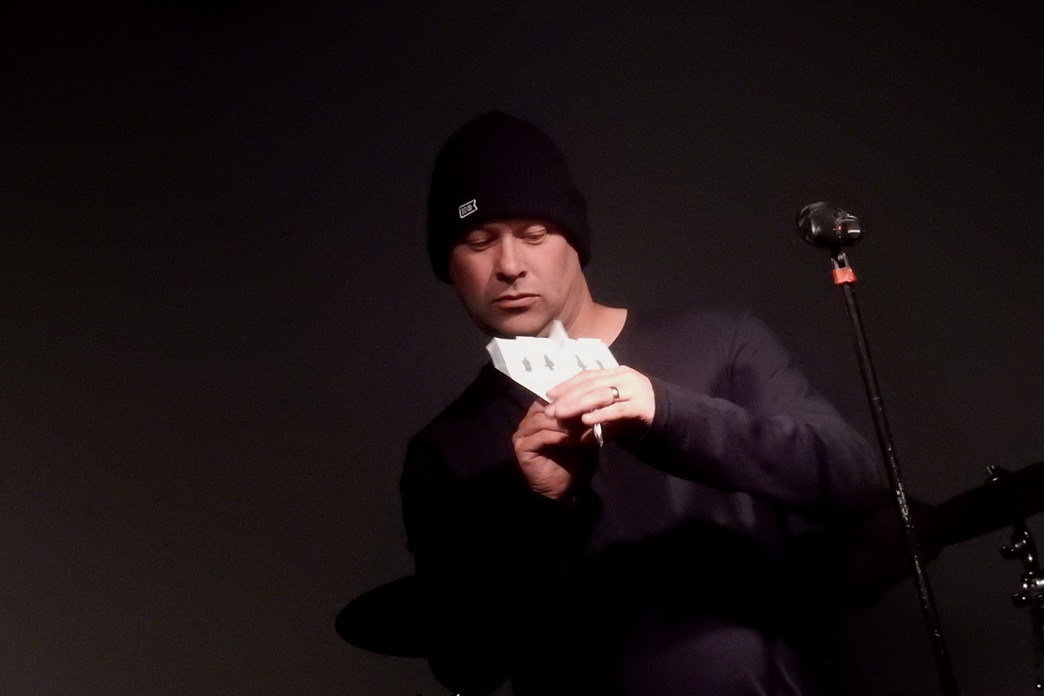 The superb B-side 'Paper Thin' was amusingly interrupted by a barrage of paper aeroplanes using the template that was one of the extras in the 'Looking Skyward' deluxe box set.
Meanwhile, there was the return of the glorious 'Little Missile' from the 'Who Watches Over Me' album of 2002 when MESH were signed to a Sony Music subsidiary and label mates with Karl Bartos.
The crowd were treated to further 'Looking Skyward'
highlights in 'The Ride' and 'Runway', but as a close musical relative to 'Just Leave Us Alone', the trance laden 'Last One Standing' took the live engagement to another level with a dynamic LED show complimenting proceedings.
The Schaffel stomp of 'Kill Your Darlings' kept those into the more rockier side of MESH happy while the powerful triplet driven 'The Fixer' delivered another of those poignant statements from the reliably emotive Hockings that "you can't change the picture if you break the frame".

'Friends Like These' appropriately celebrated the camaraderie that the MESH faithful have now developed in support of their heroes, while to finish the main set, 'Taken For Granted' provided Hockings and Silverthorn with their own 'Never Let Me Down Again' which ended with a neo-acapella singalong from the crowd.
After the first encore 'From This Height', a disintegrating PA system totally ruined 'Born To Lie', but Hockings shouted to his colleagues to play on and such was the band's undoubted professionalism to soldier on, their self-respect remained fully intact.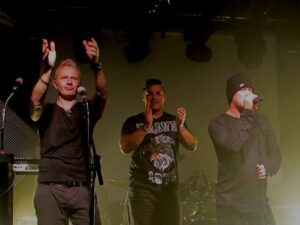 With only a few songs from 'Automation Baby'
remaining and their best song 'Crash' now omitted too, MESH can hold their heads up high having successfully transferred their difficult acclaimed album follow-up into a fine live show. 'Automation Baby' outstripped DEPECHE MODE's 'Delta Machine' by a long way in 2013.
What are the chances that the soon-to-be announced effort from the Basildon boys won't even be able to hold a candle next to 'Looking Skyward'?
---
With thanks to Richard Silverthorn
MESH 'Looking Skyward'
is released by Dependent Records
http://www.aesthetic-perfection.net/
---
Text by Chi Ming Lai
Photos by Richard Price and Chi Ming Lai
4th October 2016