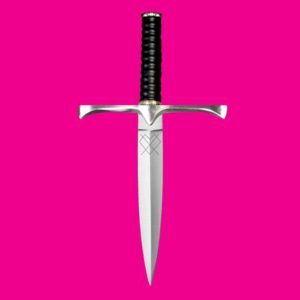 'Requiem For Romance' is the debut long playing opus by the LA based duo NIGHT CLUB.
Although Emily Kavanaugh and Mark Brooks kicked off NIGHT CLUB in 2011, their music has been extensively used in television offerings, such as 'Jersey Shore', 'XOX Batsey Johnson', 'Washington Heights', 'Miami Monkey' and 'The Mysteries Of Laura'.
The Comedy Central show 'Moonbeam City'
saw the band's compositions featuring in all ten episodes of the production, and its soundtrack was released in 2015.
Although 2014 saw their best body of work so far with the 'Black Leather Heart' EP, 'Requiem For Romance' promises to capture a "more bombastic and aggressive" sound. Indeed, the heralding single 'Bad Girl' offers a darker, rockier approach to synthpop, with quirky use of pitch shift on Kavanaugh's vocals. LADY GAGA wouldn't be ashamed to put her name to the production, which is fresh and provocatively jagged.
Acting as an intro track, 'Requiem' sounds suspiciously similar to DEPECHE MODE's 'Shake The Disease' plus or minus a few notes, with that haunting voice humming the simple melody. 'Show It 2 Me' introduces uncomplicated electronica laced with an intoxicating delivery, while 'Dear Enemy' truly plays around the synth capacities, interwoven with the candied tones of the euphuistic singer.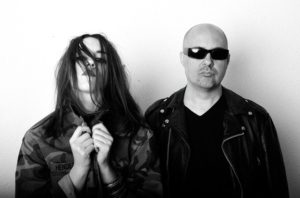 'Psychosuperlover' offers a wholesome club track, brilliantly executed both vocally and musically, with scantily clad synth, sexy guitar and the perfect bounciness of a marvellous dance tune.
Brooks' production brilliance shines through on 'Freak Like Me'. No, it's not another SUGABABES meets Numan serving; it's Kavanaugh sounding like a bloke at times!
'Magnetic' is indeed magnetic, and 'Dangerous Heart' provides another perfect club piece, fabulously executed with vocal samples reminiscent of PET SHOP BOYS' 'New York City Boy'.
The sequenced 'Pray' with its unsettling dual pitch harmony is an exhibitionist infatuation with anything synthy, whilst 'Requiem For Romance' closes with 'Little Token'; a piano based ballad laced with sparse electronic elements dotted about strategically, wrapping up the opus in the warm embrace of Kavanaugh's Madonna-esque vocal.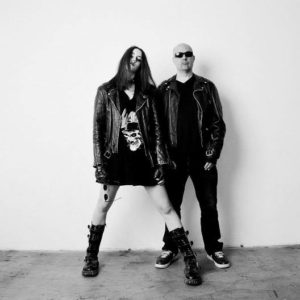 This pleasing album certainly serves the listener with an adequate dose of fantastic synth action provided by Mark Brooks and the larger than life personality of Emily Kavanaugh. Unlaboured rhythms lend themselves beautifully as the canvass to the many voices of this talented rock chick.
Kavanaugh recently lent her vocals to Rusty Egan's project 'Welcome To The Dancefloor', on a song called 'Evermore' co-written with Chris Payne. On NIGHT CLUB's latest offering, she certainly showcases the multitude of her oral talents.
---
'Requiem For Romance' is released by Gato Blanco on 7th October 2016 in CD and download formats from http://nightclubband.com/album/requiem-for-romance
https://www.facebook.com/nightclubband
---
Text by Monika Izabela Trigwell
5th October 2016