Nice but sleazy pop duo NIGHT CLUB have finally realised their promise with 'Black Leather Heart', their most consistent body of work yet.
Forming in 2011, New Jersey born singer Emily Kavanaugh and producer Mark Brooks from Denver, Colorado began writing songs together that combined the pure pop of BRITNEY SPEARS with the heavier spectre of punk rock and heavy metal into an alternative synthesized world.
Their sexy, minor key framework resulted in the promising EPs 'Night Club' and 'Love Casualty'. From the latter came their breakthrough calling card 'Poisonous', a catchy pop tune that came over like Britney gone Emo with Emily Kavanaugh's frisky feline delivery oozing a lusty appeal while maintaining a sinister edge.
Meanwhile, new songs such as the confrontational new wave disco of 'She Wants to Play With Fire', the raucous electroclash of 'Cruel Devotion' and the surprising electro ballad 'Not In Love' all give indications to the breadth of NIGHT CLUB's continuing development.
From their base in Los Angeles, NIGHT CLUB kindly spoke to ELECTRICITYCLUB.CO.UK about their danceable, electronic underworld with an additional bonus in the world premiere of their new video 'Not In Love'…
'Black Leather Heart' is your most accomplished body of work to date but the breakthrough came with 'Poisonous' from the 'Love Casualty' EP. What particularly inspired that song and was there a moment when you recorded it that you thought "this might be the one!"?
Emily: 'Poisonous' has its own little story. I'll have to let Mark answer this one…
Mark: Me and Emily ran into my ex-wife's new husband and he seemed like a ghost of the person of who he once was. I was really taken aback by his ragged appearance and loss of spirit. So we started writing a song from his perspective: He seemed addicted to the drama, pain and the poison of the relationship. As if he knew that the relationship would kill him, but he didn't really care if it did.
When we finished recording Emily's vocals on the song, we both felt like we had captured a really interesting juxtaposition. Super catchy sugary female vocals with a really interesting, dark, authentic back story. That tune was sort of when we felt like our song writing had evolved to the next step.
Your musical backgrounds are quite varied so how did you drift into doing synth based pop?
Emily: Well for me, I've always been a diehard pop fan growing up – I was obsessed with Britney. I started highlighting my hair in high school because I thought I would look like her and I tried working out a lot to get anything that resembled a six pack, which didn't happen, but I was so determined.
I also grew up listening to a ton of classic rock that my dad introduced me to. My mom got me into NIRVANA and THE BEASTIE BOYS. I had a pretty eclectic music taste when I was a teenager and really just liked listening to well written pop songs.
After my dad passed away a few years ago, I would just sit in my apartment by myself and write angry guitar based songs that sounded like L7 and record them in Garageband. It was the first time I ever really tried writing pop songs. When Mark and I met, we quickly realized we had exactly the same music taste and we clicked on that level instantly. He has such an interesting musical background that seems to connect with mine, and I think together we just naturally vomit out dark synthpop.
Mark: I've always been obsessed with synthpop ever since I was a kid. I grew up obsessively listening to GARY NUMAN, ULTRAVOX, THE HUMAN LEAGUE, KRAFTWERK, DEPECHE MODE etc. As I got older I went through many other types of music obsessions but I always found myself returning to those late 70s / early 80s synth bands. There's something in the sound of those bands that's timeless to me. It was only a matter of time that I would finally be in a proper version of a synthpop band.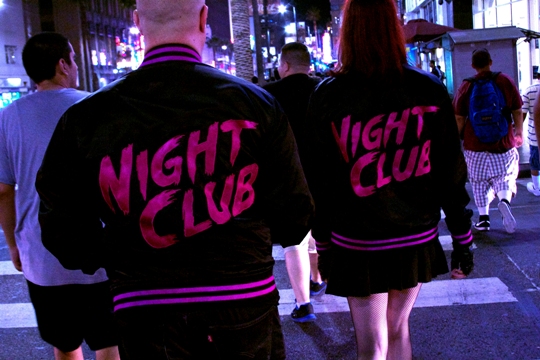 Who are NIGHT CLUB's main influences both musically and aesthetically?
Emily + Mark: Musically definitely DEPECHE MODE, GARY NUMAN, PRINCE, MADONNA, BRITNEY SPEARS. CHARLI XCX is a modern artist we love and are inspired by. She can write hooks for days and her debut 'True Romance' that came out last year was great. We also really like what DISCLOSURE is doing.
Aesthetically we're inspired by late 70s punk / new wave. ie leather jackets, satin jackets, b+w photography, bold colors (black / hot pink), not smiling (ha!) – BUT MOST IMPORTANTLY – as Rodney Bingenheimer put it: NO BEARDS OR MUSTACHES ALLOWED!
NIGHT CLUB unashamedly has the spectre of BRITNEY SPEARS lurking despite the darker gothic overtones?
Emily + Mark: Funny you say that because one of our favorite albums is 'Blackout' by Britney which came out in 2007 right after she kind of went insane and it's easily one of her best records. We're so influenced by the tone of that album. It's so raw and sexy. Sonically the album is really influential too. We think that 'Blackout' is right up there with all the great dark synth stuff from the 80s.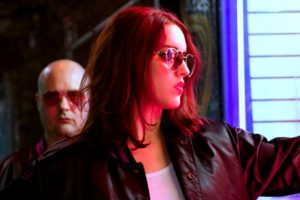 Are your roles quite distinct as in Mark does the music and Emily does lyrics / vocals, or is the creative dynamic less pronounced than that?
Emily: We honestly write everything 50/50. Sometimes he'll come up with a bassline, sometimes I will. It's really equal. Mark is definitely the producer, but we both have a strong hand in the songwriting. I think we each balance each other out really well.
He's great with mixing and production and making the song really work structurally, and I think I bring a good sense of melody to the mix. We both write lyrics. Sometimes Mark has a hook in mind already or just feels connected to a certain song, and I'll say to him, just go to town and write, send me the lyrics you come up with and I'll add in my own. And vice versa.
Mark: Yeah, I've never experienced a band dynamic as equal as this before. We create all aspects of our music together. A two headed synthpop hydra.
The starkly minimal 'Give Yourself Up' indicates that maybe Emily likes to be boss? 😉
Emily: Ha! Wouldn't you like to know! Actually I think 'Give Yourself Up' is our own 'Every Breath You Take' by THE POLICE. We wanted to write a song about delusional stalkers because they're crazy and fascinating.
'Black Leather Heart' showcases a significant progression compared with the self-titled debut EP. What do you think has contributed to this and how do you look back on your development?
Mark: I think we just keep trying to push ourselves to be better songwriters. Better melodies, better lyrics, better production etc. Our first EP seems simplistic to us now but we still dig it. We think we're getting better… what do you think?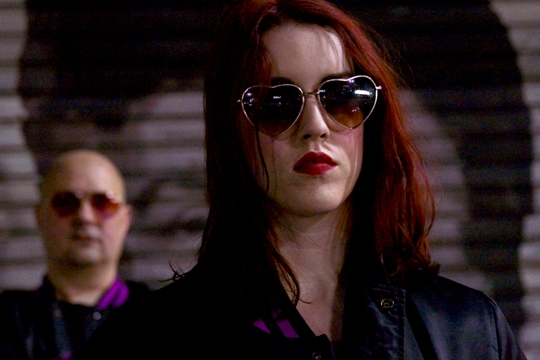 Yes, definitely! So what's the story behind 'She Wants To Play With Fire' both lyrically and musically?
Emily: I actually wrote most of the lyrics myself, and they're specifically about one of Mark's ex-girlfriends that he dated right before we met.
They had a seriously tumultuous relationship, and let's just say she didn't seem like the easiest person to be around. Lots of drama.
Anyway she had moved out to LA from NYC and he was cool enough to let her live with him since she was unemployed and didn't have a place to live yet. They broke up like 2 seconds later because he quickly realized she was not all right in the head and to cut long story short, she eventually was deported back to London, where she's originally from!
Fast forward to a couple months later – Mark and I meet and start hanging out, everything is cool, we start doing the band and putting out videos, and suddenly we start getting these hateful comments on YouTube. We traced the account back to her and I remember one of her comments just kind of being the last straw… just really immature and below the belt. I remember being so annoyed and angry that I just kind of blurted out "she wants to play with fire" when we were working on music one night. It just took off from there. Hopefully the message has been heard in London.
Mark: It's all true folks!
NIGHT CLUB's music is primarily danceable but 'Not In Love' was a surprise in that it was a ballad, and quite unlike anything you've attempted before?
Emily: I love a good ballad. For this specific song, we were really influenced by HOOBASTANK's 'The Reason' and EVANESCENCE's 'My Immortal'. I don't even care that so many people hate on those bands because I think those two songs are so well-written and emotional. Plus HOOBASTANK and EVANESCENCE are laughing their way to the bank, so you can hate all day! Anyway, we wanted to make a piano ballad because we've never done it before and we wanted to try our hand at it. And I have to say, we really liked how it turned out. We'll probably end up writing more like it.
Mark: I agree. It's not an easy pursuit to write a ballad. There's nothing to hide behind. When a song is in that raw of a state, it's very clear if you know how to write melodically or not.
'Black Leather Heart' features a cover of INXS 'Need You Tonight'. What made you choose that one and are there any other songs you would like to reinterpret?
Emily + Mark: When we started on this record, we wanted to try recording a cover since we hadn't before. So we both started thinking of songs that we'd like to cover. INXS came up because we both love their songs. There's something about that band that we relate to. They are an extremely catchy pop band but there's an undercurrent of dark themes explored in their music. We also thought it'd be cool to hear a female sing from that point of view. Also we thought it'd be fun to try to do the song with only synths since it's such a guitar song. We're super happy with the results. That might be the only cover that we do for awhile. We'll see…
Videos are an important aspect of NIGHT CLUB's armoury. What would you say to observers who might say it should be all about the music and that visual presentation is just pandering to the pop game?
Mark: I'd say that visuals are just another way of exploring your artistic expression. In particular, we make all of our videos ourselves, so we're extremely involved in that expression. We also don't have any problems with pop whatsoever. WE LOVE POP MUSIC!!!
Do you feel any affinity with the excellent crop of new North American electronic acts such as ELEVEN: ELEVEN, SOFT METALS, FEATHERS or TRUST?
Mark: Yeah, we're happy that other synth bands are gaining traction over here because that helps all of us really. One thing though, living in LA makes us feel like we're removed from any sort of scene. As we don't know these bands personally, we sort of work on our music in a vacuum. We're looking forward to touring more for this record and getting out there and meeting other like minded bands.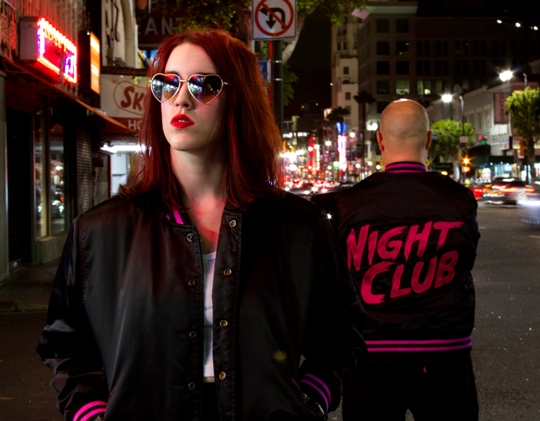 What do you think of the rise of EDM in America? Has it helped or hindered NIGHT CLUB?
Emily + Mark: I definitely think it's hindered us. People in the US are listening to all of these EDM songs that sound exactly the same and we don't quite fit in to the idea of "what's popular" here yet.
There seems to be a small undercurrent of people though that are tired of that type of dance music and synthpop seems to be gaining traction.
Will the best of the EP tracks go on to form an album or is the album format too restrictive a way to market your music in the modern age?
Emily + Mark: Maybe. We would love to make a full length album sometime in the future, but right now we just don't think there's a need for it. We have our own record label and there are no demands that we have to satisfy other than our own. People forget about things so quickly these days because the internet is so inundated with crap, so as a band we need to constantly be putting new material out there. Unfortunately we feel albums have lost their worth right now – it's all about singles. EPs allow us to keep putting out music quickly so as far as we can see, that's what we'll keep doing.
What are your hopes and fears for NIGHT CLUB?
Emily + Mark: We're looking forward to seeing what everyone thinks of the music that we've been writing for 'Moonbeam City' (an upcoming series on Comedy Central featuring Rob Lowe and Will Forte). We are also planning on coming over to the UK in 2015 and playing some shows over there finally. NO FEAR!
---
ELECTRICITYCLUB.CO.UK gives its warmest thanks to NIGHT CLUB
The 'Black Leather Heart' EP is released by Gato Blanco and available as a download via Bandcamp, iTunes and Amazon. NIGHT CLUB's other EP releases can be downloaded from their Bandcamp via http://nightclubband.com/ while CD versions of the EPs are also available
https://www.facebook.com/nightclubband
https://twitter.com/nightclubband
https://soundcloud.com/nightclubband
---
Text and Interview by Chi Ming Lai
Photos by Jessi Rose
21st October 2014