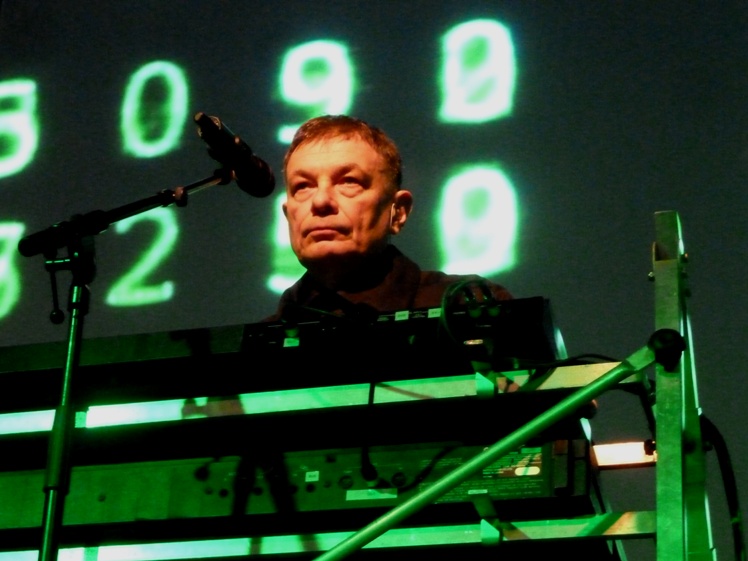 Karl Bartos kicked off his 2014 'Off The Record' tour with an impressive audio / visual presentation in Cologne's Live Music Hall.
Although Düsseldorf is where KRAFTWERK and their iconic Kling Klang studio were and are still based, the more vibrant city of Cologne 30km down the road was where the classic line-up of Bartos, Ralf Hütter, Florian Schneider and Wolfgang Flür used to hang out when they aspired to more relaxed surroundings.
Indeed, it has been rumoured that their jaunts to local clubs inspired songs such as 'The Model' and the amusingly ironic 'Sex Object'. And although now resident in Hamburg, for Herr Bartos, this was a spiritual homecoming of sorts with many long time friends in the audience including former band mate Wolfgang Flür.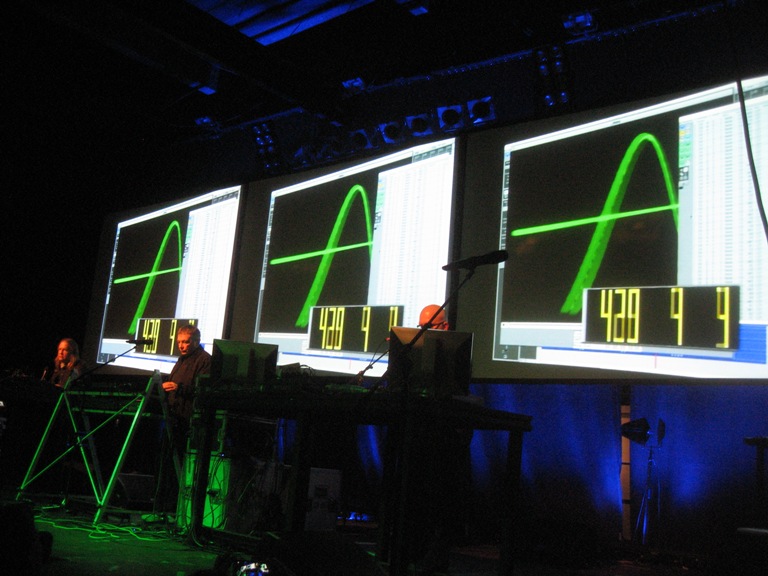 Since leaving the band in 1990, Bartos has remained a beacon of hope for KRAFTWERK enthusiasts frustrated by the drought of fresh, new material following 1986's 'Electric Cafe'.
Exorcising his Kling Klang ghost, he utilised musical ideas gathered during his period with KRAFTWERK for 'Off The Record', his first album since 2003's 'Communication'. Despite its links to his past, 'Off The Record' is a fully realised, modern electronic album.
And for those who missed out on seeing KRAFTWERK's art space retrospectives, KARL BARTOS' show was the perfect alternative. "Forget about technical nostalgia in 3D" said the press release, "instead tune into LiveCinema: 90 minutes of music and film – rhythmical, modern, intelligent".
By coincidence, this opening night coincided with KRAFTWERK being given a Lifetime Achievement Award at The Grammys. As the first German act to be bestowed such an honour, German TV station WDR were very much in evidence at the venue to celebrate this monumental occasion on home soil.
Opening with an anglicised take on 'Numbers', Bartos' live presentation was a well executed affair based around three personnel on stage including himself, regular studio partner Mathias Black and visuals director Robert Baumanns. As well as their own roles, each took turns at vocodered vocals and voice triggered effects to provide some powerful triple robot action that reverberated around the venue.
Robots in harmony? You'd better believe it! 'Numbers' segued naturally into 'Computer World' to enormous cheers. 'The Camera' followed and herein lies Bartos' trump card compared with his former colleagues at Kling Klang.
His solo material retains those classic elements but still pushes through a vibrant, futuristic feel. KRAFTWERK's last offering 'Tour De France Soundtracks' was rhythmically weak, as the combo's previous percussive driving force, Herr Bartos ably demonstrated where all that intuitive nous went!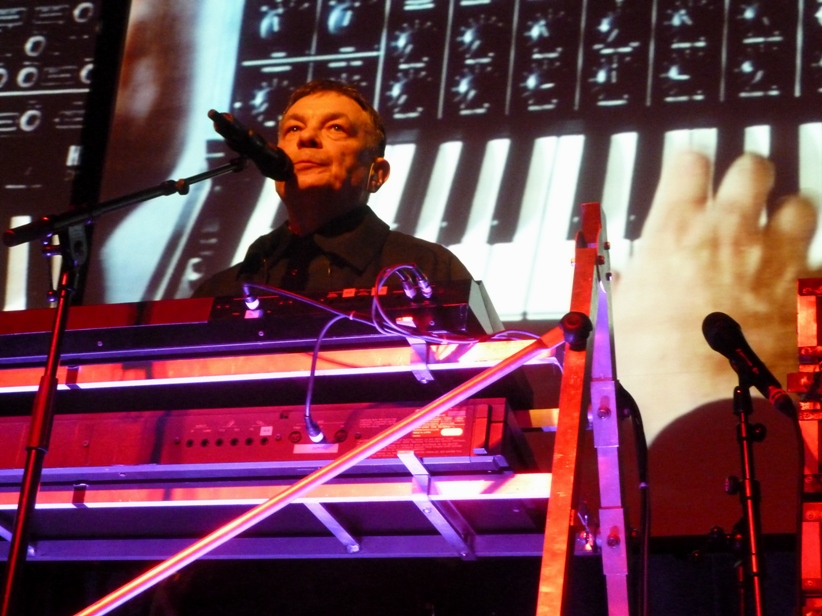 'Das Modell' came surprisingly early in the set and was accompanied not just by a projective backdrop of beautiful women but some endearing archive footage of Bartos and Flür doing their musikarbeiter thing.
Despite not being part of his former band's recent 3D concert retrospectives, Bartos has often commented that he is spiritually still on stage with them every night as he co-wrote all those classic tracks post-'Trans Europe Express'.
So as Bartos was Hütter's main collaborator between 1978 to 1986, his own set was punctuated by a selection of KRAFTWERK tracks, updated and made powerfully crisp over the big speakers.
Karl Bartos told ELECTRICITYCLUB.CO.UK in February 2013: "Well, since I have co-written many of the hits, I always had too many of them for just one concert. The real problem was to sort out the redundant tracks". This allowed the show to retain all those songs' original melodic appeal without negating the show's fresh outlook.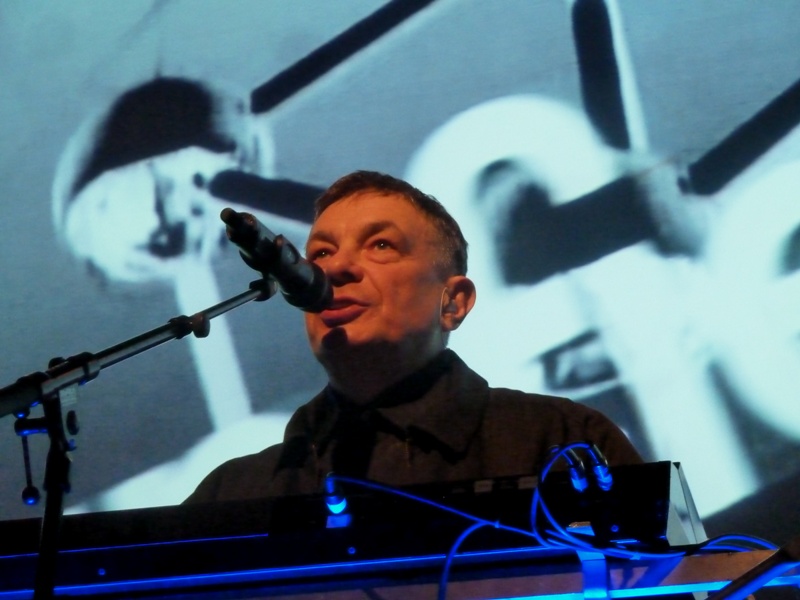 Known for his strong aversion towards the death by 4/4 pounding of modern electronic dance music, Bartos also avoided the poor techno restylings like those presented on 'The Mix'. But it wasn't just about the past as highlights from 'Communication' were also represented, alongside most of the 'Computer World' album plus 'The Robots', 'Trans Europe Express', 'Tour De France' and a bilingual version of 'Neon Lights'.
The renditions of the Kling Klang era material were kept to a handy single edit size and free of noodling, thus emphasising Bartos' more pop based sensibilities. Those ideals were on display in the accompanying visuals for 'Interview' where Bartos' diverse musical interests such as THE BEATLES, THE WHO and BB KING were there for all to see.
Although NEW ORDER were not pictured, they certainly came over musically on the autobiographical 'Life' where Bartos countered tradition by moving to the right hand side of the stage over to a lone mic stand. Away from the safety net of his keyboards, he took on a pose not dissimilar to Bernard Sumner.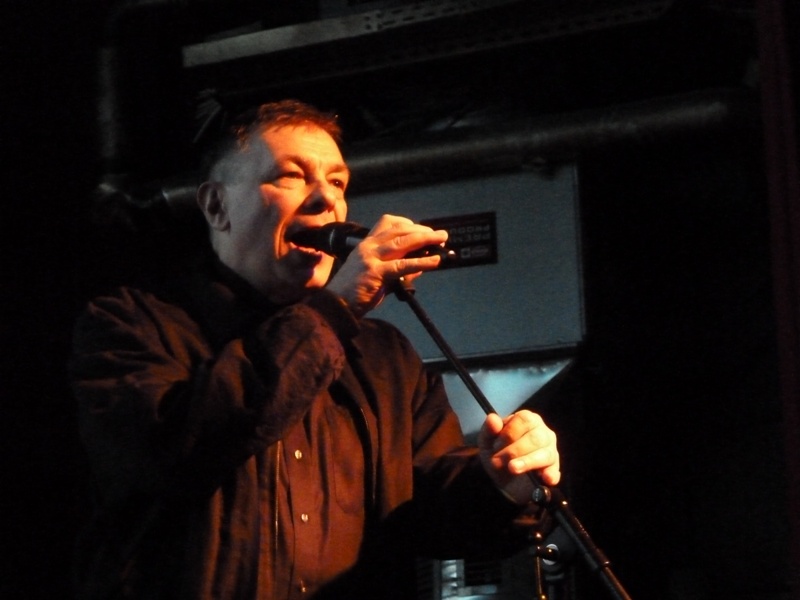 The 'Off The Record' showcase did not actually begin until about two thirds into the show and it began with the blasting 'Atomium' to start the five song suite.
Using the giant model of an iron crystal erected for the 1958 World's Fair in Brussels as symbolism for the rise and fall of atomic power in Europe, the stabbing synth tones rattled over a stomping 7/4 time signature as the themes first touched on with 1975's 'Radio-Activity' concept were re-explored.
The serene 'Nachtfahrt'captured atmosphere of the rainy night in Cologne perfectly while the spectre of Kling Klang loomed heavy over 'Without A Trace Of Emotion'. Already a superb electropop piece on its own instrumental terms, Bartos' lyrics reflected his professional dilemma… not matter what, he will forever be associated with KRAFTWERK in the same way as Alan Wilder will be with DEPECHE MODE!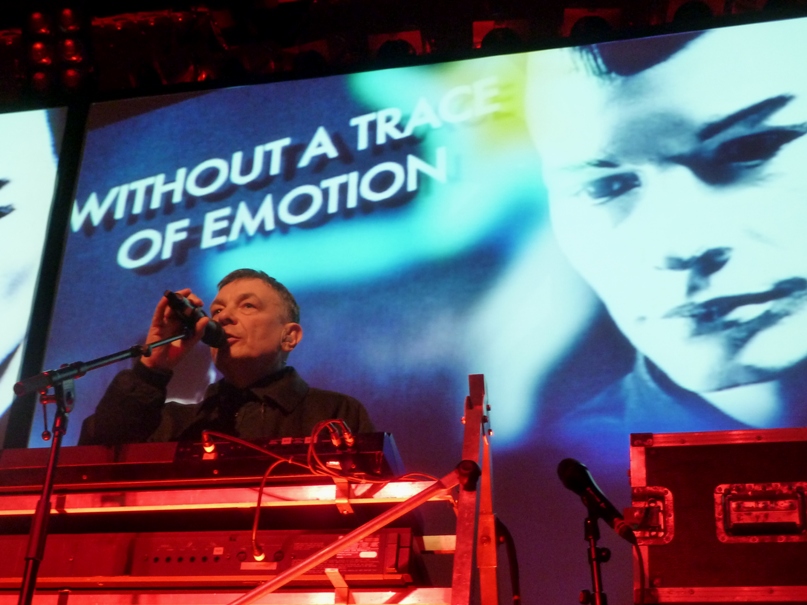 The clip of Bartos' showroom dummy Herr Karl looking lost wearing a cycling helmet amusingly said it all. But this lifetime sodality must be seen as a complement as similarly since Wilder left DEPECHE MODE, KRAFTWERK have lacked that something since Bartos departed.
Ultimately, it is for this reason that Messrs Bartos and Wilder deserve greater recognition for their continuing adventures in their solo work.
Meanwhile, a now highly relaxed Bartos grinned sheepishly from behind his synth complex during 'Rhythmus' as its mixed parentage of 'Numbers' and 'Computer World' Kling Klang-ed forth. The buzz fest of 'Musica Ex Machina' though was a pivotal point of the evening, its passage accompanied by a video of assorted headphoned listeners of various demographics. Featuring a short cameo from Herr Bartos himself, the film eventually focussed on a pretty young lady lost in those electro rhythms.
Perhaps not by coincidence, a pretty young lady from Brazil was at the front of the stage, vibing off the sounds and happily dancing her heart out. She even took time for a few selfies with Herr Bartos in the background, such was her enjoyment of proceedings. And this ultimately summed up the cross generational and cross gender appeal of Das Klassik Düsseldorfer Quartett.
As Wolfgang Flür alluded to in his autobography 'I Was A Robot', KRAFTWERK didn't just appeal to geeky men but to women as well. Certainly, one unexpected observation was the number of females of a younger disposition in attendance at Live Music Hall with several waiting enthusiastically to meet Die Herren Bartos und Flür after the show.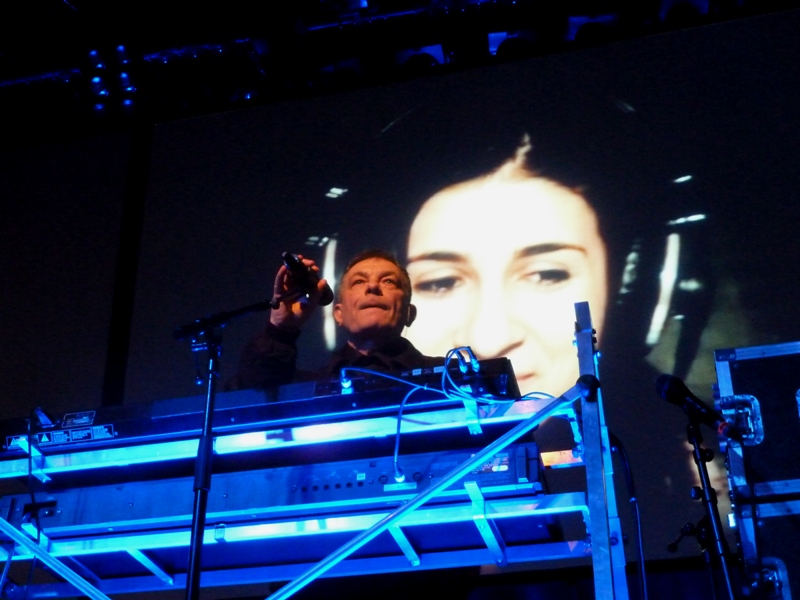 As the show drew to its close, 'Pocket Calculator' not only featured a reset rhythmical template but also footage of Herr Bartos showing off his impressive synthesizer inventory. The eagle eyed would have spotted with a Stylophone, Korg MS20, Minimoog rack mount, Farfisa Professional piano, ARP Odyssey and that iconic elektronisches schlagzeug unit. It certainly had the gear nerds in attendance foaming at the mouth.
For the encore, there was the pleasant surprise of 'TV' from Bartos' first post-KRAFTWERK project ELEKTRIC MUSIC. Again, he took to the right of the stage away from his synths on this cult classic from the same 'Esperanto' sessions that produced 'Kissing The Machine' recently reworked by OMD for 'English Electric'. It was a wonderful way to finish as a sampled "Auf Wiedersehen…" echoed to a fade.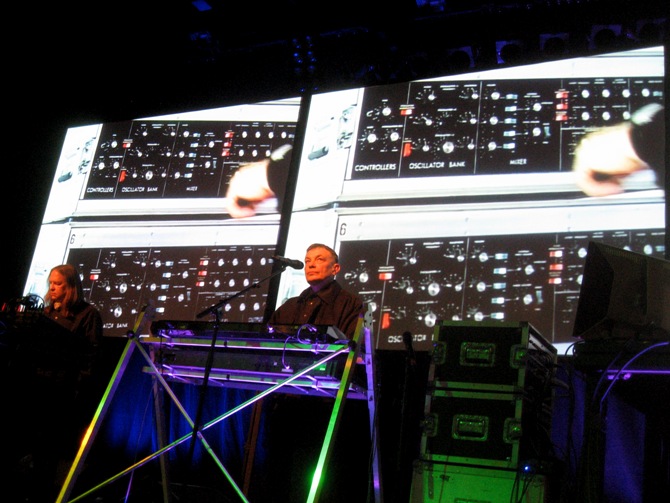 The  show was a perfect multi-media history of electronic pop that celebrated the innovation of the past while moving forward musically. Yes, the sounds are meatier, the technology more versatile and the tools much simpler to operate.
But what remains are the melodies, the traditions and the soul… yes, the soul! It may be an unusual way to describe things related to KRAFTWERK but tonight, this couldn't have been truer.
---
'Off The Record'
is released by Bureau B on CD and vinyl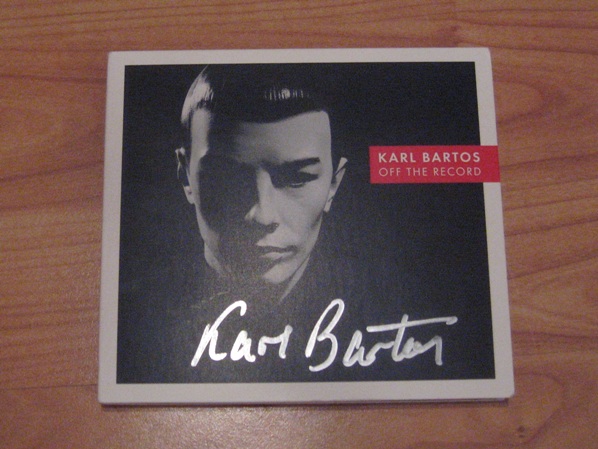 The 'Off The Record' tour continues at the following venues:
Nürnberg Festsaal K4 (29th January), Berlin Postbahnhof am Ostbahnhof (30th January), Hamburg Gruenspan (31st January), Copenhagen Amager Bio (1st February)
http://www.bureau-b.com/karlbartos.php
---
Text by Chi Ming Lai
Photos by 7und70 and Chi Ming Lai
28th January 2014