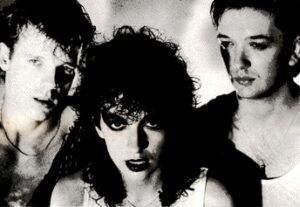 Nottinghamshire's FATAL CHARM were, like several bands during the post-punk era, on the cusp of the big time on several occasions during their career but never quite broke through despite opening for ULTRAVOX and OMD.
Despite the nucleus of Sarah Simmonds and Paul Arnall having recorded a number of outstanding singles, they never got the recognition they deserved.
First making waves on their local scene in 1979 as an all male new wave band, they made contributions to a Dead Good Records LP sampler 'East' which also included those great white synth hopes B-MOVIE who later featured on the legendary 'Some Bizzare Album'. However, it was only when Arnall recruited Simmonds as lead vocalist that FATAL CHARM began to make real progress.
The fresh female fronted outlook impressed and eventually led to tours supporting ULTRAVOX and OMD in 1980. The excellent first single with the new line-up 'Paris' was issued on Double D Records in 1981 and produced by Midge Ure. Indicative of their potential, 'Paris' had been given a low key independent release in 1979 voiced by the band's main songwriter Arnall. But with the lyrics unchanged and now embroiled in Simmonds' feisty passion, it gave a freshly charged sexual ambiguity to the long distance love story written in the days before the Channel Tunnel.
This new version reflected the synth flavoured sound of the period and obliquely connected FATAL CHARM with the New Romantic movement. Meanwhile, its more guitar driven flip 'Christine' showcased the band's punkier roots that had more of an affinity with BLONDIE and X-RAY SPEX.
However, line-up changes and label issues stalled any momentum gained on the ULTRAVOX and OMD tours via flexi-disc giveaway 'Western Laughter' / 'Dark Eyes'.
It wasn't until 1984 when FATAL CHARM released probably their best known song 'Summer Spies' that things started moving again. Issued on the Carrere label, the single was championed on BBC Radio 1 by Janice Long and even edited into a jingle for Long's show. Crossing the sweeps of OMD with the classical resonance of ULTRAVOX, 'Summer Spies' featured Simmonds' dramatically melancholic voice alongside her own serene whispers. The single's popularity subsequently led to an appearance on Channel 4's prestigious music show 'The Tube' but unfortunately, a hit was not forthcoming.
The follow-up single 'King Of Comedy' kept up the standard while its amusing B-side 'We'll Just Wait For Your First Hit' reflected on the frustrations of trying to secure a record deal.
Indeed, record label politics were to be FATAL CHARM's Achilles Heel. And with Carrere Records distracted by their surprise No1 'Move Closer' by Phyllis Nelson in Summer of 1985, the debut album 'Endangered Species' slipped out largely unnoticed.
But 1986 saw the band sign to Native Records and the release of another excellent single 'Images Of Fire' saw them secure airplay during the crucial daytime slot on Radio1 from early afternoon DJ "woo" Gary Davies.
It made the UK Independent Charts and FATAL CHARM appeared to be on the ascent again. However, the next single 'Lucille' was not afforded such treatment and repeating history, the parent album 'This Strange Attraction' did not emerge until 1989 due to record label issues. Released on their own Really Great Records, Simmonds and Arnall were tiring of the label upheavals that were stalling FATAL CHARM's progress.
So coinciding with the post-Second Summer Of Love environment in the wake of Acid House, the duo changed their name to STATE OF GRACE and signed to 3rd Stone while FATAL CHARM was placed in hiatus. They released 'Pacific Motion' in 1994 which led to a deal with RCA in the US for their 1996 album 'Jamboree'. STATE OF GRACE continued until 1998 while Arnall also ran a parallel solo project UNDERGROUND HOUSE ORCHESTRA.
In 2005, FATAL CHARM relaunched and issued the self-released 'Pop' via their website. More rock orientated than their previous work and featuring new versions of material such as 'Paris' and 'Western laughter' alongside new compositions, for the first time FATAL CHARM appeared to be in step with the contemporary music scene, thanks to the success of acts such as CURVE and GARBAGE. 'Pop' reinvigorated interest in FATAL CHARM, leading to the self-released compilation CD 'Plastic' featuring all their singles and B-sides from back in the day including the free flexi-disc from the ULTRAVOX and OMD tours.
Today, FATAL CHARM continue to play live in their home city of Nottingham and occasionally record. Paul Arnall and Sarah Simmonds kindly took time out to chat to look back at their career…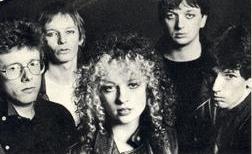 How did the FATAL CHARM sound come into being and who were your influences?
Paul: In the mid '70s, I worked at a record shop called Select-A-Disc in Nottingham. As the concept of dividing artists by genre didn't exist in those days, it was constantly a voyage of discovery; CAN sat next to CHIC, FUNKADELIC next to FREE etc… so my influences were many.
At the time of forming FATAL CHARM, I was probably listening to a lot of new wave stuff – WIRE, TELEVISION and TALKING HEADS along with CHIC and CAN.
When did you become interested in using synthesizers and what was your first synth?
Paul: In the early '70s I played in a band with a very talented keyboard player, Paul Simons, he's a bit of a boffin. Around '73 he made his first synth, a couple of years later he reproduced his first Minimoog copy; you'd really have to look at it very closely to realise it wasn't the real thing. It sounded amazing and even had the same tuning problems when it got hot. It was used on the first FATAL CHARM demos along with a Solina string machine, and the first keyboard I owned, a Hohner clavinet. Paul still dabbles making synths; the last time I saw him he was working on a Moog Modular 55 and still had some spare Minimoogs for sale, he can be contacted at svitch@ntlworld.com
How did Midge Ure become interested in producing you?
Paul: I've no idea; it was all handled by our then label Double D…
Sarah: Of course, we went on tour with ULTRAVOX before we recorded with him, but I think it was a package deal!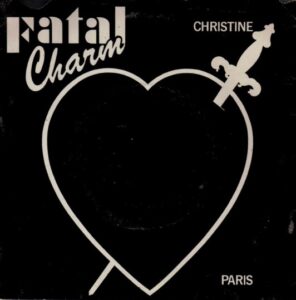 'Paris' in particular does have his stamp on it. What do you remember about recording it and how do you think it stands up now?
Paul: The version of 'Paris' produced by Midge is really no different an arrangement to the original, the major difference was we were able to use Midge's Yamaha synth which gave it his sound. 'Paris' is a song of its time and not one of my favourites.
Sarah: Ha ha! Yes, it goes too fast for Paul these days! We have played it a couple of times in the last couple of years but Paul grumbles too much so we have to leave it out!
You toured with ULTRAVOX and OMD in 1980, how do you think FATAL CHARM went down with those audiences and what are your own favourite memories?
Paul: The response was fantastic, sadly we had no single to promote… not great planning from our record label. But very fond memories as it was the first time we'd played venues of that stature.
Sarah: I have a memory of wearing a leotard with a pale green and pink jacket over the top! Not one of my better fashion choices… I also remember playing at the Hammersmith Odeon in London and having to go onstage without a soundcheck. The audience were already coming in and we were frantically setting up, while roadies checked that everything worked. Seat of the pants stuff – character building!
'Summer Spies' is the song you are best remembered for. Can you remember its genesis and how the song's expansive atmosphere developed in the studio?
Paul: Hmm, it was 30 years ago!!!! It was influenced bizarrely by HOT CHOCOLATE… I was having a post-gig pint and a HOT CHOCOLATE song was playing on the juke box. I noticed it had no fills in the drum track. It was something I'd always wanted to try so that was my starting point as I really liked the idea of a constant rhythm. I'd come up with this nice rhythm pattern and basically jammed around it with a Roland Jupiter 4.
Originally it was all Jupiter 4 and 606 drum box recorded at home on my old Akai 4000DS. We were able to get some studio time in Chappell Music 8 track studio, we replaced the 606 with the Linn Drum and added grand piano. My original intention was for it to have no guitar on it, but when I went down to do the 12″ version we needed to expand it. Our engineer suggested a guitar solo but I had no guitar with me. Eventually they searched around and found an old Yamaha guitar with no top E or B strings so the guitar solo was played just on the G string.
'Summer Spies' got a lot of radio play with Janice Long being a particular champion while you also appeared on the TV show 'The Tube'. Do you have any thoughts in hindsight why it didn't become a hit?
Paul: Our record label Carrere were a small label and to be honest, really didn't understand us. I think 'Summer Spies' was released at the end of July, it picked up some nice airplay but had no tour to promote it. And in fact, it was Sarah that got us 'The Tube' appearance… by that time it was November. Even so, our chart position the next day after 'The Tube' was 97, I think it had dropped to around 130 by the time the chart was released as the shops had sold out.
Sadly there were no copies left in the warehouse to ship out to the shops. As it was coming up to Christmas, all the pressing plants were busy doing the Christmas runs. By the time they'd pressed more, it was mid-December and too late, c'est la vie…
Sarah: Carrere's boss admitted later that the song should have been a hit, and apologised.
Your debut album 'Endangered Species' finally appeared in 1985. Why did it take so long for it to be completed and how did it affect the band's momentum?
Paul: This was a quick release if you compare it to RCA who took over 2 years to release the STATE OF GRACE album. The album was recorded over 2 weeks, early '85 I think. It took so long because as mentioned, Carrere didn't understand us… on one occasion when listening to a batch of demos, the
A&R guy stopped the tape and asked us why the song was so slow! I looked at Sarah, she looked at me and we both knew we were doomed… 'Hold On' was later released on 'This Strange Attraction'.
1986's 'Images of Fire' was another great single of yours which appeared to cross KATE BUSH with ULTRAVOX?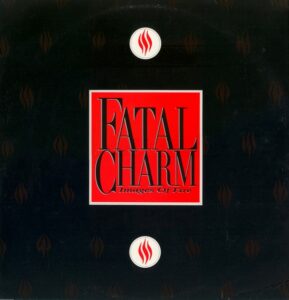 Paul: I loved Kate Bush and loved the first 3 ULTRAVOX albums; I can't say either of them influenced 'Images of Fire'.
Why did the parallel STATE OF GRACE and UNDERGROUND HOUSE ORCHESTRA projects emerge alongside FATAL CHARM?
Paul: STATE OF GRACE was a forced name change; our label 3rd Stone believed, and rightly so, that the FATAL CHARM name had been around for too long to be able to get interest from major record labels. They were proved right as we were signed to RCA New York in '93.
UNDERGROUND HOUSE ORCHESTRA is just a platform for me to release my own recordings. I originally planned to do one off albums under different guises across different genres of music. My first recording was as Space Harriers in Transit (trash pop), followed by Projectile (trance) released on Native Records, Fantastic The Feedback (pop) and Bombshell (homage to CAN)… but even I got confused so I decided to cover the lot under tUHO.
FATAL CHARM returned in 2005 with the album 'Pop' and you seemed to be in synch with the scene at the time with acts like GARBAGE and CURVE?
Paul: As my main instrument is guitar, I just fancied re-recording some of the old songs with just guitars and minimal keyboards, as I can never leave anything alone. Some more keyboards were added when I remastered the CDs in 2010.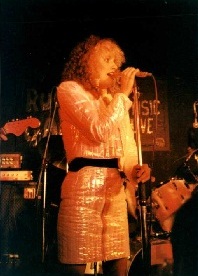 Despite all the upheavals, the core of FATAL CHARM remains Paul Arnall and Sarah Simmonds. What has enabled you both to still be able record and perform together after all these years?
Paul: Ever since 1981 when the original line-up split, it's just been the two of us, whether as FATAL CHARM or STATE OF GRACE, what can be better than recording and performing with your best friend.
Sarah: Ah, thanks Arnie! And we always have a lovely cream cake or other tasty snack when we meet J.
FATAL CHARM still play live occasionally in the Nottinghamshire locality. Are there any future plans?
Paul: This spring or early summer we'll be playing again as STATE OF GRACE (we fancied a change)… we'll be playing songs from all decades.
Is there anything you would have liked to have done differently back in the day?
Paul: Get a decent manager!!!!
---
ELECTRICITYCLUB.CO.UK gives its warmest thanks to FATAL CHARM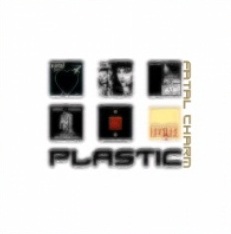 Their singles including 'Paris', 'Summer Spies' and 'Images Of Fire' are all collected on a CD entitled 'Plastic' which is available from their website along with their debut album 'Endangered Species', 2005's comeback 'Pop' and all the STATE OF GRACE material.
A selection of FATAL CHARM's music is available via Amazon and iTunes including their most recent collection 'April 13' and a reworked 2010 version of 'Summer Spies'
https://www.facebook.com/pages/Fatal-Charm/248572655153406
---
Text by Chi Ming Lai
30th January 2014